Determination of The Adsorption Kinetics for Adsorption Methylene Blue Dye with C-4-Hydroxy-3-Methoxyphenylcalix[4]resorcinarene
Santi Nur Handayani

Irmanto Irmanto

Nastiti Nur Indriyani
Abstract
Adsorption kinetics is part of adsorption and discusses the adsorption rate of an adsorbent on the adsorbate. Adsorption kinetics has an equation to determine the rate constant of adsorption, namely the pseudo-first order and pseudo-second order. In this study, methylene blue was adsorbed using a C-4-hydroxy-3-methoxyphenylcalix[4]resorcinarene (CHMFKR) adsorbent. The aim of this study to determine the effect of process parameters (concentration, pH, and processing time) on the process adsorption, with the Langmuir and Freundlich adsorption isotherm model approach, and to determine the adsorption kinetics of methylene blue with CHMFKR. Ten mL of methylene blue solution with various concentrations of 5, 6, 8, 10, and 11 ppm with a solution pH of 7 was added to as much as 0.001 gram of CHMFKR adsorbent and stirred at 600 rpm for 40 minutes. The solution was measured, and its absorbance was measured using the UV-Vis Spectrophotometer. The results show that the adsorption kinetics follow pseudo second order with an adsorption rate of 0.7217 ± 0.4 g/mg.s. The adsorption isotherm follows the Langmuir equation, and the maximum adsorption amount is 114.94 ± 2.04 mg/g.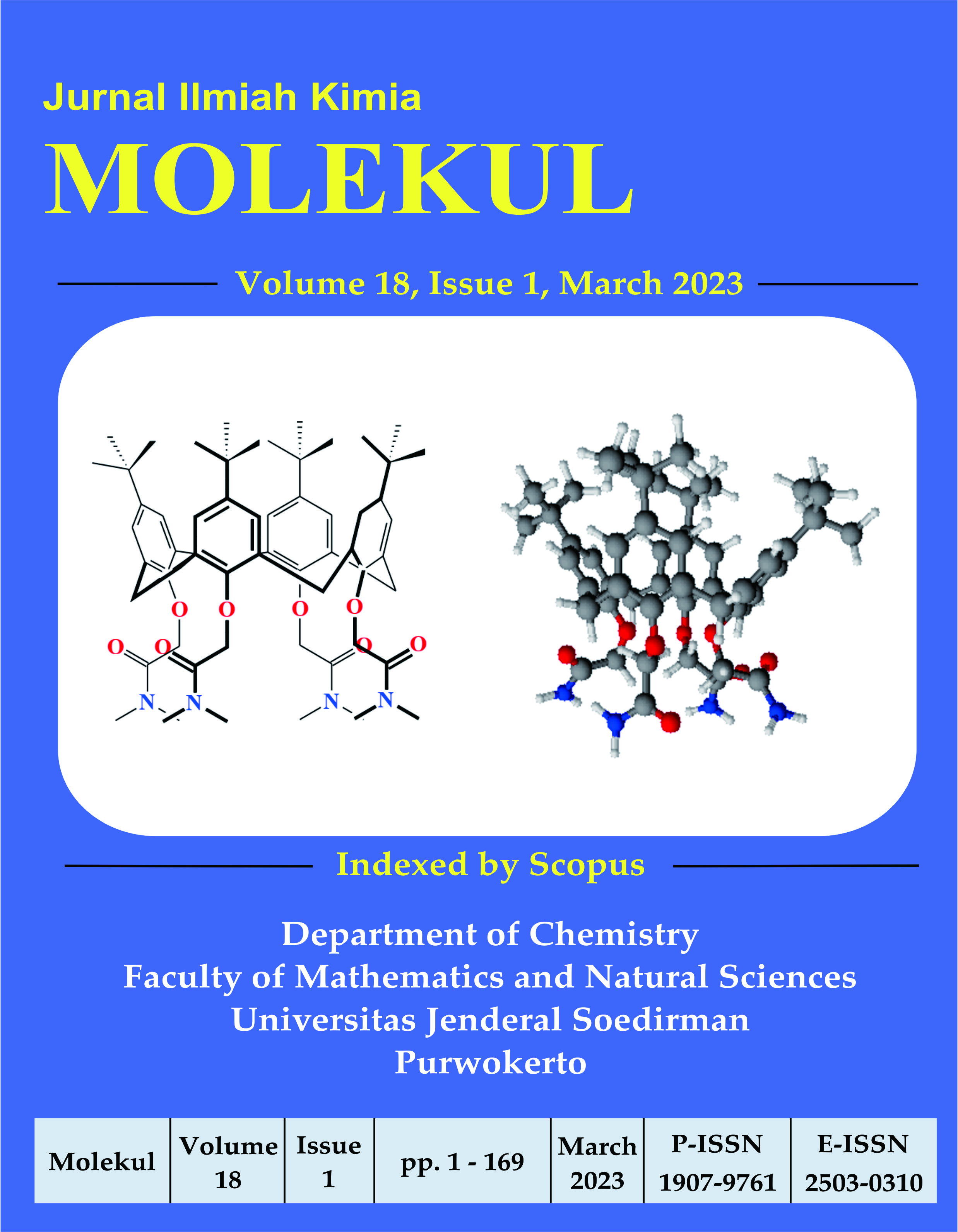 Authors agree with the statements below:
Authors automatically transfer the copyright to the MOLEKUL journal and grant the journal right of first publication with the work simultaneously licensed under a Creative Commons Attribution 4.0 International License (CC BY 4.0).
Authors are able to enter into separate permission for the non-exclusive distribution of the journal's published version of the work (e.g., post it to an institutional repository or publish it in a book), with an acknowledgment of its initial publication in this journal.