Peran Instagram dalam Strategi Digital Public Relations bagi Industri Perhotelan di Kota Malang
The Role of Instagram in the Digital Public Relations Strategy for the Hospitality Industry in Malang City
Nur Kholis

Communication Study Prgram - Faculty of Digital Communication, Hotel and Tourism BINUS University
Abstract
Praktik public relations yang merupakan bagian dari strategi komunikasi perlu disesuaikan dengan era ekonomi digital. Penelitian ini mengidentifikasi peran Instagram sebagai media digital dalam praktik kehumasan di industri perhotelan, berfokus pada hubungan dengan pelanggannya. Seiring dengan tingginya jumlah pengguna media sosial di Indonesia, hotel dan hubungan pelanggan dapat diidentifikasi dari interaksi mereka di Instagram. Berdasarkan topiknya, dilakukan metode kualitatif, wawancara dengan informan yang dipilih secara purposive dikumpulkan untuk mendapatkan data. Hasil penelitian menunjukkan bahwa Instagram merupakan media yang efektif untuk membangun kepercayaan antara hotel dan pelanggannya karena tiga alasan. Pertama, menciptakan hubungan langsung karena pelanggan dapat dengan mudah berkomunikasi dengan pihak hotel untuk menanyakan informasi apa pun dengan mengirimkan pesan langsung atau menambahkan komentar. Kedua, Instagram mungkin bisa memberikan customer experience melalui kuis-kuis seputar product knowledge hotel atau hal-hal terkait lainnya. Ketiga, Instagram memungkinkan pelanggan untuk berbagi informasi positif tentang hotel dengan berbagi foto selama mereka menginap. Kepercayaan yang dibangun diharapkan dapat mendukung hotel untuk bersaing di era digital.
Kata Kunci: Instragram; public relations; strategi komunikasi
References
about Public Relations. (2018, Seprember 17). Retrieved from https://www.prsa.org/all-about-pr/
Bergstrom, T. &. (2016). Marketing and PR in Social Media. Retrieved from https://www.diva-portal.org/smash/get/diva2:625012/FULLTEXT01.pdf
Bergstrom, Thamwika, & Backman, L. (2018). Marketing and PR in Social Media. Stockholms universitet. Retrieved from https://www.diva-portal.org/smash/get/diva2:625012/FULLTEXT01.pdf
Gaspersz, V. (2005). Total Quality Management. Jakarta: Gramedia.
Grunig, J. E. (2007). Paradigms of Global Public Relations in an Age of Digitalisation. PRism. Retrieved from https://www.researchgate.net/profile/James_Grunig/publication/46280145_Paradigms_of_Public_Relations_in_an_Age_of_Digitalization/links/00b4952b20ceba
Janonis, V., & Virvilaite, R. (n.d.). Brand Image Formation,. Engineering Economics. doi:1392-2785
Kotler, P., & Keller. (2002). Manajemen Pemasaran; Analisis, Perencanaan, Implementasi, dan Pengendalian. Jakarta: Penerbit Salemba Empat.
Peppers, D. &. (2004). Managing Customer Relationships; a Strategic Framework. Hoboken: Wiley.
PHRI. (2019). Kota Malang Dalam Angka 2018. Retrieved from PHRI Kota Malang: https://www.phrimalang.com/statistik2018
Roberts, J. (2016). Writing for Strategic Communication Industries. Ohio: The Ohio State University.
Savira.R. (2018, September 15). The Hospitality Industry in Indonesia has Great Opportunities and Great Potential. Retrieved from http://www.academia.edu/13855266/The_Hospitality_Industry_in_Indonesia_Has_Great_Opportunities_and_Great_Potential,
Susepti, A., & Hamid, D. (2017). PENGARUH KUALITAS PELAYANAN TERHADAP KEPUASAN DAN LOYALITAS TAMU HOTEL(Studi tentang Persepsi Tamu Hotel Mahkota PlengkungKabupaten. Jurnal Administrasi Bisnis (JAB), 50 No 5.
Taylor, M. L. (2018). Building Dialogic Relationship through The World Wid Web. Public Relations Review. doi: 10.1016/S0363-8111(99)80143-X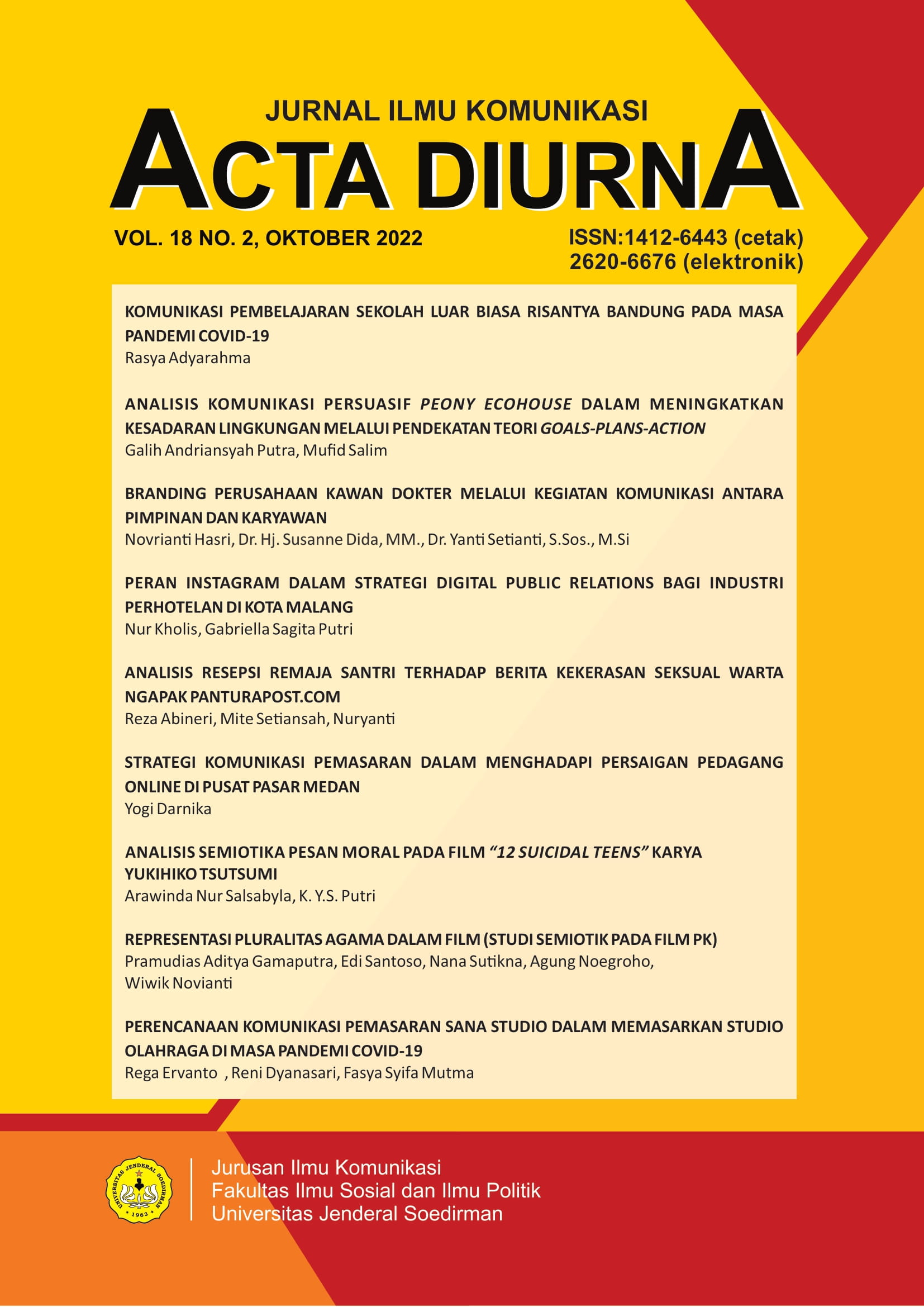 This work is licensed under a Creative Commons Attribution-ShareAlike 4.0 International License.
Authors who publish with this journal agree to the following terms:
Authors retain copyright and grant the journal right of first publication with the work simultaneously licensed under a Creative Commons Attribution License that allows others to share the work with an acknowledgment of the work's authorship and initial publication in this journal.
Authors are able to enter into separate, additional contractual arrangements for the non-exclusive distribution of the journal's published version of the work (e.g., post it to an institutional repository or publish it in a book), with an acknowledgment of its initial publication in this journal.
Authors are permitted and encouraged to post their work online (e.g., in institutional repositories or on their website) prior to and during the submission process, as it can lead to productive exchanges, as well as earlier and greater citation of published work (See The Effect of Open Access).