A Representasi Pluralitas Agama dalam Film
(Studi Semiotik Pada Film PK)
Abstract
A film that is presented or made can describe a reality of life that is faced now, or is a picture that will happen in the future. Films that depict events or something that will be achieved in the future, such as futuristic films or science fiction that we may have watched such as Star Trek, technologies in the Avanger film, Real Steel, and several anime films such as Doraemon, Gundam, and many other films. Meanwhile, films that describe current events or something that has actually happened, such as biographical films, war films, even light films that tell or reflect something real that humans often or can experience at this time.
Based on observations, the film "PK" is classified as a satirical comedy film that describes the reality of intolerance in plurality in India. This film is a small picture of the form of intolerance that occurs in almost all parts of the world until now. This film tells about intolerance and plurality, where it still happens in various places with various reasons and interests in each region. The film tells the story of a young man (alien) who is stranded on earth (India), looking for the remote control of his stolen plane. In the process of searching for the remote, a number of interesting events occurred, including the understanding of plurality and tolerance. Where the meaning of PK (Peekey) itself in Indian language means people who are drunk or in a drunken state. This film suggests that there are still people who are intoxicated by a narrow understanding of religion.
Instilling the value of plurality does not mean that everything is the same, but rather understands that differences are not an obstacle in society. Understanding different cultures will keep us away from unnecessary thoughts that can trigger conflict.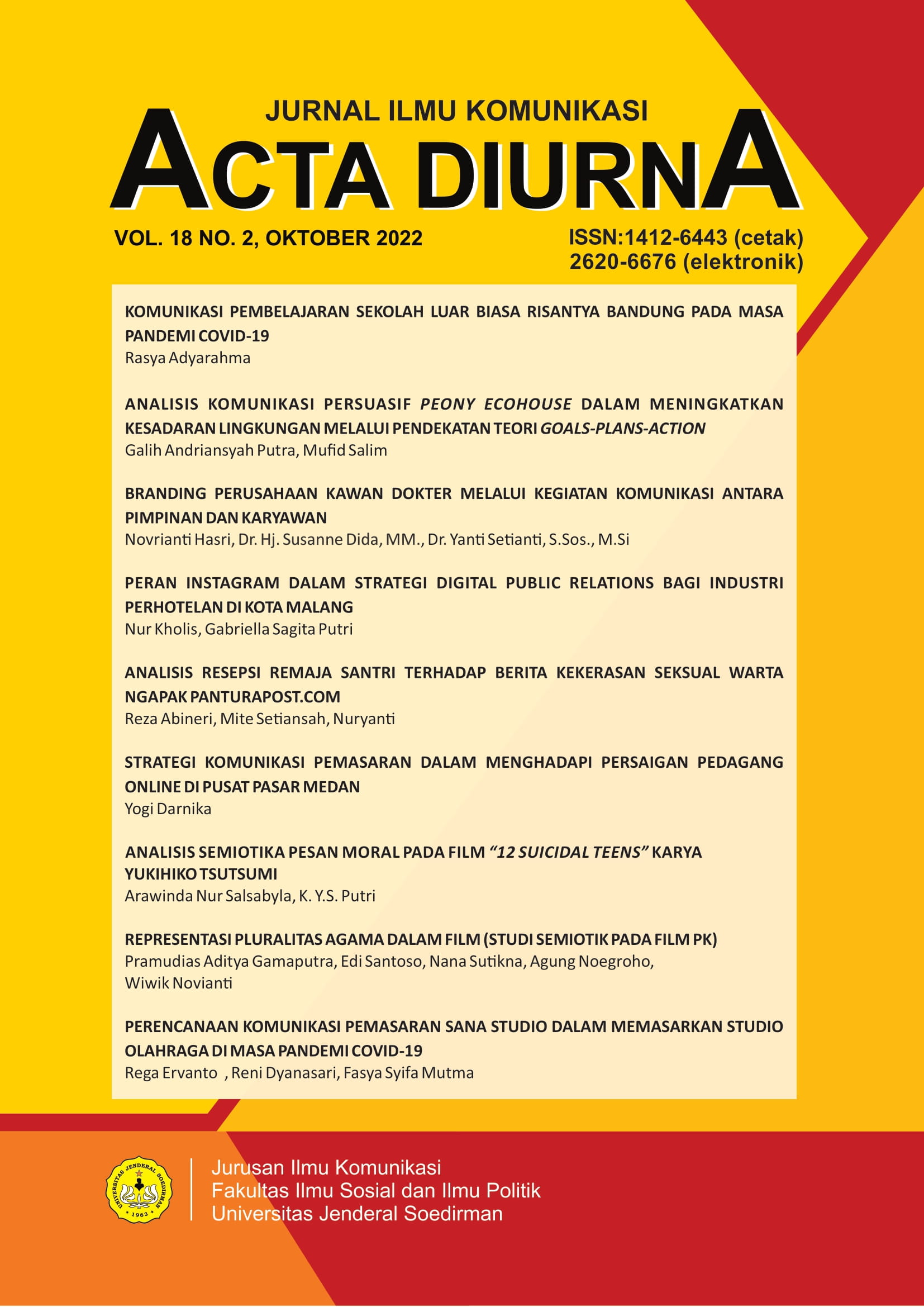 This work is licensed under a Creative Commons Attribution-ShareAlike 4.0 International License.
Authors who publish with this journal agree to the following terms:
Authors retain copyright and grant the journal right of first publication with the work simultaneously licensed under a Creative Commons Attribution License that allows others to share the work with an acknowledgment of the work's authorship and initial publication in this journal.
Authors are able to enter into separate, additional contractual arrangements for the non-exclusive distribution of the journal's published version of the work (e.g., post it to an institutional repository or publish it in a book), with an acknowledgment of its initial publication in this journal.
Authors are permitted and encouraged to post their work online (e.g., in institutional repositories or on their website) prior to and during the submission process, as it can lead to productive exchanges, as well as earlier and greater citation of published work (See The Effect of Open Access).