ANALISIS ISI ADEGAN KEKERASAN KARTUN LARVA EPISODE LARVA-ISLAND NIGHTMARE (STORM DRAIN, HOUSE, NEW YORK)
lely rara renaningtyas

Universitas Negeri Malang

riska ayu setyowati

taufik afip atarik
Abstract
Seiring dalam perkembangan waktu, dunia pertelevisian Indonesia berupaya untuk terus-menerus berinovasi, menghadirkan program baru yang yang paling menarik sehingga mampu membuat penonton berlama-lama di depan televisi untuk menonton acara favorit mereka. Namun, penonton cenderung tidak menyadari bahwa program yang mereka tonton bermanfaat atau menyesatkan. Mencermati hal tersebut menimbulkan keresahan bahwa di masa depan akan ada program baru yang mungkin mengandung unsur kekerasan. Ketika unsur kekerasan ini muncul, maka berdampak negatif pada penonton program tersebut. Untuk itu, penelitian ini dilakukan bertujuan untuk menganalisis adegan kekerasan pada serial kartun Larva. Apakah di dalam kartun tersebut didominasi unsur (adegan) kekerasan atau sebaliknya. Untuk mengetahui hal tersebut, peneliti menggunakan pendekatan penelitian kuantitatif dengan metode analisis isi. Untuk menguji reliabilitasnya dilakukan oleh 2 pengkoder. Peneliti menggunakan formula Holsti untuk mengukur tingkat adegan kekerasan dalam kartun tersebut. Dari hasil penelitian, menunjukkan bahwa pada serial kartun Larva episode Larva-Island Nightmare (Season 1–Storm Drain, Season 2-House, Dan Season 3-New York) menunjukkan kekerasan fisik dalam serial Kartun Larva telah disepakati kedua pengkoder menunjukan angka 0,99 atau 99% dan presentase kekerasan psikologis menunjukkan angka 0,96 atau 96%. Hasil perhitungan ini menunjukan sebuah hasil yang reliable.
Kata Kunci: Analisis Isi, Larva, Adegan Kekerasan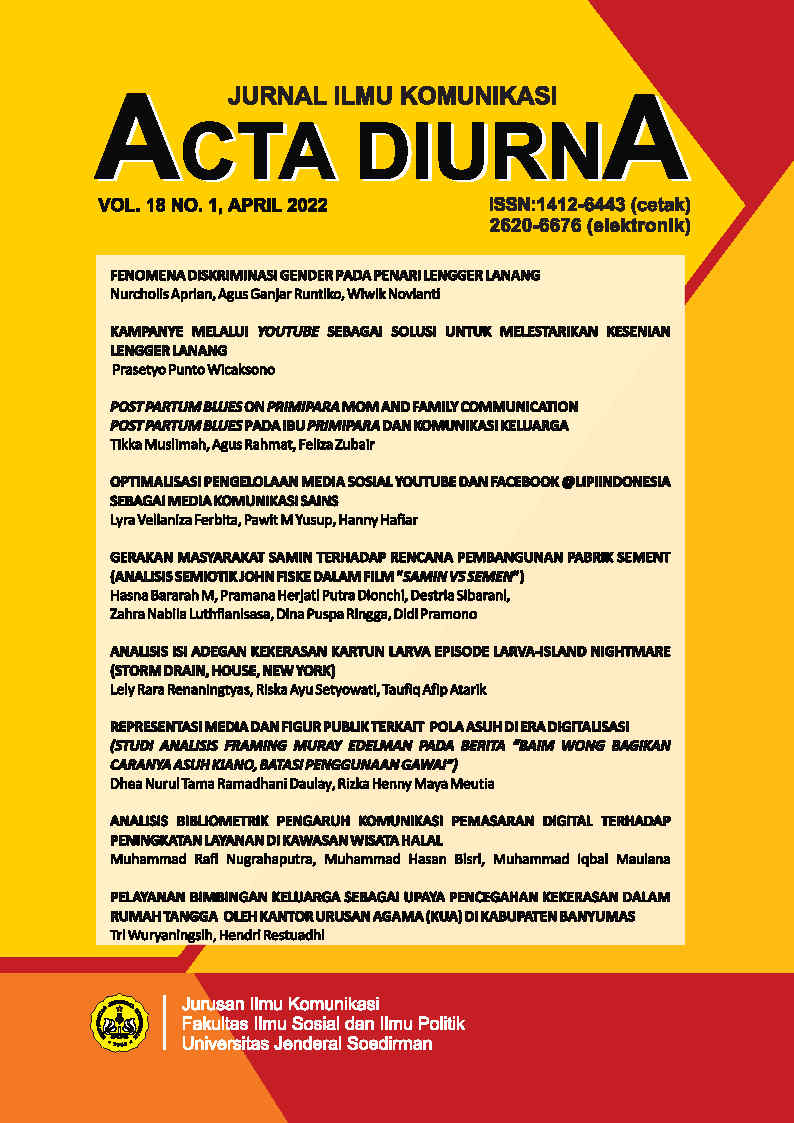 This work is licensed under a Creative Commons Attribution-ShareAlike 4.0 International License.
Authors who publish with this journal agree to the following terms:
Authors retain copyright and grant the journal right of first publication with the work simultaneously licensed under a Creative Commons Attribution License that allows others to share the work with an acknowledgment of the work's authorship and initial publication in this journal.
Authors are able to enter into separate, additional contractual arrangements for the non-exclusive distribution of the journal's published version of the work (e.g., post it to an institutional repository or publish it in a book), with an acknowledgment of its initial publication in this journal.
Authors are permitted and encouraged to post their work online (e.g., in institutional repositories or on their website) prior to and during the submission process, as it can lead to productive exchanges, as well as earlier and greater citation of published work (See The Effect of Open Access).