GERAKAN MASYARAKAT SAMIN TERHADAP RENCANA PEMBANGUNAN PABRIK SEMEN (ANALISIS SEMIOTIK JOHN FISKE DALAM FILM "SAMIN VS SEMEN")
Pramana Herjati Putra Dionchi

Universitas Negeri Malang

Hasna Barara M

Universitas Negeri Malang

Destria Sibarani

Universitas Negeri Semarang

Zahra Nabila Luthfianisasa

Universitas Negeri Semarang

Dina Puspa Ringga

Universitas Negeri Semarang

Didi Pramono

Universitas Negeri Semarang
Abstract
Kaum Subaltern merupakan sebutan untuk sesuatu hal yang memiliki keterbatasan akses , dengan kata lain adanya kaum ini dikarenakan adanya proses terpinggirkannya dari segala kemajuan yang berada di sekitar lingkungannya. Seperti halnya masyarakat Samin yang merupakan masyarakat dengan kearifan lokalnya yang  terpinggirkan oleh derasnya arus globalisasi. Penelitian ini ditujukan untuk dapat menganalisis hal- hal yang melatarbelakangi masyarakat Samin sebagai kaum subaltern dan bagaimana perjuangan kaum subaltern untuk menyuarakan suaranya dalam film documenter "Samin vs Semen" . Dalam penelitian ini menggunakan metode studi literatur dengan proses analisisnya menggabungkan teori ilmu komunikasi dan juga teori sosiologi , Dimana penelitian ini dianalisis dengan menggunakan teori analisi semiotika John Fiske yang menggunakan tiga level realitas , representasi , dan ideologi . Setelah itu mengidentifikasi hasil analisis dengan teori Subaltern  milik Gayatri Spivak. Hasil dari penelitian ini menunjukan bahwa di film "Samin vs Semen" terlihat dan teridentifikasi bahwa Masyarakat Samin merupakan kaum Subaltern ¸ Karena mereka adalah masyarakat asli yang terpinggirkan karena adanya pembangunan pabrik semen di daerah tempat tinggal mereka sendiri yaitu di pegunungan  Kendeng , Jawa Tengah . Selain itu , masyarakat Samin (Subaltern) ikut aktif dalam menyuarakan penolakan pabrik semen.
References
Afifudin, A. A. (2018). Mengenal Lebih Dekat Sedulur Sikep. Kabarkampus.Com. https://kabarkampus.com/2018/12/mengenal-lebih-dekat-sedulur-sikep/
Alamsyah, A. (2015). Eksistensi Dan Nilai-Nilai Kearifan Komunitas Samin Di Kudus Dan Pati.
Aziz, M. (2012). Identitas Kaum Samin Pasca Kolonia. Kawistara, 2(3), 225–328.
Humanika, 21(1), 63. https://doi.org/10.14710/humanika.21.1.63-74
Kartiningrum, E. D. (2015). Panduan Penyusunan Studi Literatur. Lembaga Penelitian Dan Pengabdian Masyarakat Politeknik Kesehatan Majapahit, Mojokerto, 1–9.
Kasus di Dukuh Mbombong Desa Baturejo Kecamatan Sukolilo Kabupaten Pati Provinsi Jawa Tengah). POLITIKA: Jurnal Ilmu Politik, 4(1), 69–79.
Lestari, I. P. (2013). Interaksi sosial komunitas Samin dengan masyarakat sekitar. Komunitas: International Journal of Indonesian Society and Culture, 5(1).
Mudjiyanto, B., & Nur, E. (2013). Semiotika Dalam Metode Penelitian Komunikasi. Jurnal Penelitian Komunikasi, Informatika Dan Media Massa PEKOMMAS, 16(1), 10.
MUNADI, M. (2014). BUDAYA POLITIK MASYARAKAT SAMIN (SEDULURSIKEP)
Saputri, N. F. (2019). Dominasi Penjajah terhadap Subaltern dalam Novel Larasati Karya Pramoedya Ananta Toer (Suatu Pendekatan Poskolonial Gayatri C. Spivak). Universitas Negeri Makassar.
Setiawan, F. N. (2015). Hegemoni dan Dominasi Perusahaan Semen terhadap Penduduk di Wilayah Pembangunan Pabrik Semen dalam Samin Vs Semen. Jurnal Unimus, 39– 53.
Subekti, T. (2016). Konflik Samin vs PT. Semen Indonesia. Jurnal Transformative, 2(2), 189–202. https://transformative.ub.ac.id/index.php/jtr/article/view/136
Sudarto, A. D., Rembang, M., & Senduk, J. (2015). Analisis Semiotika Film "Alangkah Lucunya Negeri Ini." Acta Diurna, IV (1), 2.
Utomo, K. D., Jupriono, J., & Ayodya, B. P. (2018). FILM DOKUMENTER GERAKAN MEREKAM KOTA KARYA GRESIK MOVIE: TELAAH SEMIOTIKA JOHN FISKE. Jurnal Representamen, 4(02).
Watchdoc Image. (2015, Maret 04 ). Samin vs Semen (Full Movie) [Video]. Youtube. https://www.youtube.com/watch?v=1fJuJ28WZ_Q
Yuniandrianto, R. (2016). Perjuangan Perempuan dalam Film "Samin Vs Semen." Skripsi tidak diterbitkan. Universitas Muhammadiyah Yogyakarta.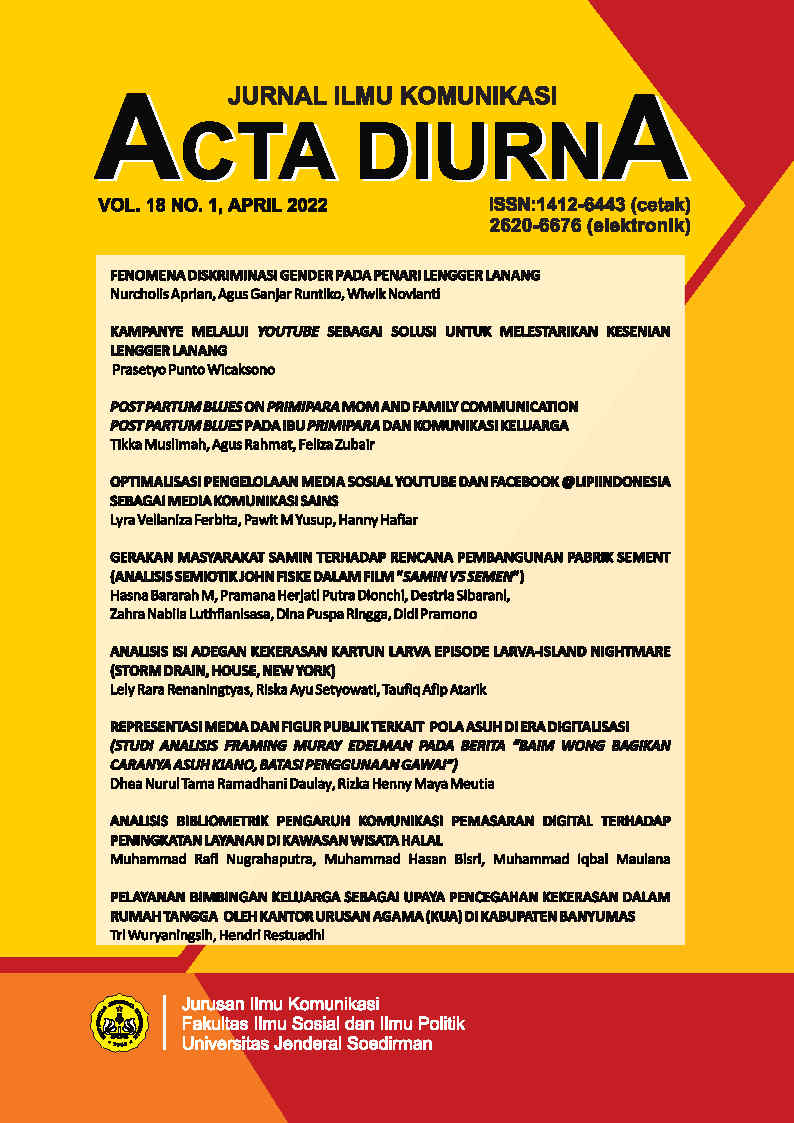 This work is licensed under a Creative Commons Attribution-ShareAlike 4.0 International License.
Authors who publish with this journal agree to the following terms:
Authors retain copyright and grant the journal right of first publication with the work simultaneously licensed under a Creative Commons Attribution License that allows others to share the work with an acknowledgment of the work's authorship and initial publication in this journal.
Authors are able to enter into separate, additional contractual arrangements for the non-exclusive distribution of the journal's published version of the work (e.g., post it to an institutional repository or publish it in a book), with an acknowledgment of its initial publication in this journal.
Authors are permitted and encouraged to post their work online (e.g., in institutional repositories or on their website) prior to and during the submission process, as it can lead to productive exchanges, as well as earlier and greater citation of published work (See The Effect of Open Access).