Membincang Pembelajaran Daring dari Sudut pandang Filsafat Teknologi dan Keterasingan Manusia
Nana Sutikna

Universitas Jenderal Soedirman
Abstract
The Covid-19 pandemic, which has rapidly moved the offline mode of learning to online in the last two years, has brought many changes in the learning culture. To be able to continue to carry out learning activities, lecturers and students must inevitably become more closely related to technology. On the other hand, learning technology which was originally only a tool for lecturers during online learning actually takes on a role on the main stage and makes lecturers alienated in their own world. Through literature searches, this research seeks to uncover various forms of human relations with online learning technology while exploring the forms and causes of alienation experienced by the humans involved in it. Based on the findings of this study, it is known that humans build relationships with learning technology in four forms, namely embodiment relations, hermeneutics relations, alterity relations and background relations. Lecturers experience alienation in online learning because they are no longer able to make themselves fully embodied in their work; lecturers also lose their feudal authority which makes themselves no more than servants to learning machines as the main instrument. Therefore, a middle ground is needed that can still bridge the direct meeting of lecturers and students, which provides opportunities and space for students to not only transfer knowledge but also gain phenomenological and critical experiences in online learning that takes place, and hybrid learning methods are one of the alternatives.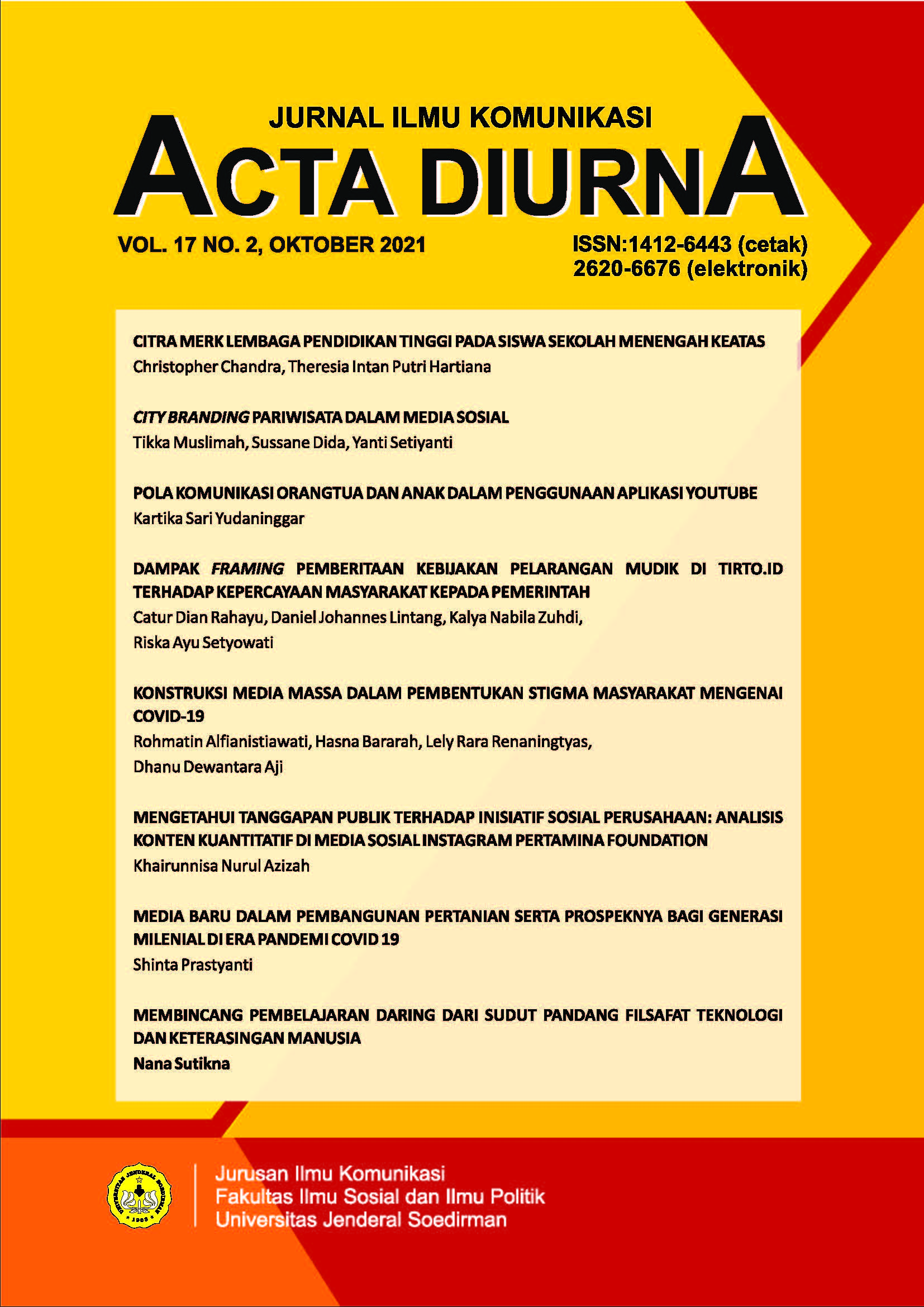 This work is licensed under a Creative Commons Attribution-ShareAlike 4.0 International License.
Authors who publish with this journal agree to the following terms:
Authors retain copyright and grant the journal right of first publication with the work simultaneously licensed under a Creative Commons Attribution License that allows others to share the work with an acknowledgment of the work's authorship and initial publication in this journal.
Authors are able to enter into separate, additional contractual arrangements for the non-exclusive distribution of the journal's published version of the work (e.g., post it to an institutional repository or publish it in a book), with an acknowledgment of its initial publication in this journal.
Authors are permitted and encouraged to post their work online (e.g., in institutional repositories or on their website) prior to and during the submission process, as it can lead to productive exchanges, as well as earlier and greater citation of published work (See The Effect of Open Access).