Optimalisasi Pengelolaan Media Sosial YouTube dan Facebook @lipiindonesia sebagai Media Komunikasi Sains
Lyra Vellaniza Ferbita

Lembaga Ilmu Pengetahuan Indonesia (LIPI)
Abstract
Penelitian ini meneliti tentang optimalisasi pengelolaan media sosial Youtube dan Facebook @lipiindonesia yang digunakan sebagai media komunikasi hasil riset oleh Lembaga Ilmu Pengetahuan Indonesia (LIPI). Tujuan penelitian ini adalah untuk mengetahui bagaimana hambatan yang dihadapi dalam pengelolaan media sosial dan bagaimana optimalisasi yang dilakukan oleh Humas di LIPI untuk mengatasi ketimpangan pada pengelolan media sosial. Metode penelitian yang digunakan adalah kualitatif dengan metode studi kasus. Hasil penelitian ini adalah, pengelola media sosial menemukan sejumlah hambatan internal dan eksternal dalam proses pengelolaan media sosial. Hambatan tersebut ternyata menyebabkan ketimpangan dalam pengelolaan media sosial. Pengelola media sosial juga perlu melakukan sejumlah upaya optimalisasi pada akun YouTube dan Facebook @lipiindonesia agar kedua media sosial tersebut dapat lebih optimal sebagai media komunikasi sains.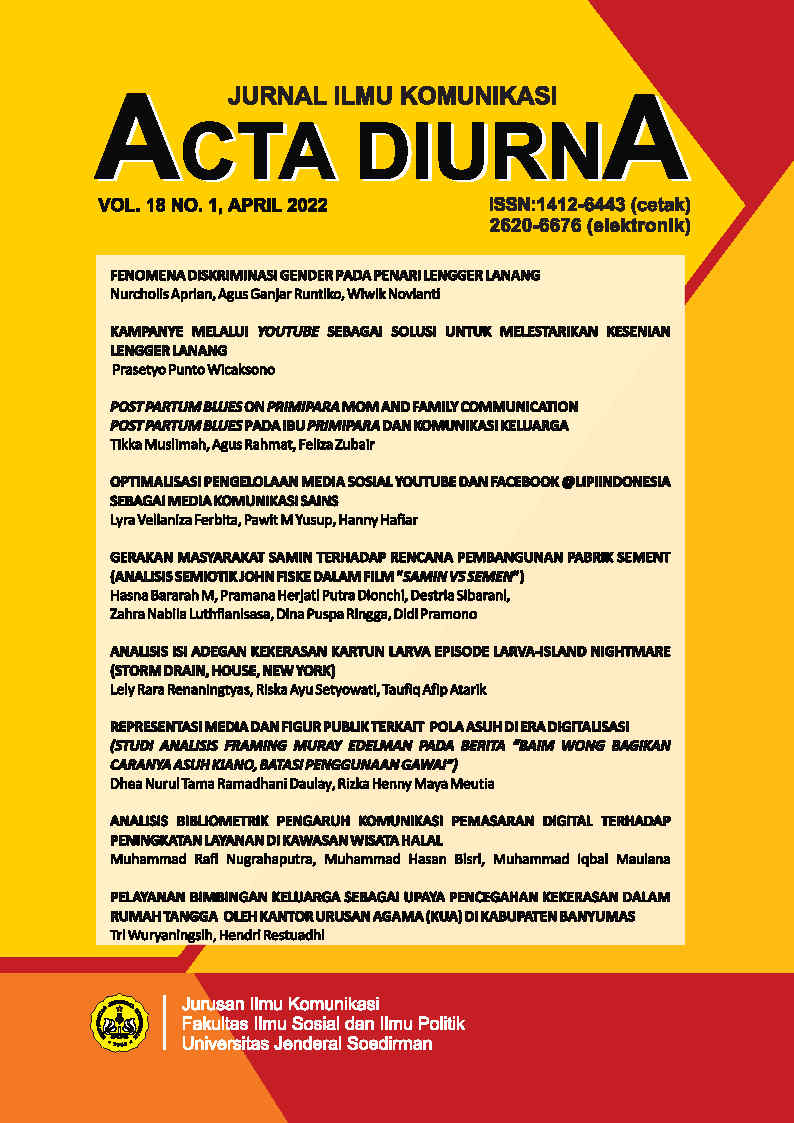 This work is licensed under a Creative Commons Attribution-ShareAlike 4.0 International License.
Authors who publish with this journal agree to the following terms:
Authors retain copyright and grant the journal right of first publication with the work simultaneously licensed under a Creative Commons Attribution License that allows others to share the work with an acknowledgment of the work's authorship and initial publication in this journal.
Authors are able to enter into separate, additional contractual arrangements for the non-exclusive distribution of the journal's published version of the work (e.g., post it to an institutional repository or publish it in a book), with an acknowledgment of its initial publication in this journal.
Authors are permitted and encouraged to post their work online (e.g., in institutional repositories or on their website) prior to and during the submission process, as it can lead to productive exchanges, as well as earlier and greater citation of published work (See The Effect of Open Access).