Kampanye Melalui Youtube Sebagai Solusi untuk Melestarikan Kesenian Lengger Lanang
Prasetyo Punto Wicaksono

Universitas Jenderal Soedirman
Abstract
Lengger Lanang merupakan salah satu kesenian tradisional yang berasal dari Kabupaten Banyumas. Kesenian ini lahir dari tradisi pemujaan terhadap Dewi Kesuburuan dan sudah terus dipraktikkan hingga kini. Tarian Lengger Lanang hanya dilakukan oleh laki-laki namun mereka berpakaian dan berdandan sebagai perempuan. Saat ini banyak orang yang tidak mengetahui sejarah dan makna dari tari Lengger Lanang sehingga semakin sedikit peminat yang ingin melestarikan kesenian tari Lengger Lanang. Di Zaman serba modern seperti ini banyak cara untuk mempromosikan sebuah pertunjukan, tak terkecuali kesenian tari Lengger Lanang. Penggunaan media sosial yang digunakan mencari informasi, berbagi informasi, hiburan, relaksasi, dan interaksi sosial dapat dimanfaat sebagai sarana untuk mempromosikan dan memperkenalkan kesenian tari Lengger Lanang. Penelitian ini menggunakan penetilian kualitatif dengan metode deskriptif. Data yang didapat diperoleh melalui hasil observasi dan wawancara sehingga dapat ditemukan beberapa informasi yang dapat disatukan dengan literatur yang sudah ada. Hasil dari penelitian ini berhasilnya kampanye promosi tari Lengger Lanang menggunakan media audio-visual sehingga menarik peminat penonton terutama kalangan anak muda.
Kata Kunci : Lengger Lanang, Diskriminasi, Kampanye, Promosi, Media Sosial.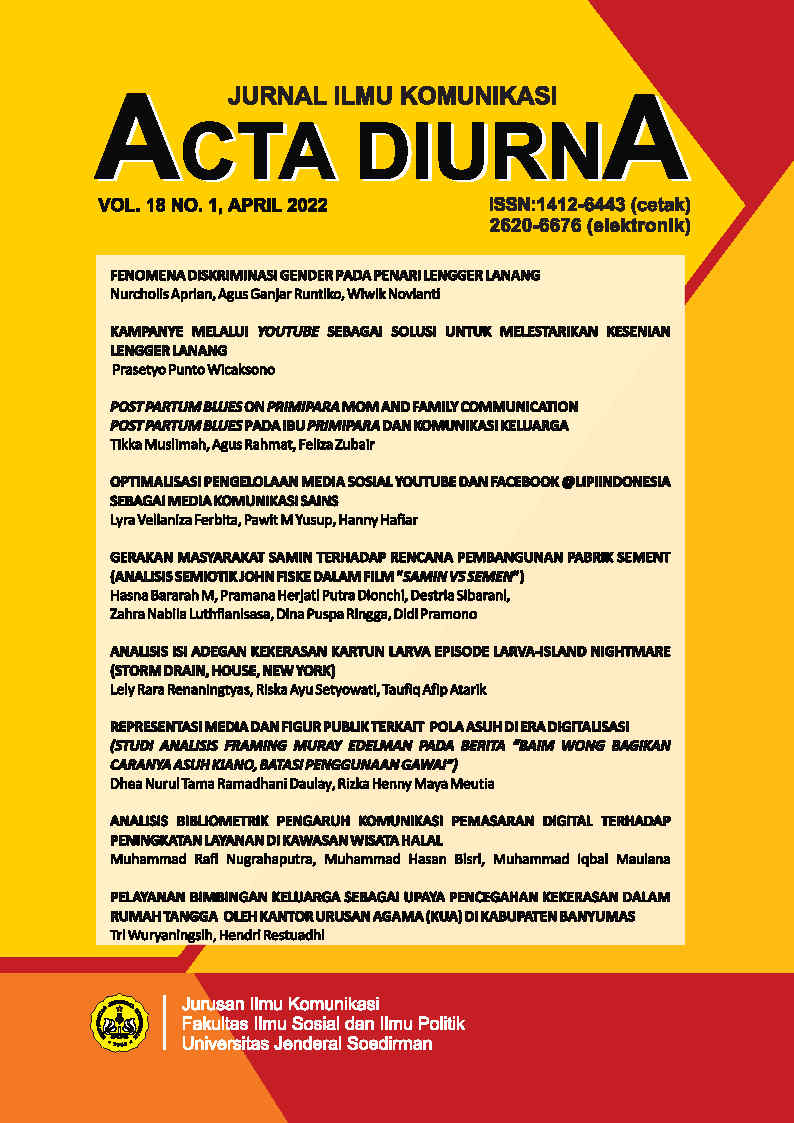 This work is licensed under a Creative Commons Attribution-ShareAlike 4.0 International License.
Authors who publish with this journal agree to the following terms:
Authors retain copyright and grant the journal right of first publication with the work simultaneously licensed under a Creative Commons Attribution License that allows others to share the work with an acknowledgment of the work's authorship and initial publication in this journal.
Authors are able to enter into separate, additional contractual arrangements for the non-exclusive distribution of the journal's published version of the work (e.g., post it to an institutional repository or publish it in a book), with an acknowledgment of its initial publication in this journal.
Authors are permitted and encouraged to post their work online (e.g., in institutional repositories or on their website) prior to and during the submission process, as it can lead to productive exchanges, as well as earlier and greater citation of published work (See The Effect of Open Access).