STUDI KASUS ANISAKIASIS PADA BEBERAPA IKAN LAUT DI TEMPAT PELELANGAN IKAN CILACAP SEBAGAI SALAH SATU RUJUKAN KUALITAS DAGING IKAN LAUT HASIL TANGKAPAN
Abstract
Analisakiasis were one of parasite diseases at sea fishs which caused of larva stadium III infection anisakid, and infected to human being (Zoonosis). Infection at human being happened if human being eat less raw or matured sea fish concidering stadium larva of III (L3) Aniasakid in its, and will result eosinofilik granuloma the hardness at human being intestines. The research about anasakid larva at some sea fishes were conducted at Cilacap. The Method of these research was survey with purposive random sampling randome. Location sample intake was conducted at Auction Fish ; PPSC, Teluk Penyu and Lengkong Cilacap. Amount of fishs sampel taking was 5% from day haul. Fish type of sampel which in taking was belanak, flatulent, and bean. Inspection of fish conducted in Entomology – Parasitology Laboratoty of Biology Faculty of Jenderal Soedirman University Purwokerto, The examination was conducted to checking organ in, body cavity and flesh concerning to make ensure that was no anisakis Sp. in it. The result showed high percentage of anisakis sp were found at fish of belanak, flatulent, and bean were equal to 83,3%, 91,7% and 100%. Body cavity at most found anisakis sp. most found at body cavity in state of ganging or capsulated.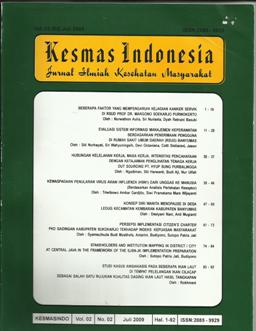 How to Cite
ROKHMANI, Rokhmani. STUDI KASUS ANISAKIASIS PADA BEBERAPA IKAN LAUT DI TEMPAT PELELANGAN IKAN CILACAP SEBAGAI SALAH SATU RUJUKAN KUALITAS DAGING IKAN LAUT HASIL TANGKAPAN.
Kesmas Indonesia
, [S.l.], v. 2, n. 2, p. 85-92, feb. 2017. ISSN 2579-5414. Available at: <
http://jos.unsoed.ac.id/index.php/kesmasindo/article/view/104
>. Date accessed: 04 oct. 2023.