Terpenoids from the Stem bark of Aglaia elaeagnoidea and their cytotoxic activity against HeLa and DU145 Cancer Cell lines
Terpenoids from Aglaia elaeagnoidea
Dini Oktaviani

Winda Sukmawati

Universitas Padjadjaran

Kindi Farabi

Universitas Padjadjaran

Desi Harneti

Universitas Padjadjaran

Nurlelasari Nurlelasari

Universitas Padjadjaran

Darwati Darwati

Universitas Padjadjaran

Rani Maharani

Universitas Padjadjaran

Tri Mayanti

Universitas Padjadjaran

Agus Safari

Universitas Padjadjaran

Unang Supratman

Department of Chemistry, Faculty of Mathematics and Natural Sciences, Universitas Padjadjaran, Jatinangor 45363, Sumedang, Indonesia
Abstract
Aglaia is the largest genus of the Meliaceae family which contains terpenoid compounds. This type of compounds showed a diverse structures and biological activities that can be found in natural resources. Aglaia elaeagnoidea is a species from Aglaia genus that only has a few previous research. This study was aimed to isolate and determine the chemical structure of terpenoid compounds from the ethyl acetate extract of A. elaeagnoidea stem bark. Ethyl acetate extracts were separated and purified by various chromatographic techniques to obtain compounds 1-5. Compounds 1-5 were identified their chemical structures by spectroscopic methods (IR, MS, and NMR) and comparison with previous reported spectral data. Compounds 1 and 2 were identified as eudesmane-type sesquiterpenoids, 5-epi-eudesm-4(15)-ene-1β,6β-diol (1) and 6α-Hydroxy-eudesm-4(15)-en-1-one (2). Compounds 3-5 were identified as dammarane-type triterpenoids, 20S,24S-epoxy-25-hydroxydammarane-3-one (3), 20S,24S-epoxydammarane-3α,25-diol (4), and 3α-epi-cabraleahydroxy lactone (5). These compounds are first time reported from this plant. Compounds 1-5 were tested for cytotoxicity against HeLa cervical cancer cell and DU145 prostate cancer cell and as a result, compound 4 (20S,24S-epoxydammarane-3α,25-diol) showed the stronger activity compared to other compounds.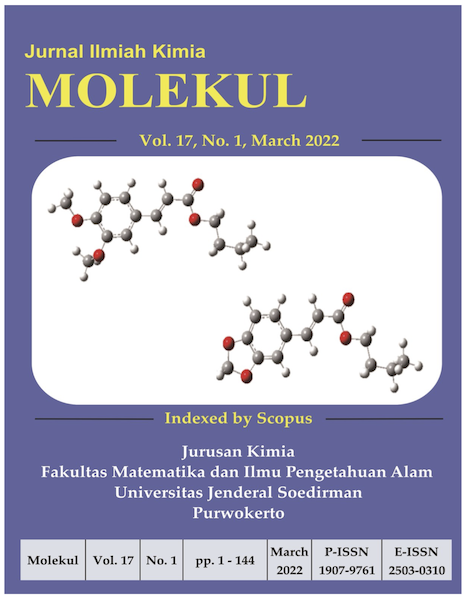 Authors agree with the statements below:
Authors automatically transfer the copyright to the MOLEKUL journal and grant the journal right of first publication with the work simultaneously licensed under a Creative Commons Attribution 4.0 International License (CC BY 4.0).
Authors are able to enter into separate permission for the non-exclusive distribution of the journal's published version of the work (e.g., post it to an institutional repository or publish it in a book), with an acknowledgment of its initial publication in this journal.