Personification in Call Us What We Carry Poems by Amanda Gorman 2021
Hafizh Assad

Universitas Gunadarma

Devi Hellystia

Universitas Gunadarma
Abstract
This research is supposed to find the types of personification and to know which personification types are dominant in Call Us What We Carry poems by Amanda Gorman. The previous research has emphasized the types, meanings, and functions of personification contained in literary work. The qualitative research method was used in this research. The data of this research were lines and stanzas which personification form is contained within the poem. This research used the types of personification theory by Breen (2021) to analyze the types of personification in the poem. The results of this research showed 3 types of personification which contained 51 data of personification types in total. The Platonic personification type which applied an action, picture, and the role of human knowledge into an inanimate object includes a total of 46 data was the most dominant of the three forms of personification since its characteristics most frequently occur in the lines and stanzas of Call Us What We Carry poems. Then, it is followed by the Prudentian personification type that has religious and deification aspects in their characters with a total of 3 data; it is uncommon to discover lines and stanzas in the Call Us What We Carry poems by Amanda Gorman that fulfill the features of Prudentian personification. The last position was occupied by the Aristotelian personification type which has a mundane and ironic characteristic. This personification type contained the least quantity of 2 data due to the rarity of lines and stanzas.
References
Breen, K. (2021). Machines of the Mind: Personification in Medieval Literature. University of Chicago Press.

Baan, A. (2020). Personification In Gelong Maro As Oral Literature Tana Toraja Community. ISLLAC : Journal of Intensive Studies on Language, Literature, Art, and Culture, 4(1).

Citra, K. A., Putranti, S. D., & Wahyuni, N. S. (2020). An analysis of the subtitle of simile and personification in anna karenina (2012) movie. Lingua : Jurnal Ilmiah, 16(2), 75–93.

Dancygier, B. (2014). Cambridge Textbooks in Linguistics. Cambridge University Press.

Gorman, A. (2021). Call Us What We Carry. Viking Books Press.

Lincoln, N. K. D. (2018). The handbook on Qualitative Research. In Sage Publications Press.

Manueke, E. G. Y. (2021). Personification in Poem Kata Yang Tak Sempat Terucap By Radinda Anggia. Jurnal AKRAB JUARA, 1(69), 5–24.

Melion Walter S, R. B. (2016). Personification Embodying Meaning and Emotion. Brill Press.

Nurullina, G., Erofeeva, I., Islamova, E., & Yuan, T. (2017). Personification as the Way of Grammatical Gender Category Expression in Art Context. Journal of History Culture and Art Research, 6(5), 160-165.

Sharma, L. R. (2022). Analysis of figurative language in Robert Frost's poem: Stopping by Woods on a Snowy Evening. International Journal of Multidisciplinary Research and Growth Evaluation, 3(1), 253–257.

Utama, I. G. J. (2015). Analysis of Personification Expression Used in The Blink 182 Songs. Humanis: Journal of Arts and Humanities, 10(1).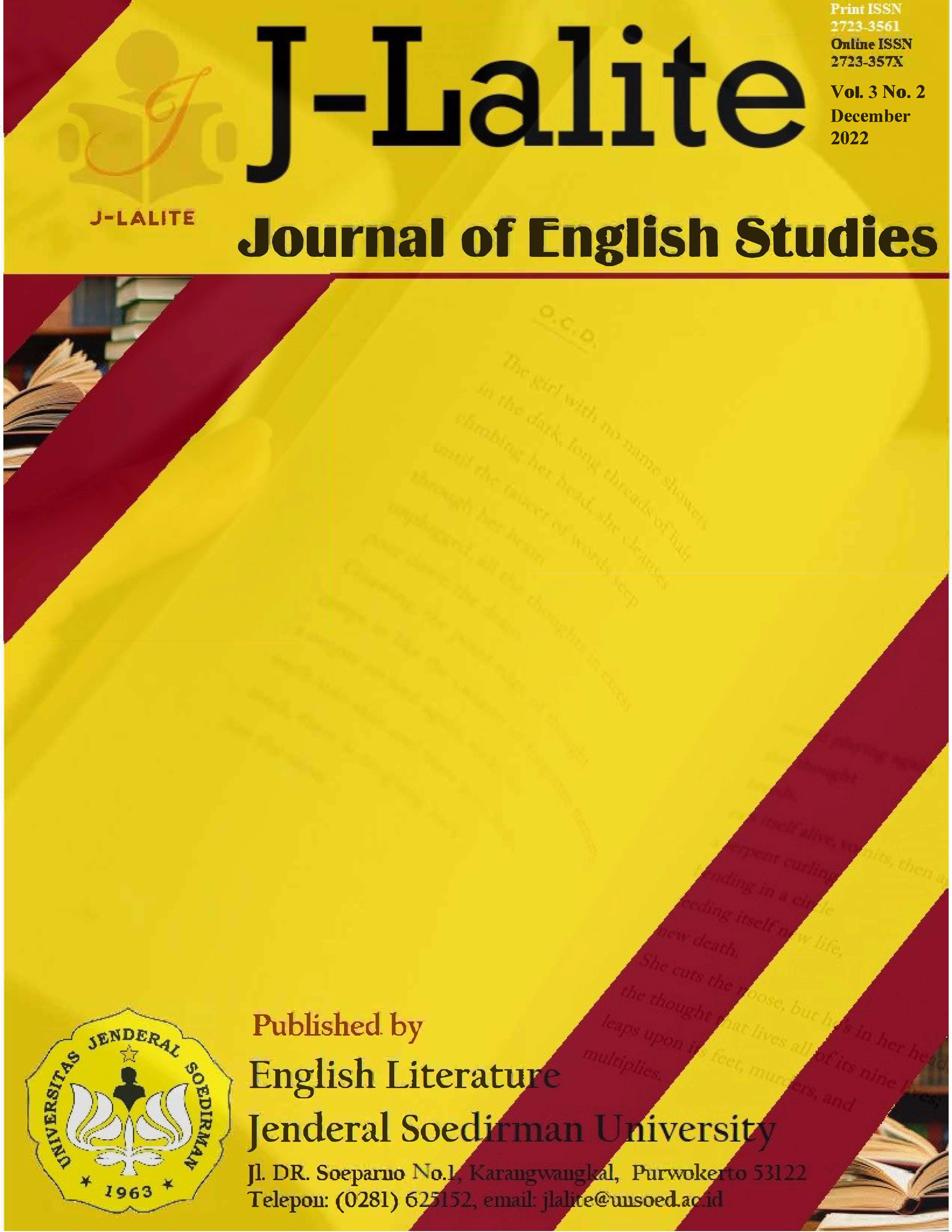 This work is licensed under a Creative Commons Attribution-ShareAlike 4.0 International License.
By submitting the manuscript, the author(s) agreed to these following terms:
(1) The copyright of received articles shall be assigned to J-Lalite: Journal of English Studies as the publisher of the journal. The intended copyright includes the right to publish articles in various forms (including reprint). J-Lalite: Journal of English Studies maintain the publishing rights to the published articles.
(2) Author(s) are permitted to disseminate published articles by sharing the link/DOI of the article at J-Lalite: Journal of English Studies. Author(s) are allowed to use their articles for any legal purposes deemed necessary without written permission from J-Lalite: Journal of English Studies with an acknowledgement of initial publication to this journal.
(3) Authors should sign a copyright transfer agreement when they have approved the final proofs sent by J-Lalite: Journal of English Studies prior to the publication.
(4) User/public use of this website will be licensed to Creative Commons Attribution-ShareALike 4.0 International (CC BY-SA 4.0) License.