ANALISIS HERMENEUTIK ATAS DIALOG PADA FILM DILAN 1990 BAGI PENEGUHAN CINTA SUAMI ISTRI DI ERA MILENIAL
YOHANNES DON BOSCO DOHO

INSTITUT KOMUNIKASI DAN BISNIS LSPR JAKARTA
Abstract
ABSTRACT
Hermeneneutic is a theory that was originally intended to interpret scriptural texts. But over time, hermeneutics also aims to understand the various forms of text that ultimately mean as the process of changing something or situation of ignorance to understand, and it is implemented on the theory of interpretation of the text, one of which is the interpretation of the lyrics of the song. One of the philosophers in this theory is Schleiermacher who proposed his first two hermeneutical theories of understanding: grammatical understanding of all expressions, and second: the psychological understanding of authors. Based on both of them, Hermeneutics becomes an intuitive understanding, whose task is to reconstruct the author's mind. This study aims to analyze the moral message of the dialectics of the 1990 film Dilan. Based on dialogue in film researchers dive into the moral message for the institution of marriage of millennial people. Performed by using qualitative interpretive approach. The results confirm that the alignment of husband and wife life is always colored dynamics that actually strengthen the harmonization. A harmonious marriage and deliver couples to a happy life. Moral behavior in married life includes the ability , will , and habit. A moral attitude encompasses conscience, self esteem, empathy, loving the good, self-control and humility. Everything is set in the era and characteristics of the millennial generation.
Keywords: dialog, film, hermeneutics, , marriage, millennial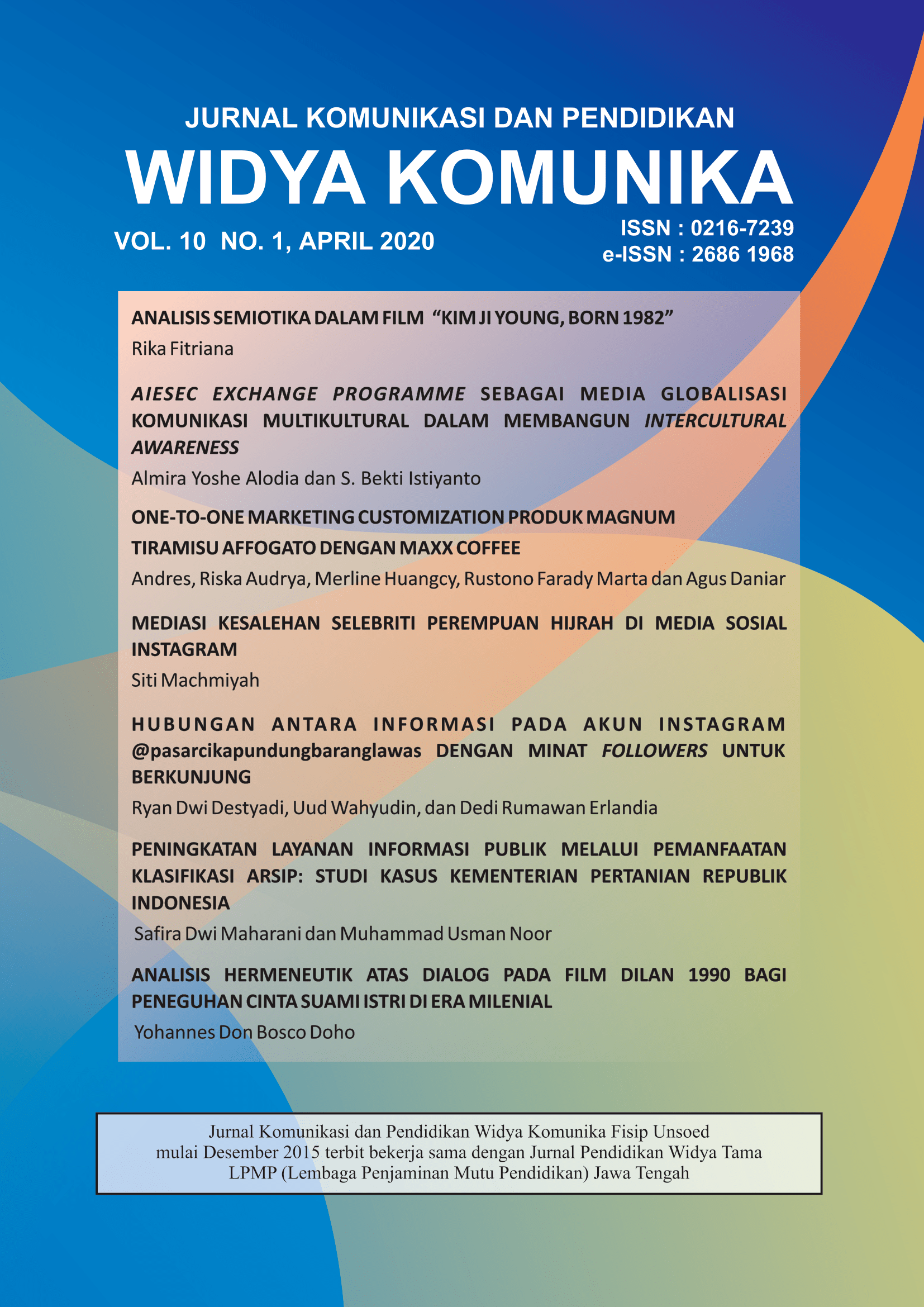 How to Cite
DOHO, YOHANNES DON BOSCO. ANALISIS HERMENEUTIK ATAS DIALOG PADA FILM DILAN 1990 BAGI PENEGUHAN CINTA SUAMI ISTRI DI ERA MILENIAL.
Widya Komunika
, [S.l.], v. 10, n. 1, p. 94-118, june 2020. ISSN 2686-1968. Available at: <
http://jos.unsoed.ac.id/index.php/wk/article/view/2573
>. Date accessed: 19 sep. 2020.