The Influence of CSR Program "Desa Wisata Buah Diwak" on the Image of PT Industri Jamu Dan Farmasi Sido Muncul. Tbk Company
Ega Karismabumi Latunagari

Universitas Atma Jaya Yogyakarta
Abstract
Sebagai organisasi bisnis yang hidup berdampingan dengan masyarakat, maka sebuah perusahaan perlu menjalankan konsep triple bottom line (Profit, Planet, People). Program CSR berbasis Community Development merupakan salah satu saluran komunikasi antara perusahaan dengan lingkungan. Sehingga, diharapkan mampu memberikan dampak positif bagi kesejahteraan masyarakat sekaligus menciptakan citra positif perusahaan di mata stakeholder. Maka dari itu, penelitian ini bertujuan untuk mengetahui pengaruh efektivitas program CSR Desa Wisata Buah Diwak terhadap citra PT Industri Jamu Dan Farmasi. Tbk. Penelitian ini menggunakan metode kuantitatif dengan menyebarkan kuesioner kepada kelompok tani. Melalui hasil olah data, diketahui bahwa nilai R square sebesar 0.101 dan nilai signifikansi sebesar 1.130. Sehingga dapat disimpulkan bahwa pengaruh antara efektivitas program CSR dengan citra perusahaan belum maksimal. Hal ini dipengaruhi oleh beberapa faktor, salah satunya karena program CSR baru berjalan selama 3 tahun. Padahal hasil dan manfaat dari program CSR baru dapat dirasakan secara langsung oleh kelompok tani minimal dalam jangka waktu 5 tahun.
Keywords : corporate social responsibility, community development, citra perusahaan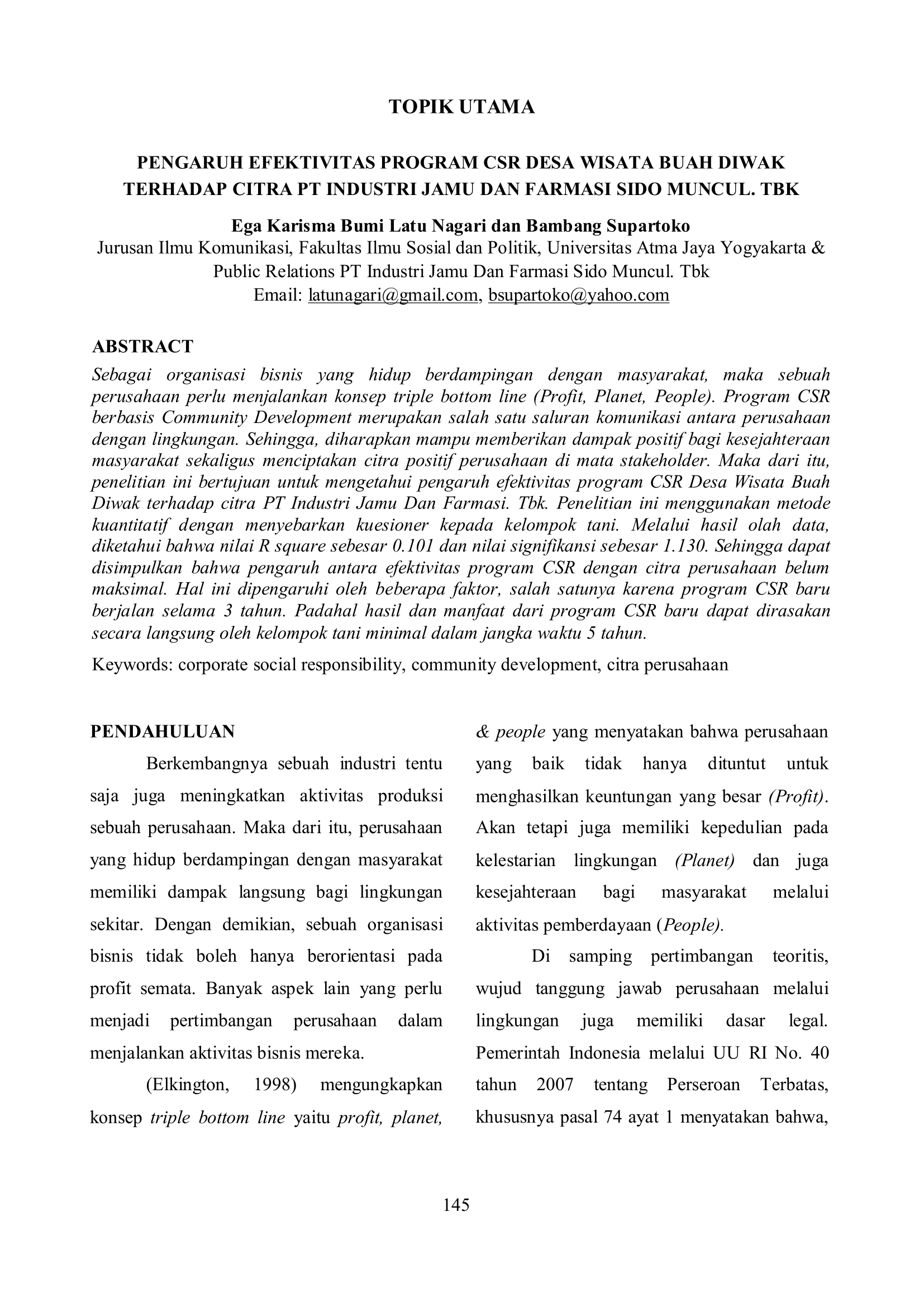 How to Cite
LATUNAGARI, Ega Karismabumi. The Influence of CSR Program "Desa Wisata Buah Diwak" on the Image of PT Industri Jamu Dan Farmasi Sido Muncul. Tbk Company.
Widya Komunika
, [S.l.], v. 9, n. 2, p. 145-156, dec. 2019. ISSN 2686-1968. Available at: <
http://jos.unsoed.ac.id/index.php/wk/article/view/1976
>. Date accessed: 13 aug. 2020.