A Novel Enzyme Biosensor Based on Ag/Reduced Graphene Oxide/Chitosan Membrane with Potentiometer for Pesticide Detection
Mashuni Mashuni

Halu Oleo University

Nur Arfa Yanti

Halu Oleo University

Irnawati Irnawati

Halu Oleo University

Fitri Handayani Hamid

Halu Oleo University

Muhammad Jahiding

Halu Oleo University
Abstract
Long-term accumulation of pesticides in the environment  to human and animal health. Acetylcholinesterase (AChE) biosensors with highly sensitive potentiometer transducers based on the membranes of Ag, reduced graphene oxide (rGO), and chitosan (CS) has been successfully developed. The membrane was made with a composition of 0.5 mM AgNO3, 2.5 mg/mL rGO, and 2% (w/v) CS coated on the surface of the Au electrode. The composition of the membrane with three ratios, namely 1:1:2, 2:1:3, and 3:1:4. Then, membrane Ag/rGO/CS and the enzyme AChE were immobilized on the membrane surface. The prepared biosensor has excellent conductivity, catalytic activity, and biocompatibility attributed to the synergistic effect of Ag/rGO/CS and glutaraldehyde (GTA) as crosslinkers and providing a hydrophilic surface for AChE adhesion. The linear range in biosensors is 1 × 10-8 to 1 µg L-1 with a regression coefficient of 0.9803 for 1:1:2 membrane, 0.9836 for 2:1:3 membrane, and 0.9850 for 3:1:4 membrane. The LOD is about 1 × 10-7 µg L-1 for all membranes. In addition, the biosensor showed good sensitivity, acceptable reproducibility, and stability, having an RSD of less than 5%. This biosensor makes it possible to provide a new and promising tool for analyzing pesticides, especially organophosphates.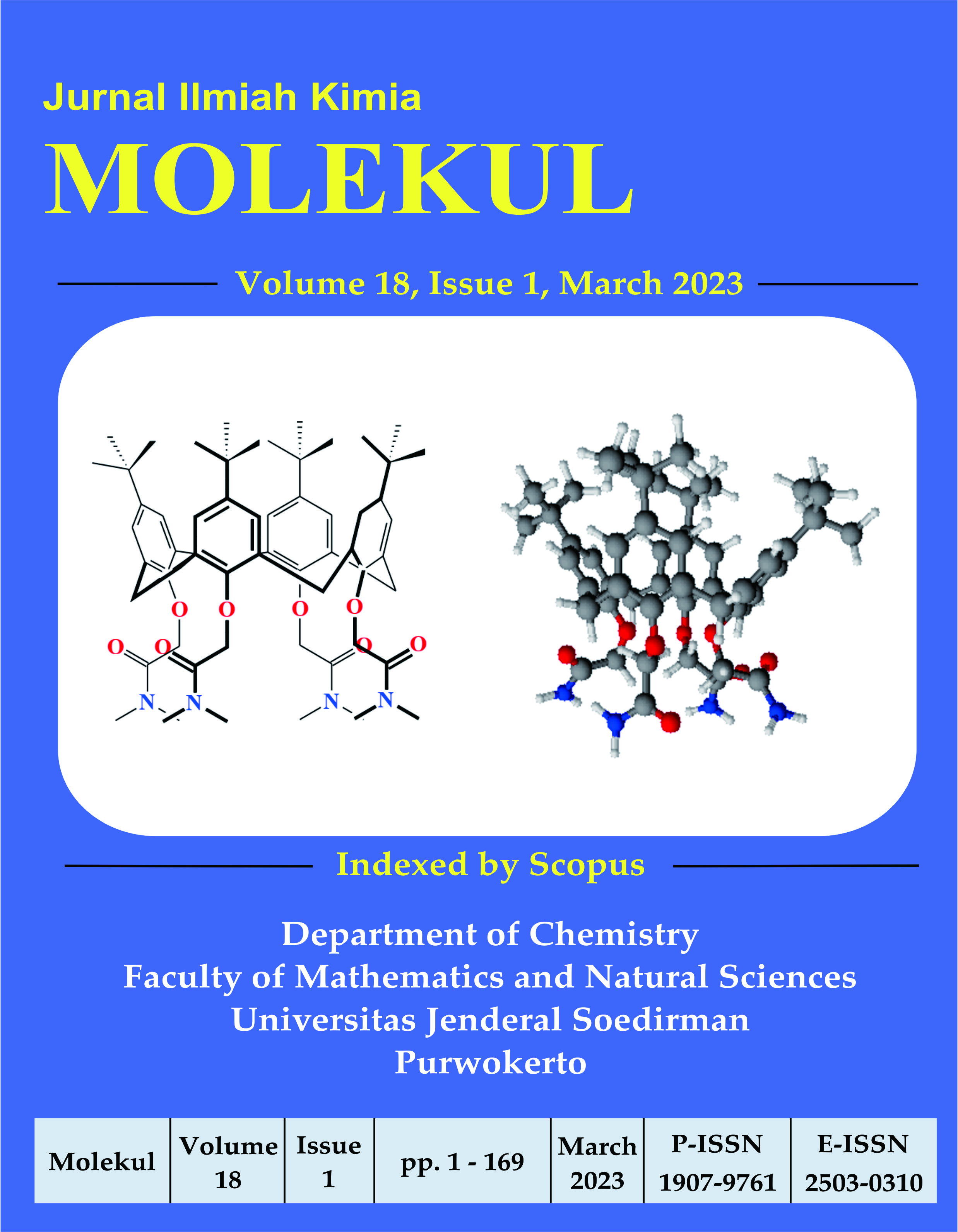 Authors agree with the statements below:
Authors automatically transfer the copyright to the MOLEKUL journal and grant the journal right of first publication with the work simultaneously licensed under a Creative Commons Attribution 4.0 International License (CC BY 4.0).
Authors are able to enter into separate permission for the non-exclusive distribution of the journal's published version of the work (e.g., post it to an institutional repository or publish it in a book), with an acknowledgment of its initial publication in this journal.