Sesquiterpenoids from Stem Bark of Chisocheton lasiocarpus and Their Cytotoxic Activity against MCF-7 Breast Cancer Cell
Unang Supratman

Department of Chemistry, Faculty of Mathematics and Natural Sciences, Universitas Padjadjaran, Jatinangor 45363, Sumedang, Indonesia

Samuel San Parulian

Department of Chemistry, Faculty of Mathematics and Natural Sciences, Universitas Padjadjaran, Jatinangor

Nurlelasari Nurlelasari

Department of Chemistry, Faculty of Mathematics and Natural Sciences, Universitas Padjadjaran, Jatinangor

Al Arofatus Naini

Department of Chemistry, Faculty of Mathematics and Natural Sciences, Universitas Padjadjaran, Jatinangor

Tri Mayanti

Department of Chemistry, Faculty of Mathematics and Natural Sciences, Universitas Padjadjaran, Jatinangor

Erina Hilmayanti

Department of Chemistry, Faculty of Mathematics and Natural Sciences, Universitas Padjadjaran, Jatinangor

Desi Harneti

Department of Chemistry, Faculty of Mathematics and Natural Sciences, Universitas Padjadjaran, Jatinangor

Darwati Darwati

Department of Chemistry, Faculty of Mathematics and Natural Sciences, Universitas Padjadjaran, Jatinangor

Rani Maharani

Department of Chemistry, Faculty of Mathematics and Natural Sciences, Universitas Padjadjaran, Jatinangor

Kindi Farabi

Department of Chemistry, Faculty of Mathematics and Natural Sciences, Universitas Padjadjaran, Jatinangor

Risyandi Anwar

Herbal Medicine Research, Department of Pediatric Dentistry, Faculty of Dental Medicine, University of Muhammadiyah Semarang, Semarang

Sofa Fajriah

Research Centre for Raw Materials for Medicine and Traditional Medicine, National Research and Innovation Agency (BRIN), Tangerang Selatan, Banten

Muhamad Nurul Azmi

School of Chemical Sciences, Universiti Sains Malaysia, 11800 Minden,Penang

Yoshihito Shiono

Department of Food, Life, and Environmental Science, Faculty of Agriculture,Yamagata University, Tsuruoka, Yamagata
Abstract
Sesquiterpenoids are derivatives of terpenoid compound that have a diverse skeleton and broad spectrum of biological activities, particularly anticancer activity. This research reported the isolation and elucidation structure of sesquiterpenoid from Chisocheton lasiocarpus stem bark, as well as their cytotoxic activity. Four sesquiterpenoid compounds, namely eudesm-4(15)-ene-1β,6β-diol (1), allo-aromadendrane-10α,14-diol (2), allo-aromadendrane-10β,14-diol (3) and guaianediol (4), were isolated for the first time from Chisocheton lasiocarpus stem bark. The chemical structure of all compounds was identified by spectroscopic analysis, including IR, MS, 1H-NMR, 13C-NMR and DEPT, and compared with previous reported spectral data. The cytotoxic activity of the isolated compounds against MCF-7 breast cancer line were examined by using the resazurin method. The results showed compound 1 shown the highest cytotoxic activity with IC50 108.08 ± 0.58 µM.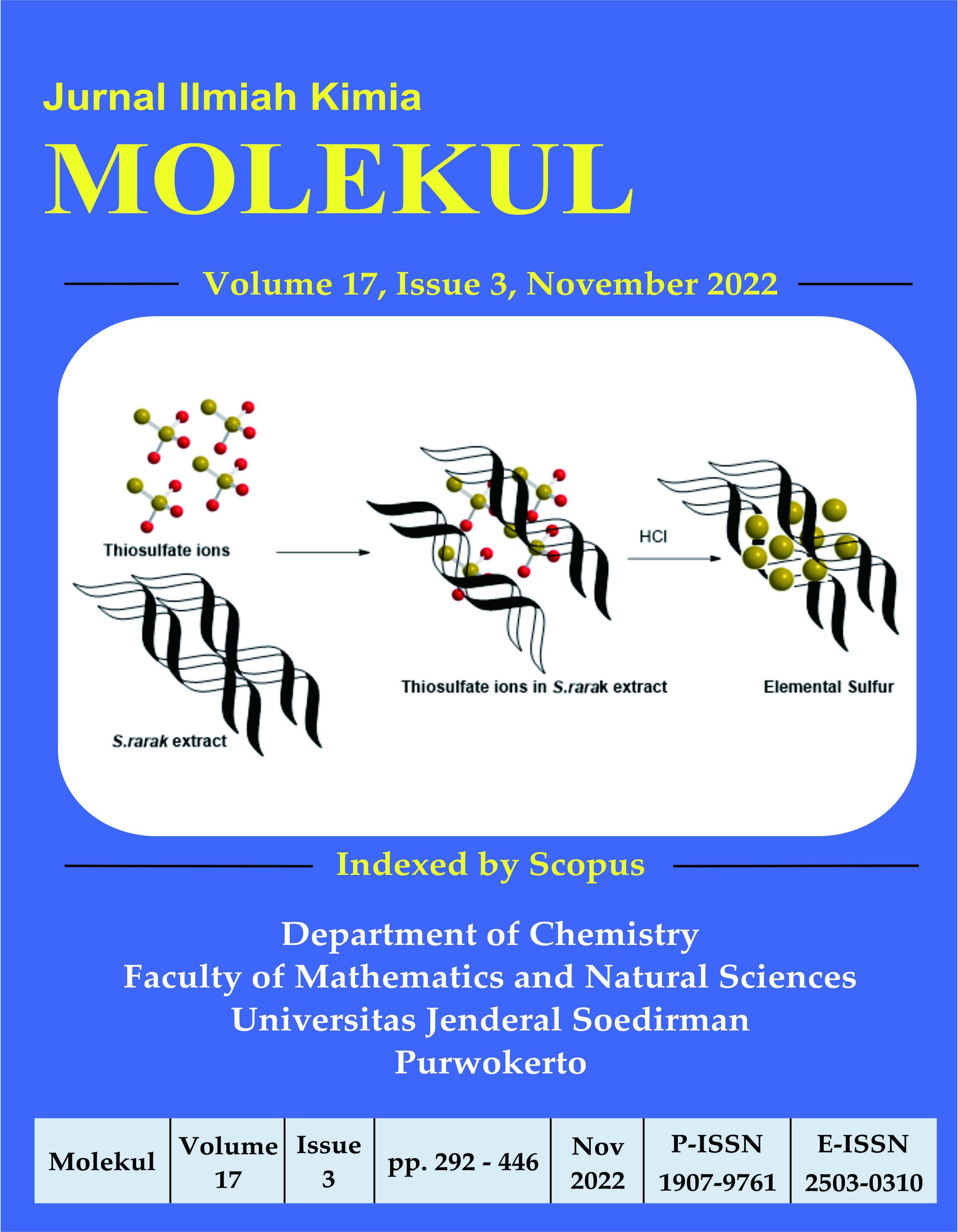 Authors agree with the statements below:
Authors automatically transfer the copyright to the MOLEKUL journal and grant the journal right of first publication with the work simultaneously licensed under a Creative Commons Attribution 4.0 International License (CC BY 4.0).
Authors are able to enter into separate permission for the non-exclusive distribution of the journal's published version of the work (e.g., post it to an institutional repository or publish it in a book), with an acknowledgment of its initial publication in this journal.