Molecularly Imprinted Polymer Solid-Phase Extraction (MISPE) for the Determination of Dinitro-ortho-cresol (DNOC) and Its Risk Assessment in Tomatoes
-
Raden Tina Rosmalina

Research Centre for Environmental and Clean Technology, BRIN

Muhammad Bachri Amran

Analytical Chemistry Division, Institut Teknologi Bandung, Indonesia

Bimastyaji Surya Ramadan

Diponegoro University, Indonesia

Sri Priatni

1Research Centre for Environmental and Clean Technology, National Research and Innovation Agency, Indonesia

Novi Fitria

Higher School of Analyst Bakti Asih Bandung, Indonesia
Abstract
In this study, the molecularly imprinted polymer solid-phase extraction (MISPE) method for the determination of dinitro-ortho-cresol (DNOC) before HPLC (High-performance liquid chromatography) analysis was conducted. This study aims to analyze the sorption behavior and the potential use of molecularly imprinted polymers (MIP) for DNOC extraction. MIP was prepared using a combination of methacrylic acid as the functional monomer; ethylene glycol dimethacrylate as the crosslinker, benzoyl peroxide as the initiator, and acetonitrile as the porogen. The results showed that the optimum adsorption of the material was achieved at pH 5 for a contact time of 30 min with an adsorption capacity of 137 mg/g. The ideal eluent for desorption was a mixture of methanol and acetic acid with a ratio of 3:1. The calculations showed that the adsorption process followed the Sips adsorption isotherm model (n = 0.967), which indicated adsorption on both homogeneous and monolayer surfaces. Reusability studies that were conducted via three consecutive adsorption-desorption cycles resulted in recovery values of 109.4%, 108.8%, and 101.1%. The concentration of DNOC obtained from tomato samples was 0.65 mg/kg with a recovery rate of 87.17%; this was within the tolerable range between 80% and 110%. Based on the high recovery and low LoQ, this method can be used to quantify DNOC quickly.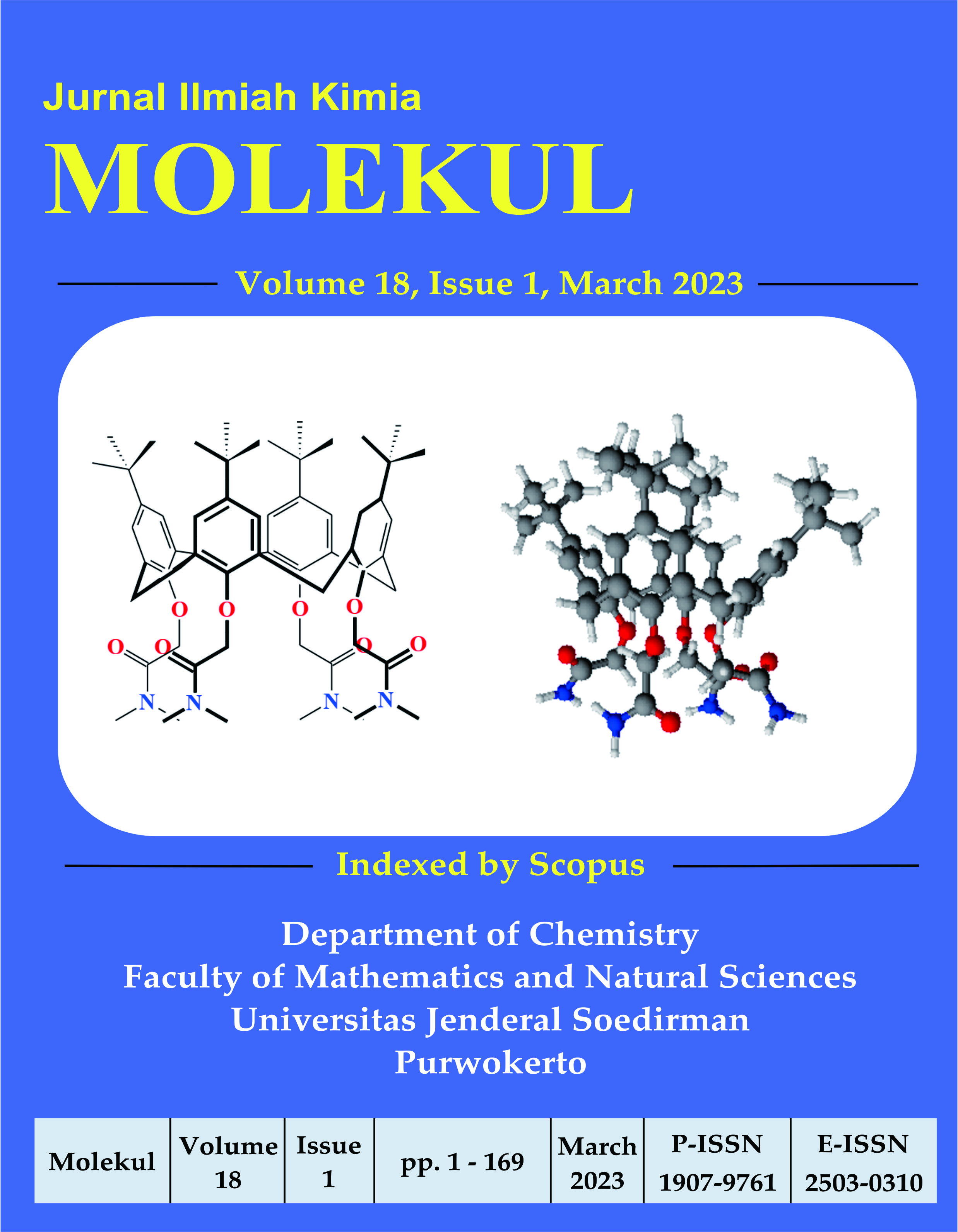 Authors agree with the statements below:
Authors automatically transfer the copyright to the MOLEKUL journal and grant the journal right of first publication with the work simultaneously licensed under a Creative Commons Attribution 4.0 International License (CC BY 4.0).
Authors are able to enter into separate permission for the non-exclusive distribution of the journal's published version of the work (e.g., post it to an institutional repository or publish it in a book), with an acknowledgment of its initial publication in this journal.