Flavonoids from Limau Peel (Citrus amblycarpa (Hassk.) Ochse) and Their Antioxidant Activity
Kristin Shinta Dewi

Department of Chemistry, Faculty of Mathematics and Natural Sciences, Universitas Padjadjaran, Jatinangor 45363, Sumedang, Indonesia

Euis Julaeha

Department of Chemistry, Faculty of Mathematics and Natural Sciences, Universitas Padjadjaran, Jatinangor 45363, Sumedang, Indonesia

Kindi Farabi

Department of Chemistry, Faculty of Mathematics and Natural Sciences, Universitas Padjadjaran, Jatinangor 45363, Sumedang, Indonesia

Unang Supratman

Department of Chemistry, Faculty of Mathematics and Natural Sciences, Universitas Padjadjaran, Jatinangor 45363, Sumedang, Indonesia
Abstract
Citrus amblycarpa (Hassk.) Ochse is an endemic Indonesian plant from West Java. This study aims to determine the chemical structure of the flavonoid compounds of C. amblycarpa peel ethanol extract and their antioxidant activity. Three flavonoid compounds, namely 5-hydroxy-3',4',6,7,8-pentamethoxyflavone (1), 8-hydroxy-3,3',4',5,6,7-hexamethoxyflavone (2), and 3',4',5,6,7,8-hexamethoxyflavone (3), were isolated for the first time from the ethanol extract of C. amblycarpa peel. Their chemical structure was determined by spectroscopic methods (MS, IR, 1H-NMR, 13C-NMR, and DEPT) and compared with previous reported spectral data. Furthermore, these compounds were evaluated for their antioxidant activity using the DPPH method. The results showed that 8-hydroxy-3,3',4',5,6,7-hexamethoxyflavone (2) has the highest antioxidant activity with IC50 value of 121.09 ± 0.24 ppm.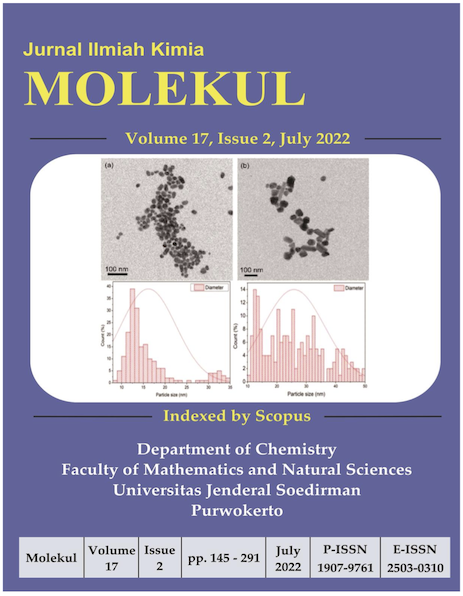 Authors agree with the statements below:
Authors automatically transfer the copyright to the MOLEKUL journal and grant the journal right of first publication with the work simultaneously licensed under a Creative Commons Attribution 4.0 International License (CC BY 4.0).
Authors are able to enter into separate permission for the non-exclusive distribution of the journal's published version of the work (e.g., post it to an institutional repository or publish it in a book), with an acknowledgment of its initial publication in this journal.