The Effectiveness of the Teacher's Directive Speech Acts on Strengthening the Student's Character
Rona Roma Romadhianti

Universitas Muhammadiyah Lampung, Indonesia
Abstract
The purpose of this study is to describe the effectiveness of the use of directive speech acts carried out by teachers in learning Mathematics and Physics, with the data source coming from class X IPA of Senior Hight School Negeri 1 Limau. The research method used is qualitative. Data collection is carried out by means of observation / observation, interviews, recording and recording. Data analysis techniques used qualitative descriptive analysis from the beginning to the end of the study. Data analysis was carried out during data collection and after data collection. The research findings contained thirty two data that were spread into three types of directive speech acts in the command category, giving advice and asking categories. There are research results that teachers who can make effective directive speech acts, are able to foster character for students.
References
Aitchison, J. (2008). Linguistics. London: Hodder Headline

Austin, J. L. (1962). How To Do Things With Words. London: Oxford University Press.

Chaer, A. (2010). Kesantunan Berbahasa. Jakarta: PT Rineka Cipta.

Dede dan Suryadi, M. (2019). Realisasi Bentuk Tindak Tutur Direktif Guru Bahasa Indonesia dalam Proses Pembelajaran. Jurnal KIBASP, 3 (1), 115—124.

Departemen Pendidikan Nasional. (2005). Undang-Undang Nomor 14 Tahun 2005, Tentang Guru dan Dosen, Jakarta: Depdiknas.

Kementerian Pendidikan Nasional Republik Indonesia. (2011). Pengembangan Pendidikan Budaya dan Karakter Bangsa: Pedoman Sekolah. Jakarta: Badan Penelitian dan Pengembangan, Pusat Kurikulum Depdiknas RI.

Leech, G. (1993) . Prinsip-prinsip Pragmatik (Edisi terjemahan oleh M.D.D. Oka). Jakarta: UI Press.

Lickona, T. (1992). Educating for Character: How Our Schools Can Teach Respect and Responsibility. New York: A Bantam Book Publishing History.

Miles, B. M. dan Huberman, M. (1992). Analisis Data Kualitatif Buku Sumber Tentang Metode-Metode Baru. Jakarta: UIP.

Mufidah. (2020). Tindak Tutur Direktif dan Ekspresif pada Acara Brownis dalam Program Trans 7. Jurnal Bahasa dan Sastra, 5 (3), 94—107.

Mulyana, D. (2005). Ilmu Komunikasi Suatu Pengantar. Bandung: PT Remaja,

Muslich, M. (2011). Pendidikan Karakter Menjawab Tantangan Krisis Multidimensional. Jakarta: Bumi Aksara.

Nadar, F. X. (2009). Pragmatik & Penelitian Pragmatik. Yogyakarta: Graha Ilmu.

Oktari, M. F. dan Sudarmini. (2019). Tindak Tutur Direktif dalam Debat Capres Pertama 2019 dan Kaitannya dengan Pembelajaran di SMA Kelas X. Jurnal Komposisi, 4 (2), 85—94.

Parera, J. D. (2002). Teori Semantik. Jakarta: Erlangga

Pringgawidagda, S. (2002). Strategi Penguasaan Berbahasa. Yogyakarta: Adicita Karya

Putri, T. D., Wardhana, D. E. C., & Suryadi. (2019). Tindak Tutur Direktif pada Novel Bidadari-Bidadari Surga Karya

Tere Liye. Jurnal Ilmiah KORPUS, 3 (1), 108—122.

Rahardi, K. (2005). Pragmatik Kesantunan Imperatif Bahasa Indonesia. Jakarta: Penerbit Erlangga.

Rahmawati. (2020). Tindak Tutur Direktif pada Percakapan Nonformal Mahasiswa Prodi Pendidikan Bahasa dan Sastra Indonesia FKIP Universitas Tadulako. Jurnal Bahasa dan Sastra, 5 (3), 2—16.

Rusminto, N. E. (2010). Analisis Wacana; Kajian Teoritis dan Praktis. Bandar Lampung. Universitas Lampung
Sagala, S. (2008). Konsep Dan Makna Pembelajaran. Bandung: Alfabeta. Slameto

Searle, J.R. (1971). The Philosophy of Language. London: Oxford University Press.

Sugiyono. (2010). Metode Penelitian Pendidikan: Pendekatan Kuantitatif, Kualitatif, dan R&D. Bandung: Penerbit Alfabeta.

Wajinah, S., Prayitno, H. J., Purnomo, E., Rufiah, A., & Kustanti, E.W. (2019). Tindak Tutur Direktif Wacana Berita Online: Kajian Media Pembelajaran Berbasis Teknologi Digital. Jurnal Pendidikan Bahasa dan Sastra Indonesia, 2 (2), 118—129.

Wijana, D. P. (1996). Dasar-dasar Pragmatik. Yogyakarta: Andi Offset.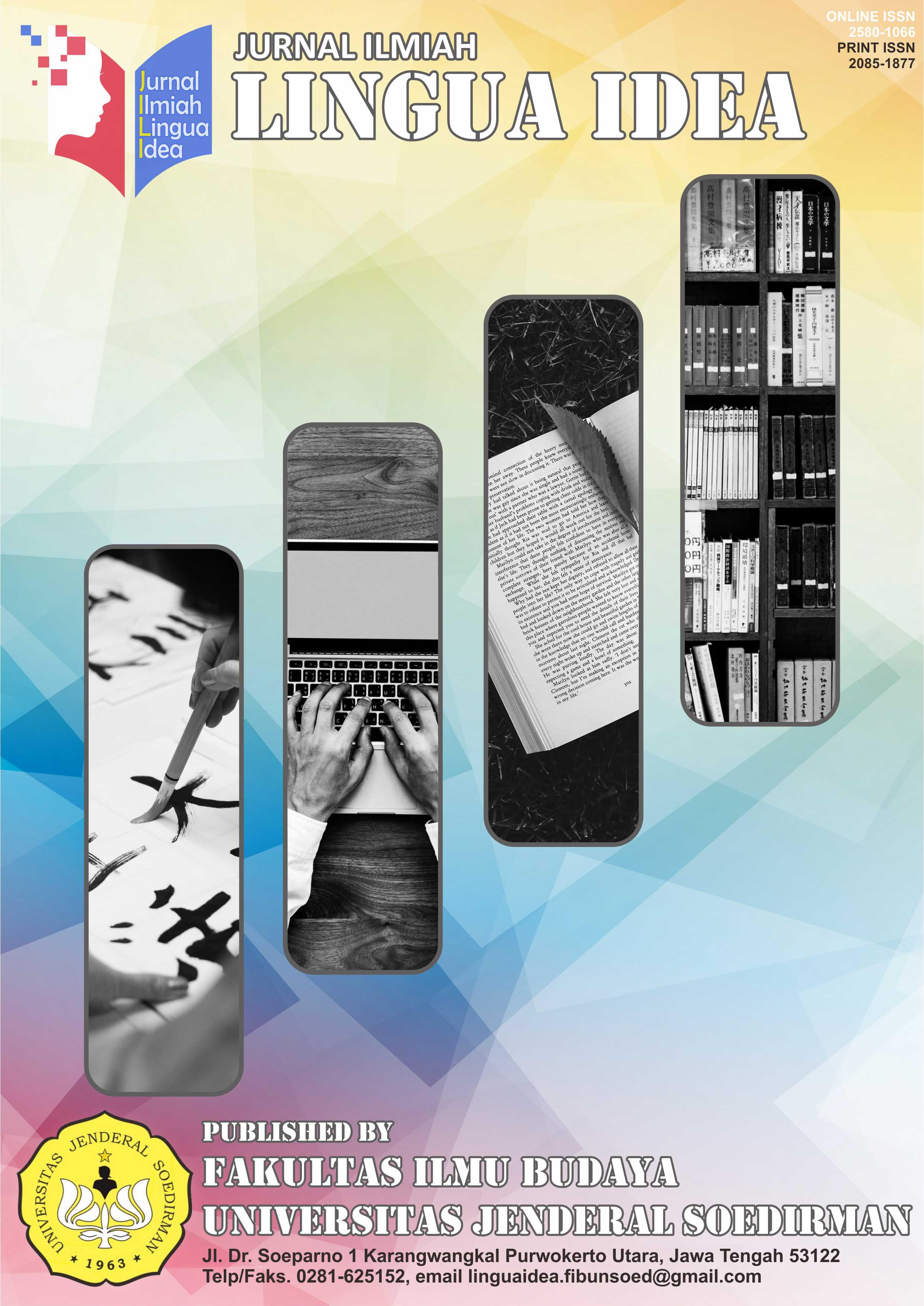 This work is licensed under a Creative Commons Attribution-ShareAlike 4.0 International License.
By submitting the manuscript, the author(s) agreed to these following terms:
(1) The copyright of received articles shall be assigned to Jurnal Ilmiah Lingua Idea as the publisher of the journal. The intended copyright includes the right to publish articles in various forms (including reprint). Jurnal Ilmiah Lingua Idea maintain the publishing rights to the published articles.
(2) Author(s) are permitted to disseminate published articles by sharing the link/DOI of the article at Jurnal Ilmiah Lingua Idea. Author(s) are allowed to use their articles for any legal purposes deemed necessary without written permission from Jurnal Ilmiah Lingua Idea with an acknowledgement of initial publication to this journal.
(3) Authors should sign a copyright transfer agreement when they have approved the final proofs sent by Jurnal Ilmiah Lingua Idea prior to the publication.
(4) User/public use of this website will be licensed to Creative Commons Attribution-ShareAlike 4.0 International License.