HUBUNGAN KELELAHAN KERJA, MASA KERJA, INTENSITAS PENCAHAYAAN, DENGAN KETAJAMAN PENGLIHATAN TENAGA KERJA OUT SOURCING PT. HYUP SUNG PURBALINGGA
Ngadiman Ngadiman

Siti Harwanti

Budi Aji

Nur Ulfah
Abstract
Decreasing of global economy affected the whole industrial sector, specially exporting industries. Employers (corporation) with those condition, will make efficiency and focusing to the efforts to handle capital, management and marketing. Occupational Health and Safety is a high cost effort for corporations with capital problem. Out sourcing workers employees is on alternative choosen by a corporation for more flexible, well know working environment and cheaper less cost. PT. Hyup Sung is corporation working on eye lash. The aim of this research was to find the relationship between work fatigue, working duration, light intensity with sight-sharpness among the out sourcing workers. The research was using cross sectional survey with 65 respondent. Bivareat analysis shown that the work fatigue significantly related with right sight-sharpness (p= 0,007; r= 0,332), but doesn't related with the left (p= 0,825; r= 0,628). Working duration doesn't related with the right sight-sharpness (p= 0,614; r= 0,064) nor the left (p= 0,186; r= 0,136). The light intensity doesn't related with sight-sharpness (p= 0,972; r= 0,004) nor the left (p= 0,833; r= 0,027). Based on the results, work fatigue significantly related with right sight-sharpness for that, suggested to do the continous preventif and promotif effort in order a prevent decreasing of sight-sharpness, it could be done by providing the standard working facilities, education about the importance of health for workers , also periodic health monitoring.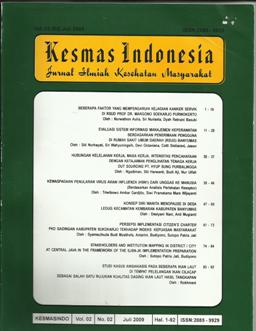 How to Cite
NGADIMAN, Ngadiman et al. HUBUNGAN KELELAHAN KERJA, MASA KERJA, INTENSITAS PENCAHAYAAN, DENGAN KETAJAMAN PENGLIHATAN TENAGA KERJA OUT SOURCING PT. HYUP SUNG PURBALINGGA.
Kesmas Indonesia
, [S.l.], v. 2, n. 2, p. 30-37, feb. 2017. ISSN 2579-5414. Available at: <
http://jos.unsoed.ac.id/index.php/kesmasindo/article/view/99
>. Date accessed: 04 oct. 2023.