PERBEDAAN KONSENTRASI DESINFEKTAN CHLORAMINE T TERHADAP PENURUNAN ANGKA KUMAN UDARA DI RUANG PERAWATAN BAYI RSUD PROF. DR MARGONO SOEKARJO
Agus Daryanto

Saudin Yuniarno

Asep Tata Gunawan
Abstract
Hospital has a role to cure and recover a patient fast, but it also has potential to cause nosocomial infection disease, especially in baby care unit. One of the efforts in preventing a disease is by disinfecting the room that aims to decrease the number of air germ. The objective of this research is to know the difference of concentration and the most effective concentration toward the decreasing of air germ number in baby care unit. The research method used was unreal experiment with the population and sample of air germ in baby care unit. The sample of research was given room disinfection treatment with the fogger that contained chloramines t disinfectant, with the concentration 0,2%; 0,25%; 0,3% and 0,35%. The result of the research was analyzed by using t test that was continued with varian analysis (ANOVA) One Way through SPSS with the trusty level was 95% or a 0,05 with the probability result was 0,022 (p<0,05). The strongest Chloramines T disinfectant concentration was 0,35% and most effective Chloramines T disinfectant concentration was 0.25% with the decreasing number 52,92% with the mean 185.5 CFU/m3 air. The suggested disinfecting in baby care unit using Chloramines T disinfectant with the concentration 0,25%. For further research, other disinfectant material use was suggested as efficient level comparison and disinfectant material affectivity.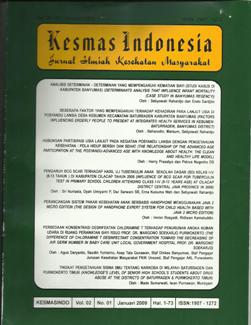 How to Cite
DARYANTO, Agus; YUNIARNO, Saudin; GUNAWAN, Asep Tata. PERBEDAAN KONSENTRASI DESINFEKTAN CHLORAMINE T TERHADAP PENURUNAN ANGKA KUMAN UDARA DI RUANG PERAWATAN BAYI RSUD PROF. DR MARGONO SOEKARJO.
Kesmas Indonesia
, [S.l.], v. 2, n. 1, p. 52-61, jan. 2009. ISSN 2579-5414. Available at: <
http://jos.unsoed.ac.id/index.php/kesmasindo/article/view/95
>. Date accessed: 27 mar. 2023.