BEBERAPA FAKTOR YANG MEMPENGARUHI TERHADAP KEHADIRAN PARA LANJUT USIA DI POSYANDU LANSIA DESA KEBUMEN KECAMATAN BATURADEN KABUPATEN BANYUMAS
Baharudin Baharudin

Marsum Marsum

Setiyowati Rahardjo
Abstract
In building heatly elderly people were not easy and need team work from many sector for instance: elderly themselves, families, communities, gouvernment, non gouvernment organization, health professional groups. Integrated health, services for ederly were health services for ederly in health promotion aspect. The aim was to promote health degree and quality of life to gain old age that be happy and meaningfull in their families and their communities. The research object ws found out some factor influencing elderly to present at integrated health services in Kebumen Baturraden Of Banyumas District. This researches fall in survey researches by cross sectional approach. The research population is all elderly people in Kebumen Baturraden (722) people. Descriptive researchs findings shows that respondens that have near distances from their house to integrated health service are 69.4% illiterate respondent and not finish from elementary school are 60.0%, 25.9% and 14.1%. Knowledge level of responden show that almost the same between goods knowledge and not enough good knowledge (50.6% and 49.4% irrespectly). Psychososial potention of responden are middle category (36.5%). And precency of active elderly at integrated health services are 28.24% and 71.76% for passive. Analitic statistical shown that distance, level of knowledge, and psychososial potention have a significant influences toward procency elderly to integrated health services (p=0.034, p=0.020, p=0.185). It hopes that every elderly people could present at integrated health services periodically (i.e: monthly) and needs increasing number of integrated health services, at least one integrated health services every citizen areas, and also increasing the frequency of health promotion program by staff of health community center as supervisor of activities for elderly integrated health services.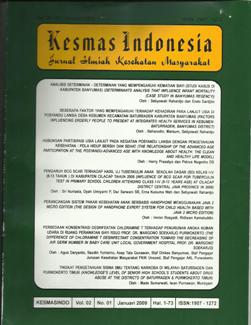 How to Cite
BAHARUDIN, Baharudin; MARSUM, Marsum; RAHARDJO, Setiyowati. BEBERAPA FAKTOR YANG MEMPENGARUHI TERHADAP KEHADIRAN PARA LANJUT USIA DI POSYANDU LANSIA DESA KEBUMEN KECAMATAN BATURADEN KABUPATEN BANYUMAS.
Kesmas Indonesia
, [S.l.], v. 2, n. 1, p. 12-17, jan. 2009. ISSN 2579-5414. Available at: <
http://jos.unsoed.ac.id/index.php/kesmasindo/article/view/91
>. Date accessed: 27 mar. 2023.