IDENTIFIKASI SIKAP KERJA DAN KELUHAN GEJALA CUMULATIVE TRAUMA DISORDER (CTD) PADA PEKERJA PEMECAH BATU DI KECAMATAN PATIKRAJA KABUPATEN BANYUMAS
Ngadiman Ngadiman

Saudin Yuniarno

Siti Harwanti
Abstract
Works as stone breaker is more work worked in posture of body that is not experienced causing can generate un-comfort to work and the end generates fatigue and sigh of feeling pain. The sigh indicates that the workers to experince damage symptom cumulative trauma (Cumulative Trauma Disorder/CTD), as recuring trauma effect during old causing feeling pain. The symptoms usually emerges at kind of work which monotone, position of job that is not natural, usage or conscription of muscle exceeding is ability. Effort for best prevention must be based on result of identification of posture of work and symptoms incidence experienced. Therefore, research need to be done to identify posture of job and case of CTD at stone crusher worker in subdistrict of Patikraja Banyumas regency. This kind of research is descriptive research with approach of observasional and sampletaken 60 respondens. The result of research is known by posture of job, the stone crusher workers works by using pallet to sit which is not ergonomic (100%), position sits not natural (85%), knee dint bends (85%), without synchronized of self protective decive (95%), and work environment that is not balmy (90%). While specific symptom of  Cummulative Trauma Disorder (CTD) at stone crusher worker subdistrict of Patikraja Banyumas regency is feel back ache sigh (95%), ill at leg (91%), and sigh of symptomp Carpal Tunnel Sindrome/CTS (90%). Therefor required levying of supporting facilities for job which ergonomic to prevent incidence the symptom.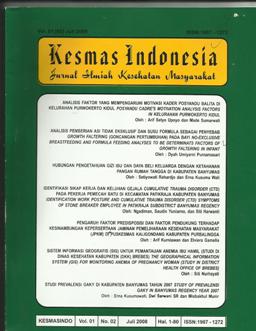 How to Cite
NGADIMAN, Ngadiman; YUNIARNO, Saudin; HARWANTI, Siti. IDENTIFIKASI SIKAP KERJA DAN KELUHAN GEJALA CUMULATIVE TRAUMA DISORDER (CTD) PADA PEKERJA PEMECAH BATU DI KECAMATAN PATIKRAJA KABUPATEN BANYUMAS.
Kesmas Indonesia
, [S.l.], v. 1, n. 2, p. 28-39, july 2008. ISSN 2579-5414. Available at: <
http://jos.unsoed.ac.id/index.php/kesmasindo/article/view/86
>. Date accessed: 26 mar. 2023.