HUBUNGAN PENGETAHUAN GIZI IBU DAN DAYA BELI KELUARGA DENGAN KETAHANAN PANGAN RUMAH TANGGA DI KABUPATEN BANYUMAS
Setiyowati Rahardjo

Erna Kusuma Wati
Abstract
Household food security was condition that all family have access for food both physical and economy, until all family have not under nutrition risk. The nutrition problem and unsafe food indication that household food security not good yet. Household food security were measured by daily energy and protein consumtion per capita and persentase of household with defisit protein and energy. Household food security were correlated with availability of food in the market, food price, capability of household for fulfill the foods and health and nutritional knowledge.
This research aimed to study the correlation between nutritional knowledge of the mothers and capability of household for fulfill the foods with household foof security in Banyumas District. Research design implemented was control case with retrospective approach to 92 children under five years. Data collection by interviewed to their mothers with structured questioners. Data analysis were univariat analysis and bivariat analysis with chi square test.
Descriptive analysis showed that most of the family have household food security for protein were law (55%), household food security for energi of respondents were less (88%), most of the mother (77,2%) have nutritional and health knowledge were bad, (56,5%) family have capability of household for fulfill the foods were bad category. Bivariat analysis showed that there was correlation between mother's nutritional knowledge with household food security for protein with p value 0,038. To increase household food security were need routine nutrition and health education for mother who have children under five years and derived food for fulfill their family nutrition need.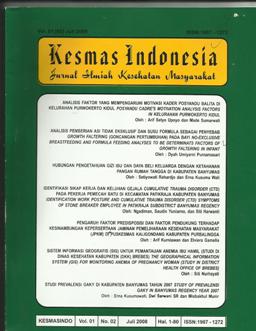 How to Cite
RAHARDJO, Setiyowati; WATI, Erna Kusuma. HUBUNGAN PENGETAHUAN GIZI IBU DAN DAYA BELI KELUARGA DENGAN KETAHANAN PANGAN RUMAH TANGGA DI KABUPATEN BANYUMAS.
Kesmas Indonesia
, [S.l.], v. 1, n. 2, p. 17-27, feb. 2017. ISSN 2579-5414. Available at: <
http://jos.unsoed.ac.id/index.php/kesmasindo/article/view/85
>. Date accessed: 26 mar. 2023.