PENGELOLAAN MP-ASI-LOKAL DAN PENGARUHNYA TERHADAP PENINGKATAN BERAT BADAN DAN STATUS GIZI BALITA USIA 6-24 BULAN DI PUSKESMAS PURWOKERTO SELATAN KABUPATEN BANYUMAS
Endo Dardjito

Suryanto Suryanto
Abstract
Lack of nutrition on infant and children can cause interference in growth and development. 0-24 months old is the fastes growth sufficient periode and should get nutrition intake to support optimum growth and development. to reach the optimum growth and development age swap of infants should get esclusove breast milk feeding until 6 month old, to givesuplememtary feeding to infant since 6 month old. yhe objectives of these research are to know the management of suplementyary feeding and the effect to growth rate and nutritional status under 5 6 month to 124 month old public health center Purwokerto Selatan Banyumas Regency. Methods of this research is retrospective cohort . sample is under five 6 month-24 month old as many as 35 from poor families. data analysis were used descriptive, ANOVA and Chi square test. the result of this research did not show significant weight gain by giving suplementary feeding. after least research did not show significant weighting gain by giving suplementary feeding.after leastsignificance difference test, there was different on second anh third month (p value 0,006 and 0,000 (<0,05)). Chi square Test showed that was different supplementary feeding with nutrir=tional status on third month (p value 0,032 (<0,05)) and closeness of weak relationship (association coefisien 0,289). conclusion; intervention by suplementary local food 6-24 month increased body weight significantly after two month, influenced nutrition status on third minth.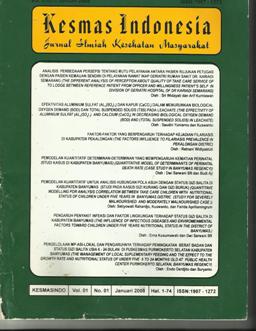 How to Cite
DARDJITO, Endo; SURYANTO, Suryanto. PENGELOLAAN MP-ASI-LOKAL DAN PENGARUHNYA TERHADAP PENINGKATAN BERAT BADAN DAN STATUS GIZI BALITA USIA 6-24 BULAN DI PUSKESMAS PURWOKERTO SELATAN KABUPATEN BANYUMAS.
Kesmas Indonesia
, [S.l.], v. 1, n. 1, p. 64-74, feb. 2017. ISSN 2579-5414. Available at: <
http://jos.unsoed.ac.id/index.php/kesmasindo/article/view/74
>. Date accessed: 27 mar. 2023.