PENGUKURAN OVITRAP INDEX (OI) SEBAGAI GAMBARAN KEPADATAN NYAMUK DI DAERAH ENDEMIS DEMAM BERDARAH DENGUE (DBD) KABUPATEN BANYUMAS
Siwi Pramatama Mars Wijayanti

Dian Anandari

Arrum Firda Ayu Maghfiroh
Abstract
Mosquito density could predict the risk of Dengue Virus (DENV) transmission in certain area. Ovitrap Index (OI) is one of the methods to measure the mosquito density beside other methods such as Stegomyia Indices and free larvae index. Ovitrap index is cheaper, more appliacable and sensitive to detect Aedes sp activity to lay their eggs on the wall of container. The aims of this research were to measure ovitrap index in endemic DENV areas, to find out the preferences of female Aedes sp to lay their eggs, and find out the correlation between OI and dengue cases in endemic DENV areas. Type of this study was decriptive with cross sectional design. The area of study was in Community Health center Purwokerto Timur II in Kranji, Sokanegara and Purwokerto Lor. Ovitrap were installed at 50 houses of each vilagges (one indoor, one outdoor), with total ovitrap 100 in each villages. After 6 days of installation, ovistrips were collected and the eggs were counted. The Ovitrap index in three villages were observed at percentage more than  50%, with the highest OI detected in Kranji Village (97.56%). Female Aedes sp were monitored to lay their eggs outdoor than indoor. The OI is not always relevant to predict the dengue cases but could inform the risk of DENV tranmission in certain area. The community should do efforts to minimize potential breeding sites, mainly unused container outdoor to reduce the mosquito density.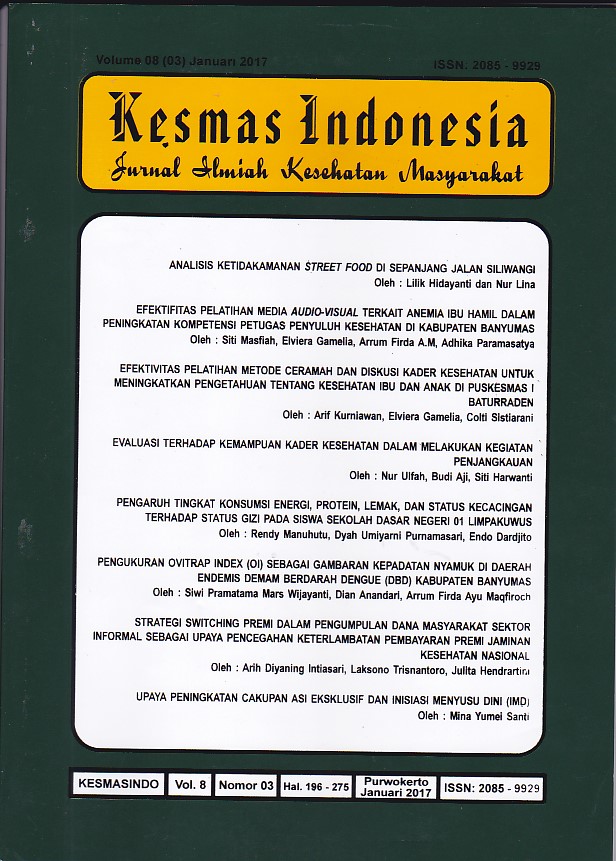 How to Cite
MARS WIJAYANTI, Siwi Pramatama; ANANDARI, Dian; AYU MAGHFIROH, Arrum Firda. PENGUKURAN OVITRAP INDEX (OI) SEBAGAI GAMBARAN KEPADATAN NYAMUK DI DAERAH ENDEMIS DEMAM BERDARAH DENGUE (DBD) KABUPATEN BANYUMAS.
Kesmas Indonesia
, [S.l.], v. 9, n. 1, p. 56-63, jan. 2017. ISSN 2579-5414. Available at: <
http://jos.unsoed.ac.id/index.php/kesmasindo/article/view/228
>. Date accessed: 16 aug. 2018.