HUBUNGAN ASUPAN ENERGI, KUALITAS TIDUR, BEBAN KERJA FISIK DAN POSTUR KERJA DENGAN KELELAHAN KERJA PADA GURU TAMAN KANAK KANAK
Wahda Zahrotunnisa

Kesehatan Masyarakat

Ekawati Ekawati

Siswi Jayanti
Abstract
Fatigue is the body's response to carrying out a protection so that it can avoid more severe damage and will recover when doing recovery or taking a break from ongoing work. Fatigue can interfere and affect the health of the teacher and will give an impact on the decline in health Influencing the process of teaching and learning activities. The initial survey on 10 teachers, complaints of drowsiness 50%, aches 70%, body responses slowed 60%, frequently yawning 70% rarely taking breakfast 50%. This study aimed to analyze the correlation between energi intake, sleep quality, physical workload, and work posture with work fatigue In teacher on X Kindergarten. This research is quantitative research using a cross-sectional study. The population in this study are 21 X kindergarten teacher in Semarang City. The sample is the entire population are 21 X kindergarten teacher in Semarang City. The research instruments are reactiontimer, 24-hour form, PQSI questionnaire, pulseoxymeter, and Rapid Entire Body Assessment (REBA). The statistical analysis method in this research is the Chi-Square test. The results showed that there are variables related to work fatigue such as energy intake (sig. value 0.029), sleep quality (sig. value 0.048), and also the result shows that unrelated variables are physical workload (sig. value 0.533) and work posture (sig. value 1.0). Researchers recommend to checkup of fat and blood sugar levels, provide education related to balanced nutrition, exercise, and consume more fiber and fruit.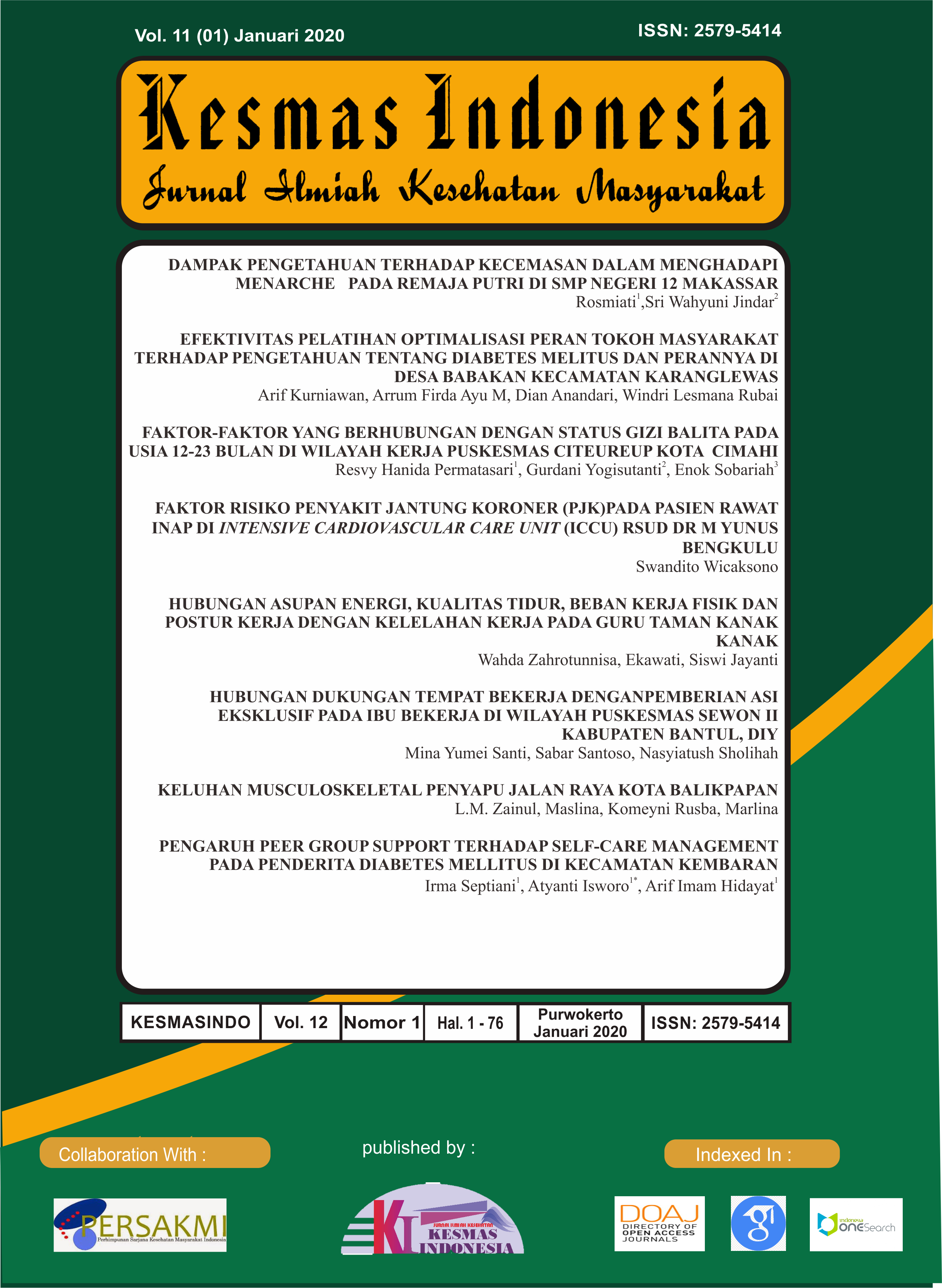 How to Cite
ZAHROTUNNISA, Wahda; EKAWATI, Ekawati; JAYANTI, Siswi. HUBUNGAN ASUPAN ENERGI, KUALITAS TIDUR, BEBAN KERJA FISIK DAN POSTUR KERJA DENGAN KELELAHAN KERJA PADA GURU TAMAN KANAK KANAK.
Kesmas Indonesia: Jurnal Ilmiah Kesehatan Masyarakat
, [S.l.], v. 12, n. 1, p. 33-40, jan. 2020. ISSN 2579-5414. Available at: <
http://jos.unsoed.ac.id/index.php/kesmasindo/article/view/1643
>. Date accessed: 13 july 2020. doi:
https://doi.org/10.20884/1.ki.2020.12.1.1643
.