STATUS GIZI BERDASAR INDEKS IMT/U DAN TB/U PADA ANAK BARU MASUK SEKOLAH DASAR DI PERKOTAAN DAN PEDESAAN
Dyah Umiyarni Purnamasari

Endo Dardjito

Kusnandar Kusnandar
Abstract
The purpose of this study was to determine nutritional status according to IMT/U and TB/U index  on elementary school children in urban and rural areas. This study used cross sectional design study, April to May 2014. The population is all elementary school students in Santo Joseph  as urban and Larangan Elementary Schools as rural areas. Samples were taken by purposive sampling been 82 first-grade students at both the elementary school. Data analysis included univariate analysis with frequency distribution and bivariate analysis by T-test to determine differences in the nutritional status of children in urban and rural areas. The results show a higher wasted in rural areas (13.1%) than urban areas (2.3%), while the  overweight  higher in urban areas (27.3%) than rural (2.5%), there is a difference nutritional status according to IMT/U index in urban and rural elementary school students (p = 0.00 <0.05). Stunted in urban areas (4.5%) is not much different than children in rural areas (7.9%), bivariate analysis showed no differences nutritional status according to TB/U index in urban and rural  (p = 0.355> 0.05). Suggested  to carry out routine monitoring of nutritional status, especially in the new elementary school students as improve nutrition status of children.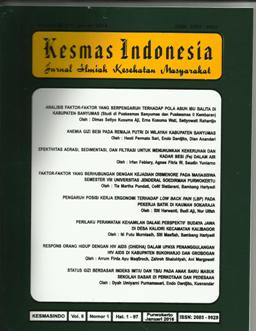 How to Cite
PURNAMASARI, Dyah Umiyarni; DARDJITO, Endo; KUSNANDAR, Kusnandar. STATUS GIZI BERDASAR INDEKS IMT/U DAN TB/U PADA ANAK BARU MASUK SEKOLAH DASAR DI PERKOTAAN DAN PEDESAAN.
Kesmas Indonesia
, [S.l.], v. 8, n. 1, p. 81-94, jan. 2016. ISSN 2579-5414. Available at: <
http://jos.unsoed.ac.id/index.php/kesmasindo/article/view/146
>. Date accessed: 26 nov. 2022.