SPOT SURVEI LEPTOSPIROSIS DI KECAMATAN NGEMPLAK DAN NOGOSARI, KABUPATEN BOYOLALI, PROVINSI JAWA TENGAH
Nova Pramestuti

Bina Ikawati

Dyah Widiastuti
Abstract
ABSTRACT
In 2013 there were three leptospirosis cases reported in Boyolali. This study aimed to describe the epidemiology of leptospirosis including cases overview aboutperson, place and time, transmission history, the trap success in catching mice and rats, and species of Leptospira infected rodent in Ngemplak and Nogosari district, Boyolali. This study was a cross sectional study. Rodent traping conducted at three locations with leptospirosis cases in Ngemplak and Nogosari District, Boyolali, in April 2013. A total of 300 traps wereinstalled, 2 traps inside and 2 traps outside for each house during three days. The trapped mice and rats were identified, counted their population density and their kidneys were taken for Leptospira examainationusingPCR (Polymerase Chain Reaction) assay. Data were processed and analyzed descriptively, presented in a frequency distribution form. The result showed that transmission of leptospirosis may occured around the case' house, the river and rice fields. The highest rodentsuccess trapwas found in KismoyosoVillage (14 %). Rat species which were found consisted of R.tanezumi, and R. indica Bandicota argentiventer, there was no rat kidney samples infected with Leptospira bacteria according to PCR assay. Leptospirosis transmission in Boyolali should be noteddue to the high rat trap success and the location which was closed to the river .
Key words: Survey,leptospirosis, rats
Kesmasindo, Volume 7( 1 )Juli 2014, Hal 63-70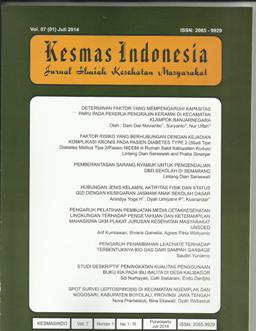 How to Cite
PRAMESTUTI, Nova; IKAWATI, Bina; WIDIASTUTI, Dyah. SPOT SURVEI LEPTOSPIROSIS DI KECAMATAN NGEMPLAK DAN NOGOSARI, KABUPATEN BOYOLALI, PROVINSI JAWA TENGAH.
Kesmas Indonesia
, [S.l.], v. 7, n. 1, p. 63-70, july 2014. ISSN 2579-5414. Available at: <
http://jos.unsoed.ac.id/index.php/kesmasindo/article/view/119
>. Date accessed: 30 sep. 2022.