Effect of Addition Elephant Grass Cellulose and CaCO3 Oyster Shell Waste as Bioplastic Composites
M Prayogie Aulia

Chemical EngineeringDepartment,Engineering Faculty, Universitas Syiah Kuala

Reza Rizki

Chemical EngineeringDepartment,Engineering Faculty, Universitas Syiah Kuala

Sri Aprilia

Chemical EngineeringDepartment,Engineering Faculty, Universitas Syiah Kuala

Farid Mulana

Chemical EngineeringDepartment,Engineering Faculty, Universitas Syiah Kuala
Abstract
The effect of adding cellulose and CaCO3 as a bioplastic filler was studied. The source of cellulose is obtained from elephant grass plants, while CaCO3 is obtained from oyster shell waste. The primary raw material for bioplastics is tapioca starch with glycerol as a plasticizer using the solution casting method. The resulting bioplastics are thin and transparent but not very elastic, with a thickness is 1 mm. The mechanical properties test of bioplastics obtained tensile strength between 1-3 MPa and elongation between 1-4.4%. Physical properties test results obtained density between 0.313-0.33 g/mL and water absorption between 31.94-81.16%. The morphological test showed that the bioplastic surface was getting more uneven with more CaCO3 filler. The use of cellulose fillers without the combination obtained better results than cellulose and CaCO3 fillers.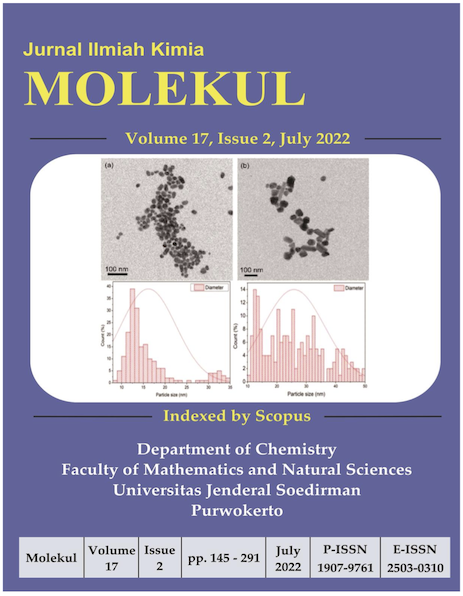 Authors agree with the statements below:
Authors automatically transfer the copyright to the MOLEKUL journal and grant the journal right of first publication with the work simultaneously licensed under a Creative Commons Attribution 4.0 International License (CC BY 4.0).
Authors are able to enter into separate permission for the non-exclusive distribution of the journal's published version of the work (e.g., post it to an institutional repository or publish it in a book), with an acknowledgment of its initial publication in this journal.