An Insight of Cryptocarya Secondary Metabolites as Anticancer P388: Study of Molecular Docking and ADMET Properties
Herlina Rasyid

Hasanuddin University

Riska Mardiyanti

Hasanuddin University

Ihsanul Arief

Akademi Farmasi Yarsi Pontianak

Wahyu Dita Saputri

National Research and Innovation Agency (BRIN), PUSPITEK, Tangerang Selatan, Banten
Abstract
Secondary metabolites isolated from Cryptocarya was known to have various activity especially their cytotoxicity in P388 cell. There were two species of Cryptocarya studied in this research that were Cryptocarya konishii and Cryptocarya lucida. In both species, 8 isolate compounds had bioactivity as anticancer in P388 cells. This study aimed to know the binding affinity and ADMET properties of each isolated compound through P-glycoprotein substrate since this protein was reported to be responsible for the inhibition of P388 cells. Molecular docking was performed using AutoDock4 and AutoDockTools software to know the binding energy and interaction of isolate compounds against the P-glycoprotein substrate. ADMET properties calculation was done using the pkCSM web server for all compounds. Molecular docking results showed that Kurzichalcolactone B (7) isolated from C. lucida had the lowest binding energy. It resulted in the highest total intermolecular energy from the contribution of van der Waals and hydrogen bond energy. The lowest binding energy is indicating the stable interaction of ligand and substrate. Calculation of ADMET properties resulted that some of the isolate compounds fulfilling the minimum standard parameters in ADMET properties.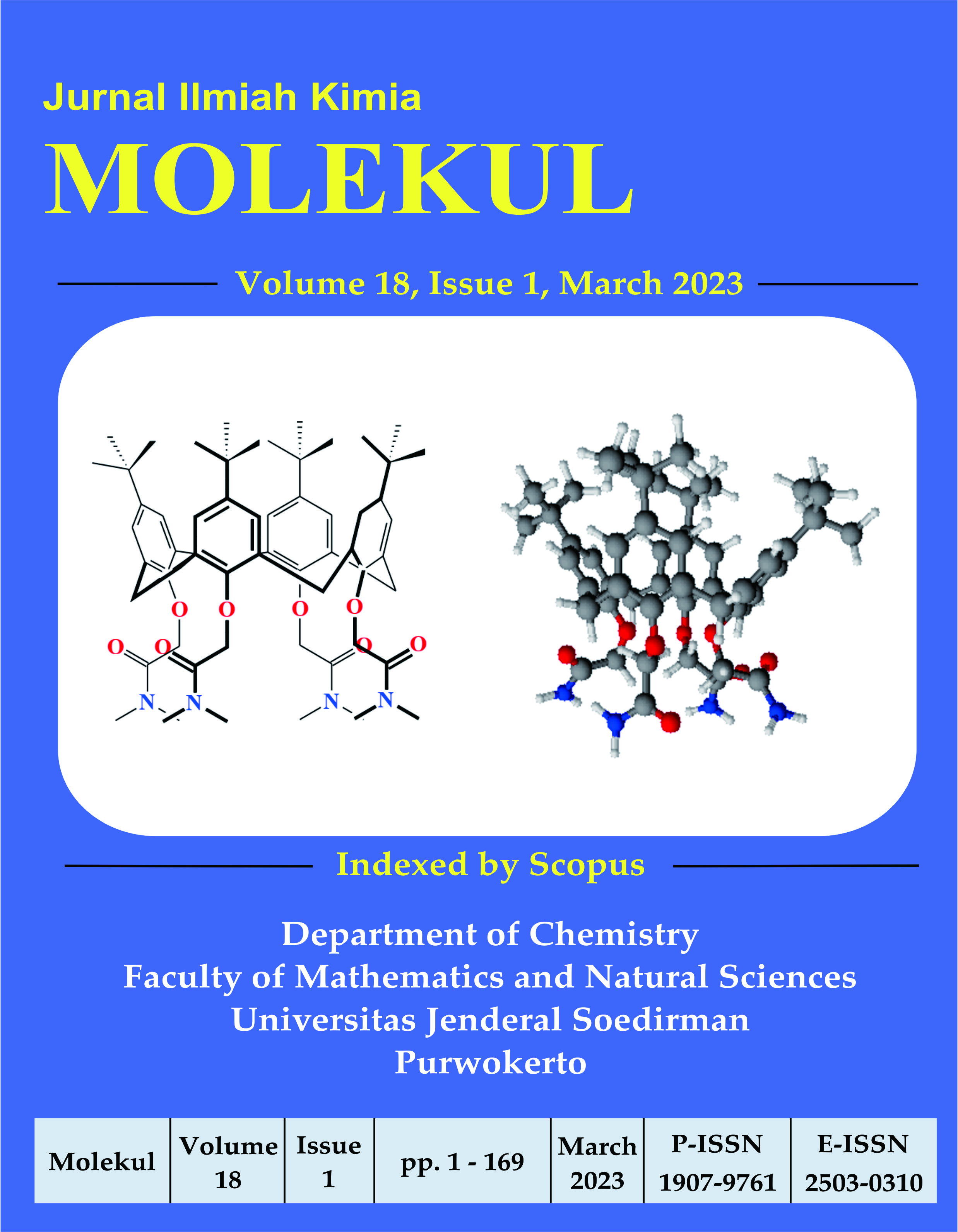 Authors agree with the statements below:
Authors automatically transfer the copyright to the MOLEKUL journal and grant the journal right of first publication with the work simultaneously licensed under a Creative Commons Attribution 4.0 International License (CC BY 4.0).
Authors are able to enter into separate permission for the non-exclusive distribution of the journal's published version of the work (e.g., post it to an institutional repository or publish it in a book), with an acknowledgment of its initial publication in this journal.