Application of Box-Behnken Design for the Extraction of Padina australis
Muhammad Nursid

Research Center for Marine and Fisheries Product Processing and Biotechnology

Anissa Permatasari

Department of Chemistry, Faculty of Mathematics and Natural Sciences, IPB University

Utami Dyah Syafitri

Department of Chemistry, Faculty of Mathematics and Natural Sciences, IPB University

Irmanida Batubara

Department of Chemistry, Faculty of Mathematics and Natural Sciences, IPB University
Abstract
Optimization extraction of the brown algae Padina australis using the Box-Behnken design has been carried out. Box-Behnken design in relation to Response Surface Methodology analysis was conducted with four experimental factors (i.e., solvent concentration, temperature, extraction time, and sample to solvents ratio) towards the responses of yield antioxidant, anti-tyrosinase, anti-glycation, total phenolic content, and fucoxanthin content, completing with 29 running experiments. P. australis extraction's optimum condition was acquired at 79.99% solvent concentration, 18.48 hours extraction time, 44.50ºC temperature, and 1:9 ratio powders and solvents. The optimum condition provided a 7.30% extraction yield, 43.94% antioxidant activity, 86.83% anti-tyrosinase, 98.06% anti-glycation, 9.53 mg GAE/g total phenolic content, and 347.55 µg/g fucoxanthin content. Respond Surface Methodology analysis with the Box-Behnken design succeeded in making the appropriate model for producing the optimum P. australis extract.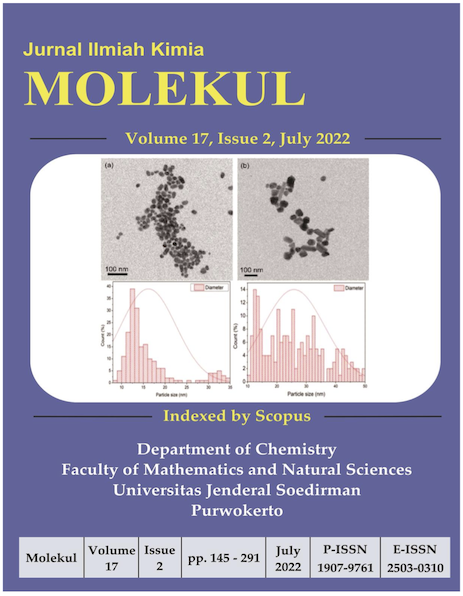 Authors agree with the statements below:
Authors automatically transfer the copyright to the MOLEKUL journal and grant the journal right of first publication with the work simultaneously licensed under a Creative Commons Attribution 4.0 International License (CC BY 4.0).
Authors are able to enter into separate permission for the non-exclusive distribution of the journal's published version of the work (e.g., post it to an institutional repository or publish it in a book), with an acknowledgment of its initial publication in this journal.