Co-Precipitation Synthesis of Clay-Magnetite Nanocomposite for Adsorptive Removal of Synthetic Dye in Wastewater of Benang Bintik Batik
Karelius Karelius

Study Program of Chemistry, Faculty of Mathematics and Natural Sciences, Palangka Raya University

I Made Sadiana

Study Program of Education Chemistry, Faculty of Faculty of Teacher Training and Education,Palangka Raya University

Abdul Hadjranul Fatah

Study Program of Education Chemistry, Faculty of Faculty of Teacher Training and Education,Palangka Raya University

Retno Agnestisia

Study Program of Chemistry, Faculty of Mathematics and Natural Sciences, Palangka Raya University
Abstract
Clay is a natural material that has been widely applied as a low-cost adsorbent for removing various contaminants from wastewater. To improve its characteristics and activity, natural clay from Central Kalimantan was activated by acid and calcination treatments, then synthesized with magnetite (Fe3O4) in nanocomposite by co-precipitation method. The obtained nanocomposite was further characterized by Fourier transform infrared spectroscopy, X-ray diffraction, nitrogen adsorption, vibrating sample magnetometry, and transmission electron microscopy methods. The results showed that co-precipitation method has been successfully produced clay-magnetite nanocomposite from activated clay with specific surface area, saturation magnetization, and particle size were 37.458 m2/g, 24.910 emu/g, and 50 nm, respectively. The obtained natural clay, activated clay, and clay-magnetite nanocomposite were then evaluated for adsorptive removal of naphthol blue black (NBB) synthetic dye from wastewater generated by an industry of Benang Bintik batik in Central Kalimantan using a batch system. The results showed that optimum pH for adsorptive removal process from these adsorbents were 2, while the optimum contact times of natural clay, activated clay, and clay-magnetite nanocomposite were 90, 60, and 60 minutes, respectively. The clay-magnetite nanocomposite also showed a much better removal efficiency (99.58%) than activated clay (86.28%) and natural clay (68.27%). The utilization of clay-magnetite nanocomposite as adsorbent not only can increase its removal efficiency against NBB dye, but also can facilitate the separation of the adsorbent solid phase from wastewater using an external magnetic field after the adsorptive removal process.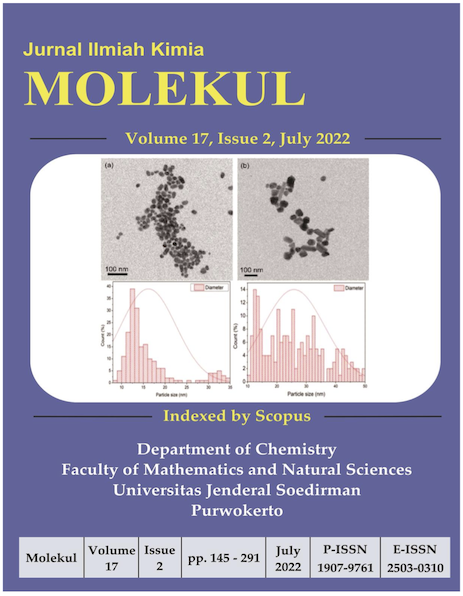 Authors agree with the statements below:
Authors automatically transfer the copyright to the MOLEKUL journal and grant the journal right of first publication with the work simultaneously licensed under a Creative Commons Attribution 4.0 International License (CC BY 4.0).
Authors are able to enter into separate permission for the non-exclusive distribution of the journal's published version of the work (e.g., post it to an institutional repository or publish it in a book), with an acknowledgment of its initial publication in this journal.