Chiral Separation of Econazole by High Performance Liquid Chromatography Method using Cyclodextrin as Chiral Column
Dadan Hermawan

Department of Chemistry, Faculty of Mathematics and Natural Sciences, Universitas Jenderal Soedirman, Indonesia

Cacu Cacu

Department of Chemistry, Faculty of Mathematics and Natural Sciences, Universitas Jenderal Soedirman

Khansa Salsabila

Department of Chemistry, Faculty of Mathematics and Natural Sciences, Universitas Jenderal Soedirman

Suwandri Suwandri

Department of Chemistry, Faculty of Mathematics and Natural Sciences, Universitas Jenderal Soedirman

Amin Fatoni

Department of Chemistry, Faculty of Mathematics and Natural Sciences, Universitas Jenderal Soedirman

Uyi Sulaeman

Department of Chemistry, Faculty of Mathematics and Natural Sciences, Universitas Jenderal Soedirman

Ponco Iswanto

Department of Chemistry, Faculty of Mathematics and Natural Sciences, Universitas Jenderal Soedirman

Mudasir Mudasir

Department of Chemistry, Faculty of Mathematics and Natural Sciences, Universitas Gadjah Mada

Hassan Y. Aboul-Enein

Department of Pharmaceutical and Medicinal Chemistry, Pharmaceutical and Drug Industries Research Division, National Research Center (NRC) Dokki
Abstract
The chiral separation of econazole, an antifungal drug with one chiral center has been successfully carried out using the high-performance liquid chromatography (HPLC) method. Enantioresolution of econazole (Rs = 2.29) was achieved using cyclodextrin-based chiral column (Astec Cyclobond, 25 cm × 4.6 mm × 5 μm), mobile phase composition of acetonitrile : water (0.2% HCOOH) (20:80, v/v), and UV detection of 220 nm.The optimized HPLC method has been applied for the quantitative determination of econazole in the pharmaceutical (liquid) sample withpercentage recovery of 100.75 % (RSD =   0,95%; n = 3). The effect of several HPLC parameters on the chiral separation of econazole was also evaluated and the method was successfully validated in terms of linearity, accuracy, precision, and selectivity. The present HPLC method was simple, short analysis time, and high resolution.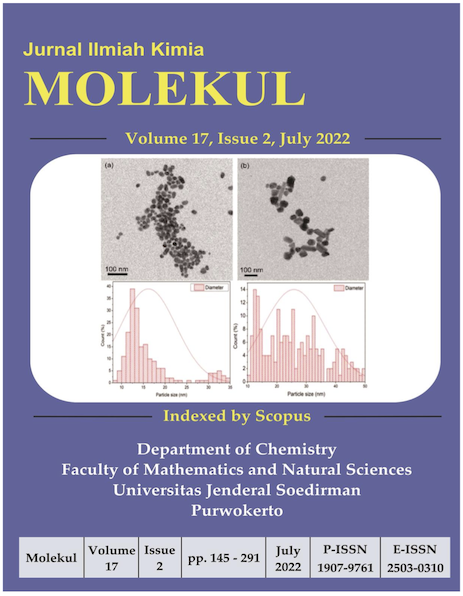 Authors agree with the statements below:
Authors automatically transfer the copyright to the MOLEKUL journal and grant the journal right of first publication with the work simultaneously licensed under a Creative Commons Attribution 4.0 International License (CC BY 4.0).
Authors are able to enter into separate permission for the non-exclusive distribution of the journal's published version of the work (e.g., post it to an institutional repository or publish it in a book), with an acknowledgment of its initial publication in this journal.