In vitro Antimicrobial and Antioxidant Activity of Meliaceae Plants Collection of Eka Karya Bali Botanic Garden
Arrohmatus Syafaqoh Li'aini

Research Center for Plant Conservation, Botanic Gardens, and Forestry - National Research and Innovation Agency, Candikuning, Bali

I Putu Agus Hendra Wibawa

Research Center for Plant Conservation, Botanic Gardens, and Forestry - National Research and Innovation Agency, Candikuning, Bali

Ayyu Rahayu

Research Center for the conservation of botanical gardens and forestry National Research and Innovation Agency (BRIN)
Abstract
Meliaceae are popularly used to produce terpenoid and limonoid compounds. These compounds have the potential as antioxidants, antimicrobials, insecticides, antipyretics, and anthelmintics. This research aims to determine the antioxidant and antimicrobial activity of Meliaceae leaves extract of Eka Karya Bali Botanic Garden plants collection. The dried leaves of 15 species of Meliaceae were extracted by methanol. In vitro antimicrobial tests were carried out on agar media inoculated by selected microbe. On the other hand, the antioxidant activity was assayed by 1,1-diphenyl-2-picryl hydrazyl (DPPH) radical scavenging. As a result, Aphanamixis polystachya against Aspergillus niger (35.21 mm) and Cladosporium sp. (46.21), Toona hexandra against Fusarium solani (37.31 mm), Dysoxylum cauliflorum against Candida albicans (38.19 mm), Chisocheton pentandrus against Salmonella typhimurium (39.53 mm), Sandoricum koetjape against Staphylococcus aureus (50.07 mm), and Toona hexandra against Streptococcus nutans (42.25 mm) exhibited the strongest inhibitory effect. Furthermore, the antioxidant screening showed that Cipadessa baccifera, C. pentandrus, and Sandoricum koetjape exhibited strong antioxidant activity, while T. ciliata showed a very strong antioxidant activity with IC50 33.64 μg/mL. This study reveals an initial screening of the potential of various types of Meliaceae as a source of antioxidants and antibacterials. Furthermore, this information can be used as a new alternative for pharmaceutical companies and the industrial sector in the development of new products.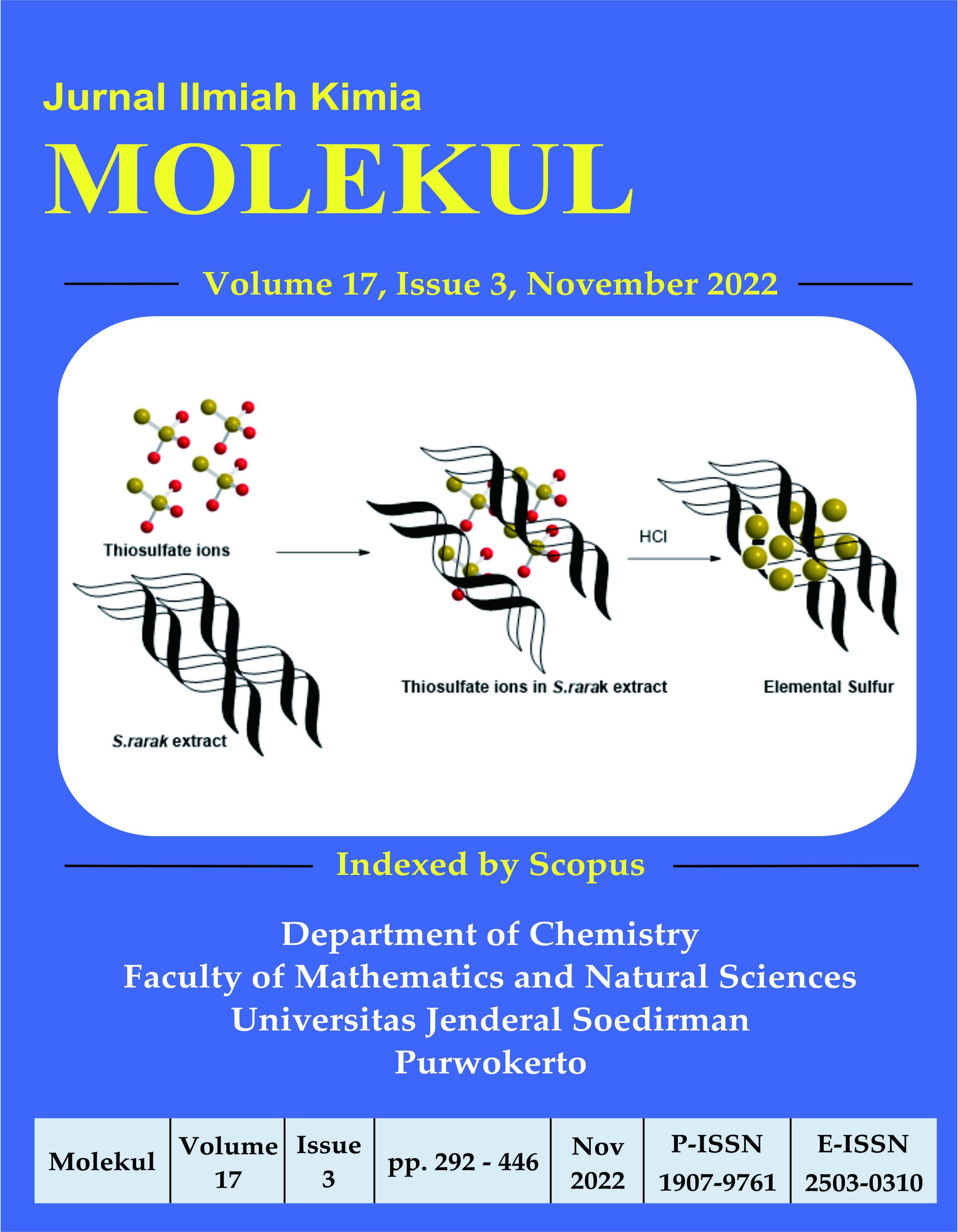 Authors agree with the statements below:
Authors automatically transfer the copyright to the MOLEKUL journal and grant the journal right of first publication with the work simultaneously licensed under a Creative Commons Attribution 4.0 International License (CC BY 4.0).
Authors are able to enter into separate permission for the non-exclusive distribution of the journal's published version of the work (e.g., post it to an institutional repository or publish it in a book), with an acknowledgment of its initial publication in this journal.