Synthesis Glycine-Modulated Metal Organic Framework Cr-PTC-Gly for Synergetic Methylene Blue Adsorption and Photodegradation under Visible Light Irradiation
Adawiah Adawiah

Integrated Laboratory Centre, Faculty of Science and Technology UIN Syarif Hidayatullah Jakarta Jl. Ir. H. Juanda No. 95 Ciputat Tangerang Selatan 15412, Indonesia

Risma Nur Fitria

Chemistry Department, Faculty of Science and Technology UIN Syarif Hidayatullah Jakarta Jl. Ir. H. Juanda No. 95 Ciputat Tangerang Selatan 15412, Indonesia

Nanda Saridewi

Chemistry Education Department, Faculty of Tarbiya and Teaching Sciences, UIN Syarif Hidayatullah Jakarta Jl. Ir. H. Juanda No. 95 Ciputat Tangerang Selatan 15412, Indonesia

Farhan Maulana Azhar

Chemistry Department, Faculty of Science and Technology UIN Syarif Hidayatullah Jakarta Jl. Ir. H. Juanda No. 95 Ciputat Tangerang Selatan 15412, Indonesia

Muhammad Shofyan Gunawan

Chemistry Department, Faculty of Science and Technology UIN Syarif Hidayatullah Jakarta Jl. Ir. H. Juanda No. 95 Ciputat Tangerang Selatan 15412, Indonesia

Sri Komala

Chemistry Department, Faculty of Science and Technology UIN Syarif Hidayatullah Jakarta Jl. Ir. H. Juanda No. 95 Ciputat Tangerang Selatan 15412, Indonesia
Abstract
The glycine-modulated metal-organic framework (MOF) Cr-PTC-Gly was successfully synthesized for methylene blue elimination application. The Fourier Transform Infra-Red (FTIR) characterization showed the stretching vibration N-H at 2034 cm-1. The bands at 1506 and 1406 cm-1 are asymmetric and symmetric stretching vibrations (-COO) bound to Cr3+ ions and 3118 cm-1 of the hydroxyl (OH) functional group of H2O bound to the Cr3+ ion. The band gap energy of MOF Cr- PTC-Gly is 1.9 eV. The XRD analysis showed that MOF Cr-PTC-Gly has good crystallinity with a crystal size of 17.79 nm. MOF Cr-PTC-Gly with 50% glycine gave the most optimum elimination activity with an elimination capacity of 87.95 mg/gram via adsorption and photocatalytic degradation. The adsorption mechanisms were carried out via electrostatic interaction, hydrogen bonding, and π-π interaction. In contrast, photocatalytic degradation was carried out by forming free radical species with hydroxyl radicals (•OH) as a dominant species that contributed to the methylene blue degradation.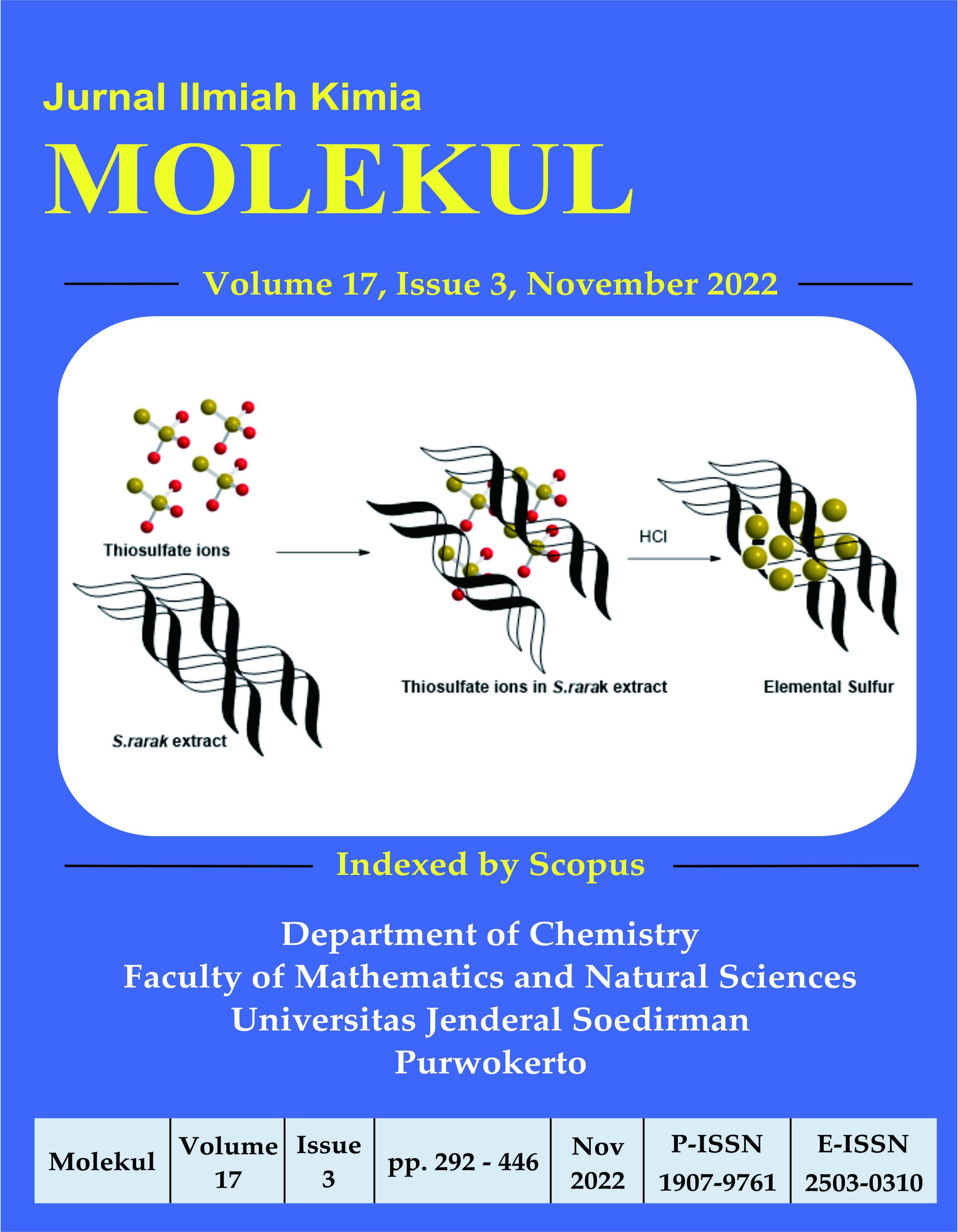 Authors agree with the statements below:
Authors automatically transfer the copyright to the MOLEKUL journal and grant the journal right of first publication with the work simultaneously licensed under a Creative Commons Attribution 4.0 International License (CC BY 4.0).
Authors are able to enter into separate permission for the non-exclusive distribution of the journal's published version of the work (e.g., post it to an institutional repository or publish it in a book), with an acknowledgment of its initial publication in this journal.