Preparation of Atorvastatin Calcium-Dipicolinic Acid Multicomponent Solids by Liquid-Assisted Grinding Method to Increase Solubility
Yudi Wicaksono

Faculty of Pharmacy, University of Jember

Shafira Faradiba Tsaniyah

Active Pharmaceutical Ingredient and Excipient Research Group, Faculty of Pharmacy, University of Jember

Budipratiwi Wisudyaningsih

Active Pharmaceutical Ingredient and Excipient Research Group, Faculty of Pharmacy, University of Jember

Kuni Zu''aimah Barikah

Active Pharmaceutical Ingredient and Excipient Research Group, Faculty of Pharmacy, University of Jember

Lusia Oktora Ruma Kumala Sari

Drug Delivery Research Group, Faculty of Pharmacy, University of Jember
Abstract
Atorvastatin calcium is a cholesterol-lowering drug that is very potent but difficult to dissolve in water, so its bioavailability is low. In this study, atorvastatin calcium-dipicolinic acid multicomponent solids were prepared using the liquid-assisted grinding method to improve atorvastatin calcium's solubility. Characterization of multicomponent solids was carried out using powder x-ray diffraction (PXRD), differential scanning calorimetry (DSC), fourier transform infrared spectroscopy (FTIR), and scanning electron microscopy (SEM). Solubility test was carried out by shaking method using distilled water media. The results showed that the particles of atorvastatin calcium - dipicolinic acid multicomponent solids had an irregular shape with rough and porous surface topography. The multicomponent solids have a diffractogram with specific peaks of 2θ at 8.8, 9.9, 11.5, 16.7, 19.1, 21.2, 22.4, 23.4, and 27.7°. The DSC thermogram of multicomponent solids showed a sharp endothermic peak at 181.9 °C (∆H=17.69 J/g), indicating its melting point. The FTIR spectra of atorvastatin calcium-dipicolinic acid multicomponent solids indicated an intermolecular interaction that was thought to be a hydrogen bond between the molecules of atorvastatin calcium and dipicolinic acid. The results of the solubility test showed that the atorvastatin calcium-dipicolinic acid multicomponent solids had a significantly increased solubility (p<0.05) compared to the solubility of pure atorvastatin calcium.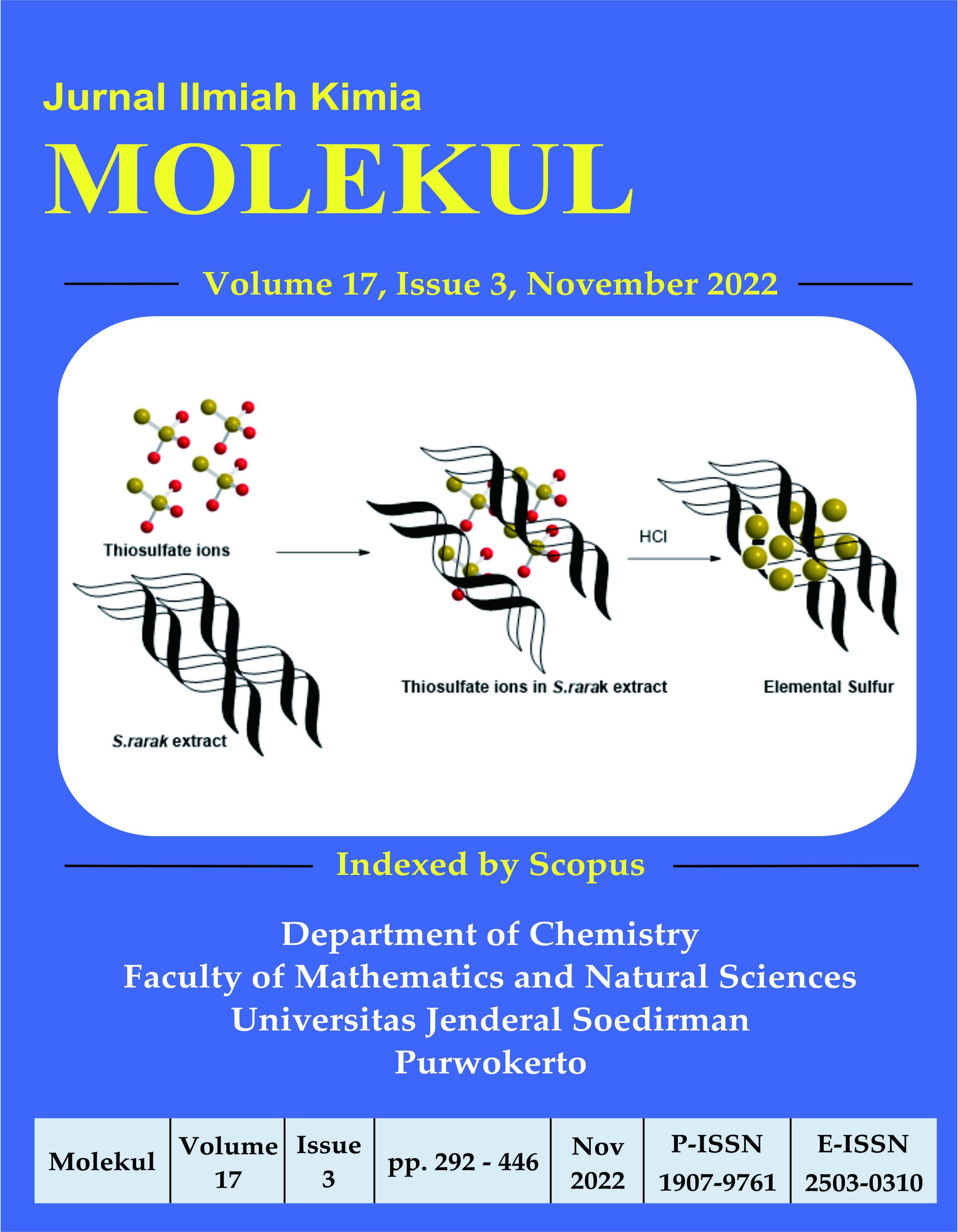 Authors agree with the statements below:
Authors automatically transfer the copyright to the MOLEKUL journal and grant the journal right of first publication with the work simultaneously licensed under a Creative Commons Attribution 4.0 International License (CC BY 4.0).
Authors are able to enter into separate permission for the non-exclusive distribution of the journal's published version of the work (e.g., post it to an institutional repository or publish it in a book), with an acknowledgment of its initial publication in this journal.