Bioactivity of Endophytic Fungi Isolated from Branch of Jambu Mawar (Syzygium jambos (L.) Alston)
Kurratul Aini

UNIVERSITAS ISLAM NEGERI RADEN FATAH

Elfita Elfita

universitas sriwijaya

Hary Widjajanti

universitas sriwijaya

Arum Setiawan

universitas sriwijaya
Abstract
Endophytic fungi isolated from medicinal plants have high diversity and the secondary metabolites produced have biological activity. Endophytic fungi isolated from medicinal plants have been the subject of many studies on their diversity and biological activity, one of which is jambu mawar (Syzygium jambos (L.) Alston). S. jambos has long been used as a traditional medicine to treat infections caused by pathogenic bacteria in many parts of the world, including South Sumatra. This study purposed to explore the diversity of endophytic fungi isolated from the branches of S. jambos, the antibacterial activity of endophytic fungi extracts, the determination of the structure of the compounds, and the activity of the active compounds of the selected endophytic fungi. Observations of the morphological characteristics of endophytic fungi were macroscopically and microscopically. The endophytic fungal extracts were then tested for antimicrobial activity against test bacteria Staphylococcus aureus, Bacillus subtilis, Salmonella typhi, and Escherichia coli using the Kirby-Bauer paper disk diffusion method. Isolation of pure compounds using a gravity chromatography column, the determination of the structure of the compound is determined based on 1H-NMR, 13C-NMR, HMQC, and HMBC spectroscopy. Four endophytic fungi, code SJC1–4, were isolated from a branch of S. jambos. The results of macroscopic and microscopic morphological characterization showed three genera of Botryosphaeria, Trichothecium, and Aspergillus. The endophytic fungal isolate SJC1 exhibited strong activity against Gram-positive bacteria and moderate activity against Gram-negative bacteria, while SJC2–4 showed moderate activity against the four bacteria. Molecular identification of SJC1 revealed that it was Botryosphaeria mamane. Isolation of SJC1's pure compound yielded compound 1, which was identified as 5-acetyl-6-hydroxy-3-methyl-2H-pyran-2-one. This compound is thought to have antibacterial properties.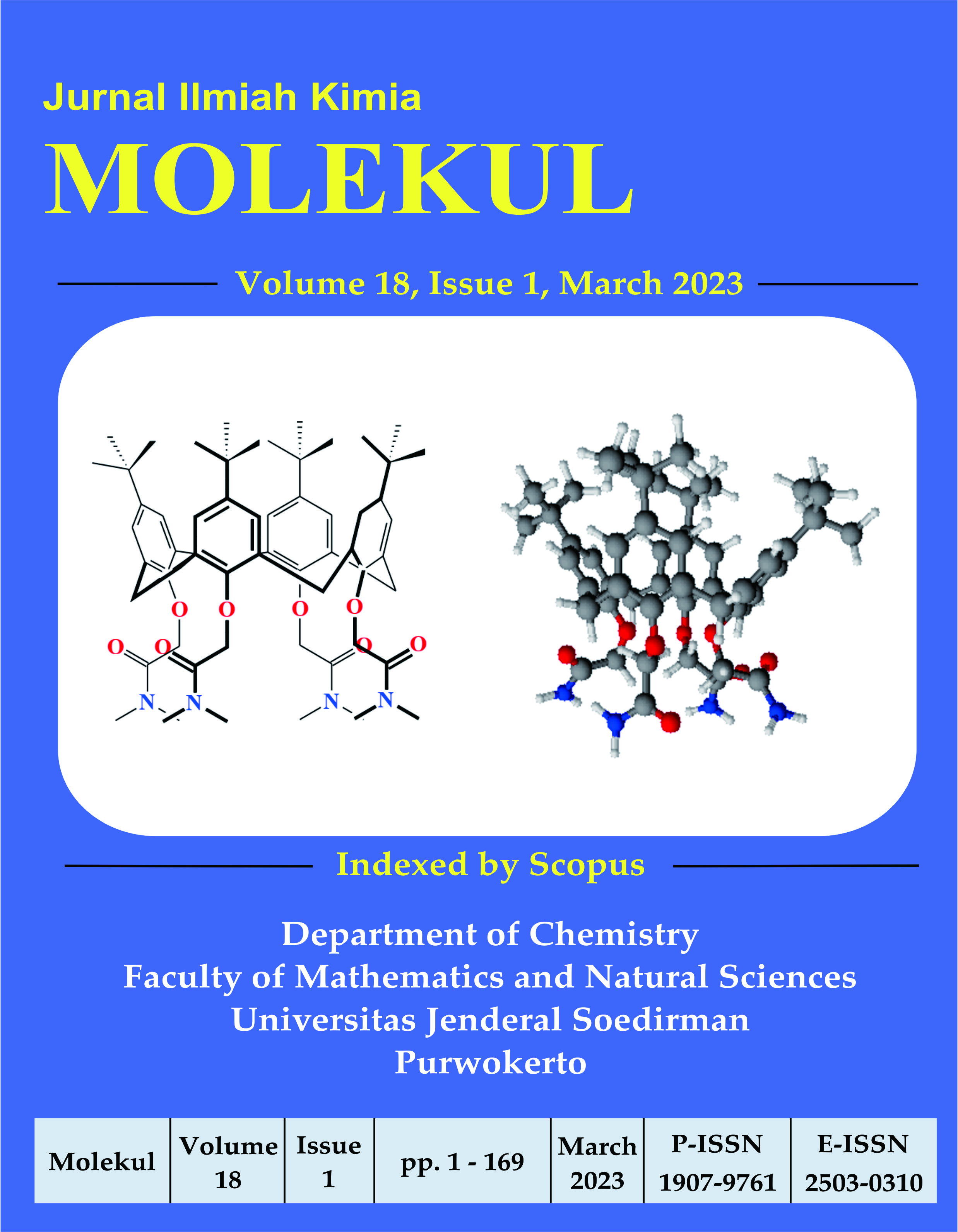 Authors agree with the statements below:
Authors automatically transfer the copyright to the MOLEKUL journal and grant the journal right of first publication with the work simultaneously licensed under a Creative Commons Attribution 4.0 International License (CC BY 4.0).
Authors are able to enter into separate permission for the non-exclusive distribution of the journal's published version of the work (e.g., post it to an institutional repository or publish it in a book), with an acknowledgment of its initial publication in this journal.