Use of Calixarenes Bearing Benzoyl Groups for the Adsorption of Heavy Metals Cations: Equilibrium and Kinetics Studies
Busroni Busroni

jember university

Dwi Siswanta

Departement of Chemistry, Faculty of Mathematics and Natural Sciences Gadjah Mada University

Jumina Jumina

Departement of Chemistry, Faculty of Mathematics and Natural Sciences Gadjah Mada University

Sri Juari Santosa

Departement of Chemistry, Faculty of Mathematics and Natural Sciences Gadjah Mada University

Chairil Anwar

Departement of Chemistry, Faculty of Mathematics and Natural Sciences Gadjah Mada University
Abstract
This study aims to examine the potential of p-tert-butylkalix[4]arene derivatives, namely 5,11,17,23-tetra-tert-butyl-25,26,27,28-tetrahydroxy-calix[4]arene (TBCA), and 5,11,17,23-tetra-tert-butyl-25-monohydroxy-26,27,28-tribenzoyloxycalix[4]arene (TBMTCA) as adsorbent for metal cations, such as Pb(II) and Fe(III). The synthesized compounds were characterized using FT-IR and 1H-NMR spectroscopy. The adsorption studies were then carried out with contact time as a parameter, while the kinetics were evaluated using the Lagergren and Ho-McKay equations. The isotherms were analyzed using the Langmuir and Freundlich equations. For the kinetics of TBCA adsorbents, Pb(II) cations followed the Ho-McKay model, while Fe(III) was based on Lagergren. Furthermore, for the TBMTCA adsorbent, Pb(II) followed the Lagergren kinetic model, while Fe(III) was based on the Ho-McKay. The cation adsorption isotherms of Pb(II)-TBCA, Pb(II)-TBMTCA, Fe(III)-TBCA, and Fe(III)-TBMTCA are more in line with the Langmuir model. These results indicate that they can be used as heavy metal adsorbents, and recycled to increase their economic value.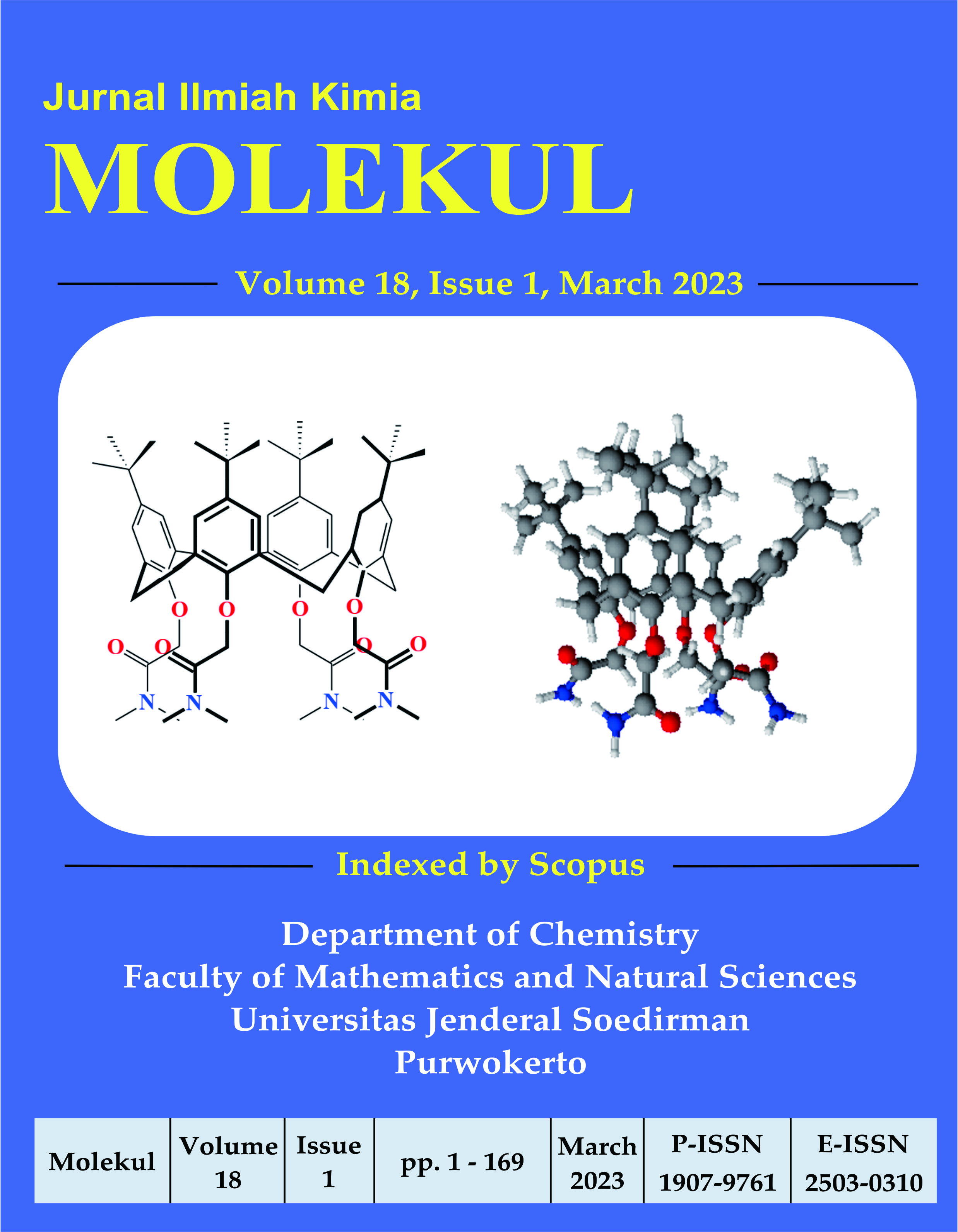 Authors agree with the statements below:
Authors automatically transfer the copyright to the MOLEKUL journal and grant the journal right of first publication with the work simultaneously licensed under a Creative Commons Attribution 4.0 International License (CC BY 4.0).
Authors are able to enter into separate permission for the non-exclusive distribution of the journal's published version of the work (e.g., post it to an institutional repository or publish it in a book), with an acknowledgment of its initial publication in this journal.