Conducting Matrices of the Poly(-O-Toluidine, PTOL) Film for Immobilizing Uricase
Dhony Hermanto

Department of Chemistry, Faculty of Mathematics and Natural Sciences, University of Mataram

Nurul Ismillayli

Department of Chemistry, Faculty of Mathematics and Natural Sciences, University of Mataram

Ulul Khairi Zuryati

Analytical Chemistry Laboratory, Faculty of Mathematics and Natural Sciences, University of Mataram

Siti Raudhatul Kamali

Department of Applied Chemistry, Chaoyang University of Technology, Wufeng Taichung-Taiwan
Abstract
Polyaniline, PANI as conducting polymer has been used as enzyme immobilization matrix in biosensors due to its excellent stability and electrochromic effects, conductivity, and redox reversibility. However, at pH above 4, the electron transfer ability and redox activity decrease, henceit is necessary to modify the PANI structure to increase the PANI pH range. In this study, the PANI derivative, the poly(-o-toluidine, PTOL) film was produced for the uricase immobilization matrix. This study aimed to develop a supporting material that maintains catalytic activity uricase with a facile and inexpensive procedure. The PTOL was prepared by using the chemical oxidative polymerization technique with ammonium persulfate (dissolved in 1.0 M HCl) as an oxidizing agent. The FTIR spectra confirmed the success of PTOL formation by the appearance of its characteristic peaks. The UV-Vis spectra indicated that PTOL was in an emeraldine state with a semi-crystalline structure that was shown by its XRD pattern. While, SEM analysis described that the PTOL film was uniform with some granular aggregation in its surface morphology, but there is no holes or porosity were found. The use of PTOL film as a uricase matrix could maintain the uricase activity against the substrate (uric acid, UA) with excellent analytical characteristics. Therefore, PTOL film could be used as conducting matrices for immobilizing enzymes (e.g. biosensors).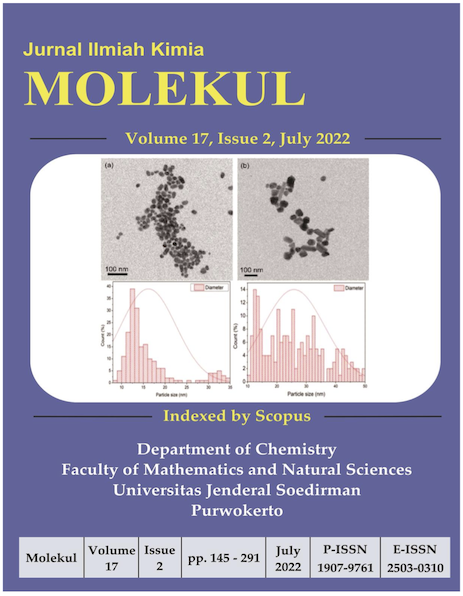 Authors agree with the statements below:
Authors automatically transfer the copyright to the MOLEKUL journal and grant the journal right of first publication with the work simultaneously licensed under a Creative Commons Attribution 4.0 International License (CC BY 4.0).
Authors are able to enter into separate permission for the non-exclusive distribution of the journal's published version of the work (e.g., post it to an institutional repository or publish it in a book), with an acknowledgment of its initial publication in this journal.