Adsorption of Rhodamine B on Spherical Activated Carbon synthesized from Waste Bagasse Liquid using Hydrothermal Process
Uyi Sulaeman

Universitas Jenderal Soedirman

Baynuri Ikhya Ulumuddin

Universitas Jenderal Soedirman

Roy Andreas

Irmanto Irmanto

Universitas Jenderal Soedirman

Ponco Iswanto

Universitas Jenderal Soedirman
Abstract
The dyes of the textile dyeing industry wastewater are harmful to humans and the environment. They should be treated before discharging into the environment. The adsorption using the spherical activated carbon can be effective to reduce the dyes. The spherical activated carbon of 3-7 µm in diameter was successfully prepared from the waste bagasse liquid using the hydrothermal method. The activation of this carbon was carried out using the KOH solution. The optimum pH and contact time were achieved in 2 and 200 min, respectively. Adsorption kinetic for RhB on activated spherical carbon follows the second-order kinetics and its adsorption mechanism follows the Langmuir isotherm. The maximum adsorption capacity of spherical activated carbon to Rhodamine B was achieved in 64.52 mg/g.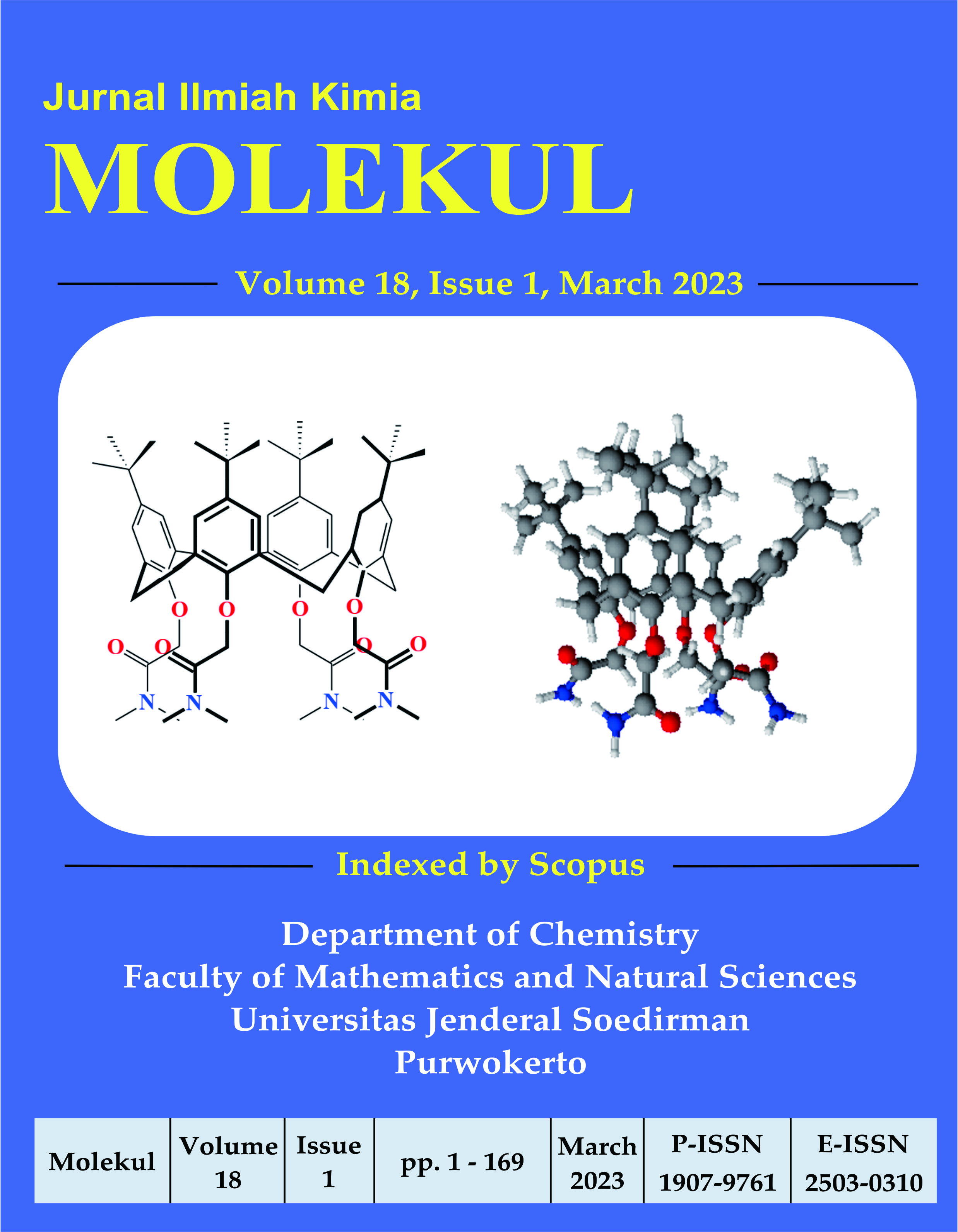 Authors agree with the statements below:
Authors automatically transfer the copyright to the MOLEKUL journal and grant the journal right of first publication with the work simultaneously licensed under a Creative Commons Attribution 4.0 International License (CC BY 4.0).
Authors are able to enter into separate permission for the non-exclusive distribution of the journal's published version of the work (e.g., post it to an institutional repository or publish it in a book), with an acknowledgment of its initial publication in this journal.