Anti-cervical Cancer Test of the Ethyl Acetate Fraction of Terminalia catappa Linn Fruit Flesh against HeLa Cells
Moch Chasani

Department of Chemistry, Faculty of Mathematics and Natural Sciences,Universitas Jenderal Soedirman

Senny Widyaningsih

Department of Chemistry, Faculty of Mathematics and Natural Sciences,Universitas Jenderal Soedirman

Undri Rastuti

Department of Chemistry, Faculty of Mathematics and Natural Sciences,Universitas Jenderal Soedirman

Andhika Ramadhan

Department of Chemistry, Faculty of Mathematics and Natural Sciences,Universitas Jenderal Soedirman

Iji Abdul Aziz

Department of Chemistry, Faculty of Mathematics and Natural Sciences,Universitas Jenderal Soedirman
Abstract
The ethyl acetate fraction from methanol extract of ketapang (Terminalia catappa Linn) fruit flesh has anti-cancer potential. Therefore, this study aims to obtain the active anti-cervical cancer agent from the ethyl acetate fraction of ketapang fruit flesh's methanol extract. The first step carried out was fractionation of the ethyl acetate fraction of methanol extract using gravity column chromatography with an eluent of ethyl acetate: chloroform: glacial acetic acid (1:8:1). The second step was a toxicity test on fractions produced from column chromatography. The third step was the test of secondary metabolite and anti-cancer activity of fraction possessing the highest toxicity to Artemia salina Leach. Fractionation of the concentrated ethyl acetate fraction by column chromatography, yielded seven subfractions (F1-F7). Furthermore, the cytotoxic test on A. salinaLeach shrimp larvae generated the following LC50 data from the 1st to 7th subfraction in a row, namely 566.2814 ppm, 87.9077 ppm, 216.6232 ppm, 566.2814 ppm, 560, 6647 ppm, 279.9213 ppm, and 194.6674 ppm.  The most active subfraction is fraction 2 which have two groups of positive compounds, i.e. phenolics and saponins were obtained from the secondary metabolite test. Data from the infrared spectroscopy performed showed the presence of groups –OH, C-H aromatic, C=O carbonyl, C=C aromatic, C=C alkene, C-H aliphatic, C-H alkane, and C-O. The value of the anti-cancer activity of fraction 2 was IC50 = 165.37 ppm, which was included in the fairly active category as an anti-cervical cancer agent.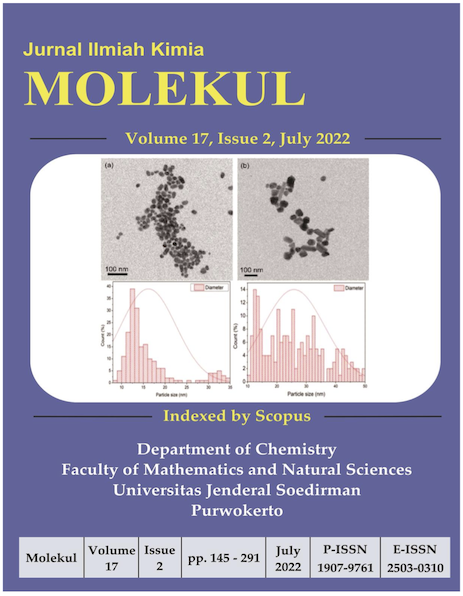 Authors agree with the statements below:
Authors automatically transfer the copyright to the MOLEKUL journal and grant the journal right of first publication with the work simultaneously licensed under a Creative Commons Attribution 4.0 International License (CC BY 4.0).
Authors are able to enter into separate permission for the non-exclusive distribution of the journal's published version of the work (e.g., post it to an institutional repository or publish it in a book), with an acknowledgment of its initial publication in this journal.