Moringa Seed Powder Biocoagulant (Moringa oleifera) for Improving Laboratory Wastewater Quality
Peni Pujiastuti

Department of Chemical Analyst, Faculty of Engineering, Setia Budi University, Solo

Yari Mukti Wibowo

Universitas Setia Budi

Narimo Narimo

Department of Chemical Engineering, Faculty of Engineering, Setia Budi University, Solo
Abstract
The purpose of the study was to examine the ability of 100 mesh size moringa seed powder as a biocoagulant in improving the quality of laboratory wastewater, in terms of parameters: color, TSS, Cu, Fe, COD, P-PO4, and antibacterial. The variable that changed was the concentration of Moringa seed powder solution of 0 mg/L, 40 mg/L, 80 mg/L, 120 mg/L, and 160 mg/L, with fast stirring of 150 rpm for 15 minutes and slow stirring of 50 rpm for 15 minutes. Analysis of test parameters was carried out using standardized methods of wastewater samples before and after the addition of biocoagulants. Characteristics of 100 mesh Moringa seed powder were that with the SEM-EDX test at 5000x magnification. While with the BET-BJH test it had a surface area of 14.519 m2/g, a total pore volume of 0.026 cm2/g, and an average pore size of 7.055. Moringa seed powder could improve the quality of laboratory wastewater and it had good effectiveness. Optimal TSS reduction was at a concentration of 80 % with effectiveness of 81.01 %. The reduction of COD and P-PO4 at a concentration of 160 % biocoagulants had an effectiveness of 96.36 % and 79.36 %. Whilst the decrease in heavy metal Cu was 67.7 %, Fe was 89.33 % and color was 52.96 % with the addition of 120 % biocoagulants. It had antibacterial properties of E-coli and Bacillus at the addition of 200 mg/L biocoagulant as well.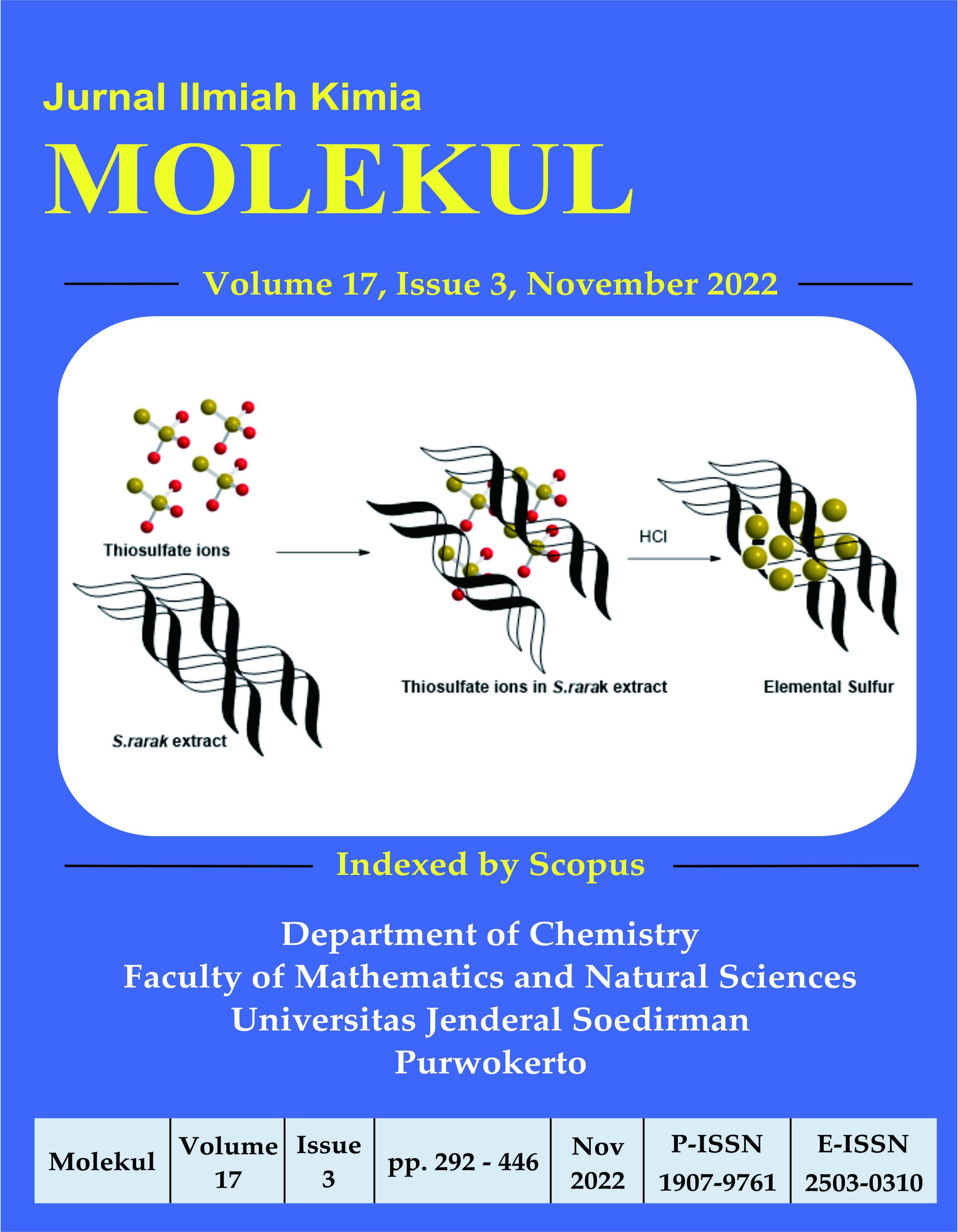 Authors agree with the statements below:
Authors automatically transfer the copyright to the MOLEKUL journal and grant the journal right of first publication with the work simultaneously licensed under a Creative Commons Attribution 4.0 International License (CC BY 4.0).
Authors are able to enter into separate permission for the non-exclusive distribution of the journal's published version of the work (e.g., post it to an institutional repository or publish it in a book), with an acknowledgment of its initial publication in this journal.