Gold (Au), Silver (Ag) and Bimetallic Au/Ag Core-Shell Nanoparticles: Synthesis and Applications in 4-Nitrophenol Reduction Reactions
Nurjannah Nurjannah

Department of Physics, Hasanuddin University

Bualkar Abdullah

Department of Physics, Hasanuddin University

Yuliati Herbani

Research Center for Photonics, National Research and Innovation Agency (BRIN)
Abstract
Au, Ag, and Au/Ag core-shell nanoparticles (NPs) were synthesized in aqueous solution by chemical reduction. UV-Vis absorption spectra confirmed a single surface plasmon resonance (SPR) peak for Au and Ag NPs, at 520 nm and 419 nm, respectively. Au/Ag core-shell NPs' UV-Vis spectra showed two distinct peaks at 385 and 480 nm, confirming a core-shell structure different from its alloy counterpart. Transmission electron microscopy (TEM) shows a relatively uniform spherical shape for both Au and core-shell Au/Ag NPs, while Ag NPs have a variety of forms such as a prism, rod, and spherical. The average size of the synthesized nanoparticles was quite similar, between 18 and 25 nm. The 4-nitrophenol reduction reaction model was used to study the catalytic ability of nanoparticles where Au/Ag core-shell NPs showed higher catalytic activity than the other monometallic NPs used in this study.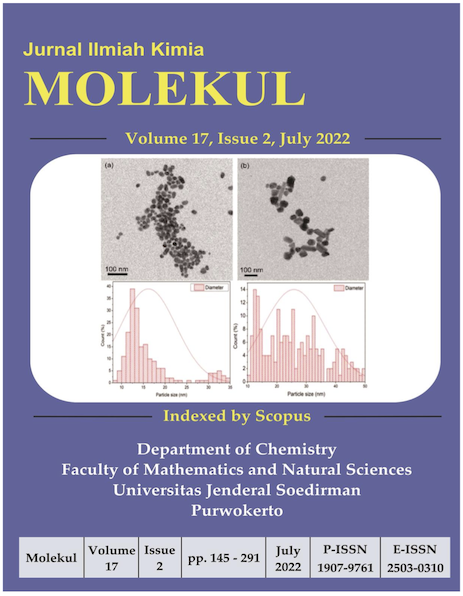 Authors agree with the statements below:
Authors automatically transfer the copyright to the MOLEKUL journal and grant the journal right of first publication with the work simultaneously licensed under a Creative Commons Attribution 4.0 International License (CC BY 4.0).
Authors are able to enter into separate permission for the non-exclusive distribution of the journal's published version of the work (e.g., post it to an institutional repository or publish it in a book), with an acknowledgment of its initial publication in this journal.