Evaluation, Characterization of Fiber Content, and Antioxidant Activity of Corncob (Zea mays L.) during Alkalization
Edi Suryanto

Department of Chemistry, Faculty of Mathematics and Natural Science, Sam Ratulangi University

Mercy I.R. Taroreh

Department of Food Science and Technology, Faculty of Agricultural, Sam Ratulangi University
Abstract
Corncob fiber powder was prepared by alkaline process, and their effects were investigated on the composition, physicochemical, and antioxidant properties of dietary fiber (DF) products. DF content was determined using AOAC enzymatic-gravimetric analysis,
while chemical composition in fiber was observed on
cellulose, hemicellulose, and lignin. The results showed that cellulose content of significantly increased while hemicellulose and lignin was observed decreasing. Correspondingly, content of the insoluble, soluble, and total DF of corncob was increased by 14.72-20.77, 28.86-47.43, and 15.12-21.42%, respectively. Furthermore, the particle size of DF is distributed in a range from 58.50-83.90 µm. XRD analysis showed the characteristics of cellulose that exhibited increasing crystalline degree from 29.33% to 53.53% and 59.62%, respectively. FTIR shows that the DF matrix structure does not change and in the presence of special structures of cellulose compounds. The SEM results showed that the alkaline process could significantly decrease the particle size and influence on the physicochemical and functional properties of corncob insoluble DF. The results also showed that DF extract has lower DPPH radical scavenging activity. The results suggest that corncob DF have good potential candidate for dietary fiber containing antioxidant ingredient and for their further applications in food.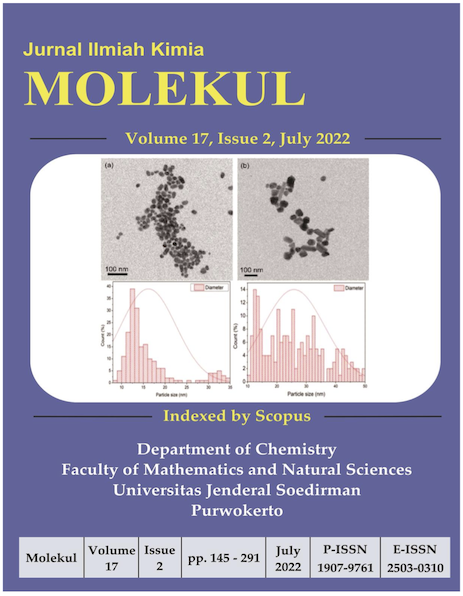 Authors agree with the statements below:
Authors automatically transfer the copyright to the MOLEKUL journal and grant the journal right of first publication with the work simultaneously licensed under a Creative Commons Attribution 4.0 International License (CC BY 4.0).
Authors are able to enter into separate permission for the non-exclusive distribution of the journal's published version of the work (e.g., post it to an institutional repository or publish it in a book), with an acknowledgment of its initial publication in this journal.