Analysis of Chemical Content, Cytotoxic and Anti-Bacterial Activity Essential Oil of Lantana Camara Linn Leaves from Various Regions
Suryati suryati

Andalas University

Adlis Santoni

Natural Materials Organic Chemistry Laboratory, Department of Chemistry, Faculty of Mathematics and Natural Sciences, Andalas University

Bustanul Arifin

Natural Materials Organic Chemistry Laboratory, Department of Chemistry, Faculty of Mathematics and Natural Sciences, Andalas University

Norman Ferdinal

Natural Materials Organic Chemistry Laboratory, Department of Chemistry, Faculty of Mathematics and Natural Sciences, Andalas University

Emil Salim

Natural Materials Organic Chemistry Laboratory, Department of Chemistry, Faculty of Mathematics and Natural Sciences, Andalas University

Asri Amelia

Natural Materials Organic Chemistry Laboratory, Department of Chemistry, Faculty of Mathematics and Natural Sciences, Andalas University

Leidina Zein

Natural Materials Organic Chemistry Laboratory, Department of Chemistry, Faculty of Mathematics and Natural Sciences, Andalas University

Silfani Mairanti

Natural Materials Organic Chemistry Laboratory, Department of Chemistry, Faculty of Mathematics and Natural Sciences, Andalas University

Indah Putri Lestari

Natural Materials Organic Chemistry Laboratory, Department of Chemistry, Faculty of Mathematics and Natural Sciences, Andalas University
Abstract
Lantana camara Linn is a family of Verbenaceae that grows in tropical and subtropical areas and spread in about 50 countries in the world. This plant contains essential oils with different contents based on the difference in the place of growth. The purpose of this study was to isolate and determine the chemical content of the essential oil of L. camara Linn leaves obtained from Agam, Tanah Datar, Kampar Regency, Padang Panjang City and to determine its cytotoxic and antibacterial activity. Isolation was carried out by hydro distillation method and chemical content analysis using Gas Chromatography-Mass Spectrometry (GC-MS). The high yield from the isolation of essential oil from leaves of L. camara Linn obtained from Tanah Datar Regency was 0.095% (w/w). The results of the analysis of the essential oil content with the main compounds for all Regency and City being caryophyllene with the high area percent was Tanah Datar Regency (19.74%). Cytotoxic activity test using the Brine Shrimp Lethality Test (BSLT) method showed that L. camara Linn essential oil was highly toxic with an LC50 value of 28.34 µg/mL from Padang Panjang City. Antibacterial activity test by disc diffusion method showed that L. camara Linn essential oil had moderate antibacterial activity againts Staphylococcus aureus and Escherichia coli bacteria, with high clear zone from Agam Regency was 12.9 mm and Tanah Datar Regency was 7.8 mm, respectively, at concentration of 100%.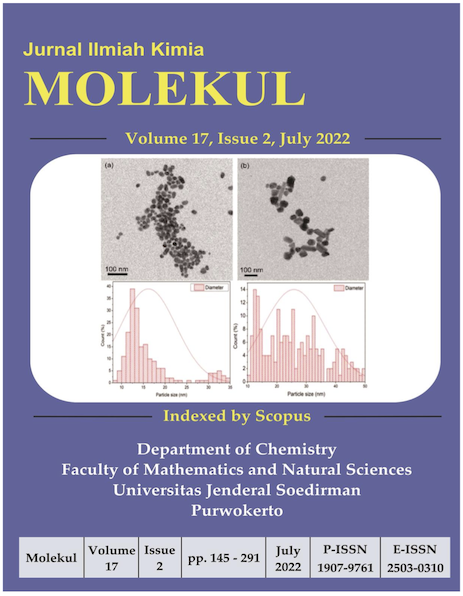 Authors agree with the statements below:
Authors automatically transfer the copyright to the MOLEKUL journal and grant the journal right of first publication with the work simultaneously licensed under a Creative Commons Attribution 4.0 International License (CC BY 4.0).
Authors are able to enter into separate permission for the non-exclusive distribution of the journal's published version of the work (e.g., post it to an institutional repository or publish it in a book), with an acknowledgment of its initial publication in this journal.