Synthesis and Antimicrobial Activity of Silver N-Methyl Chitosan
Mardiyah Kurniasih

Chemistry Department, Faculty of Mathematics and Natural Sciences, Universitas Jenderal Soedirman

Purwati Purwati

Chemistry Department, Faculty of Mathematics and Natural Sciences, Universitas Jenderal Soedirman

Ratna Stia Dewi

Mycology & Phitopathology Laboratory, Faculty of Biology, Universitas Jenderal Soedirman

Kasandra Budiarni

Biotechnology Center, OR PPT, BRIN, Indonesia
Abstract
This study synthesized silver N-methyl chitosan (Ag-NMC) and tested it for its antimicrobial and antifungal activity. Ag-NMC was characterized by FTIR, XRD, measured for its molecular weight (MW), solubility, and toxicity. The antimicrobial activity was tested by the agar diffusion method, determining the MIC (Minimum Inhibitory Concentration), MBC (Minimum Bactericidal Concentration) against Staphylococcus aureus and Escherichia coli bacteria, and determining the Minimum Fungicidal Concentration (MFC) against the fungus Candida albicans. The results showed that Ag-NMC had MW, solubility, and LC50 of 555.65 g/mol, 50 mg/mL, 945,492 mg/L, respectively. The diameter of the inhibition zone from the resulting diffusion test showed that Ag-NMC had better antimicrobial activity than N-methyl chitosan (NMC) and chitosan. The MIC, MBC, and MFC values of Ag-NMC were always lower than that of NMC and chitosan.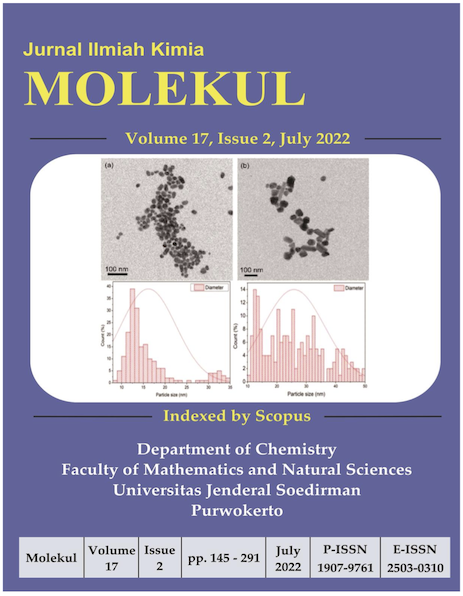 Authors agree with the statements below:
Authors automatically transfer the copyright to the MOLEKUL journal and grant the journal right of first publication with the work simultaneously licensed under a Creative Commons Attribution 4.0 International License (CC BY 4.0).
Authors are able to enter into separate permission for the non-exclusive distribution of the journal's published version of the work (e.g., post it to an institutional repository or publish it in a book), with an acknowledgment of its initial publication in this journal.