PENGEMBANGAN MOTIF UKIRAN RUMAH GADANG UNTUK MOTIF KAIN
Revitalisasi dan Pengembangan Industri Kreatif
Herry Nur Hidayat

FIB Universitas Andalas
Abstract
This article describes the effort to develop ornamental motifs that are found in rumah gadang, Minangkabau traditional house, become decorative motif for cloth. Decorative motifs of cloth is not only in the form of batik motifs, but also the possibility for motif embroidered, songket, and fashion design. There are 76 motives found which are grouped based on motives meaning. meanwhile, these motives were selected  based on the design possibility for batik, songket, and fashion motif. This work is one of revitalization effort of traditional works.. In addition, this effort is expected to become one of the alternative of entrepreneurship development within the framework of local content-based creative industries.
References
Dewi, Trisna Kumala Satya. (2014) "Ragam Hias Naskah Kuno sebagai Alternatif Pengembangan Motif Batik Madura". Naskah dan Relevansinya dalam Kehidupan masa Kini. Padang: PSIKM.
Isnan, Hanifah, and Yuli Rohmiyati. (2016). "Pelestarian Pengetahuan Seni Ukir Masyarakat Minangkabau." Jurnal Ilmu Perpustakaan (Jurusan Ilmu Perpustakaan FIB Undip) 5 (1): 241- 250.
Jerusalem, Mohammad Adam. (2009). "Perancangan Industri Kreatif Bidang Fashion dengan Pendekatan
Benchmarking pada Queensland's Crative Industry." Seminar Nasional Program Studi Teknik Busana. Kasiyan. tt. Ragam Hias Tradisional. Yogyakarta: Universitas Negeri Yogyakarta.
Lemhanas, Jurnal Kajian. (2012) "Peningkatan Daya Saing Industri Indonesia." Jurnal Kajian Lemhanas RI 14
Marba, Sabri. (2013) "Interpretasi Motif Ornamen Bada Mudiak di Minangkabau." Bercadik (ISI Padangpanjang) 1 (1).
Nurhayati. (2014) "Penciptaan Batik Berbasis Green Production untuk Tekstil Pakain dengan Mengkolaborasikan Teknik Batik dengan Ilustrasi dan Iluminasi Manuskrip Kuna yang Tersimpan di Museum Reksapustaka Pura Mangunegaran Surakarta." Naskah dan Relevansinya dalam Kehidupan Masa Kini. Padang: PSIKM.
Rahmatillah, Amira. (2012)"Pengertian Ragam Hias." academia.edu.
https://www.academia.edu/ 8615729/PENGERTIAN_RAGAM_HIAS.
Rudiyanto, Mamat. (2014) "Dari Iluminasi Naskah-Naskah Minangkabau ke Desain Motif Batik." Naskah dan Relevansinya dalam Kehidupan Masa Kini. Padang: PSIKM.
Shuaib, Ab. Aziz, and Olalere Folasayo Enoch. (2012) "Creative Industry: Its Involvement In Bussiness World." Advance in Asian Social Science 3 (4).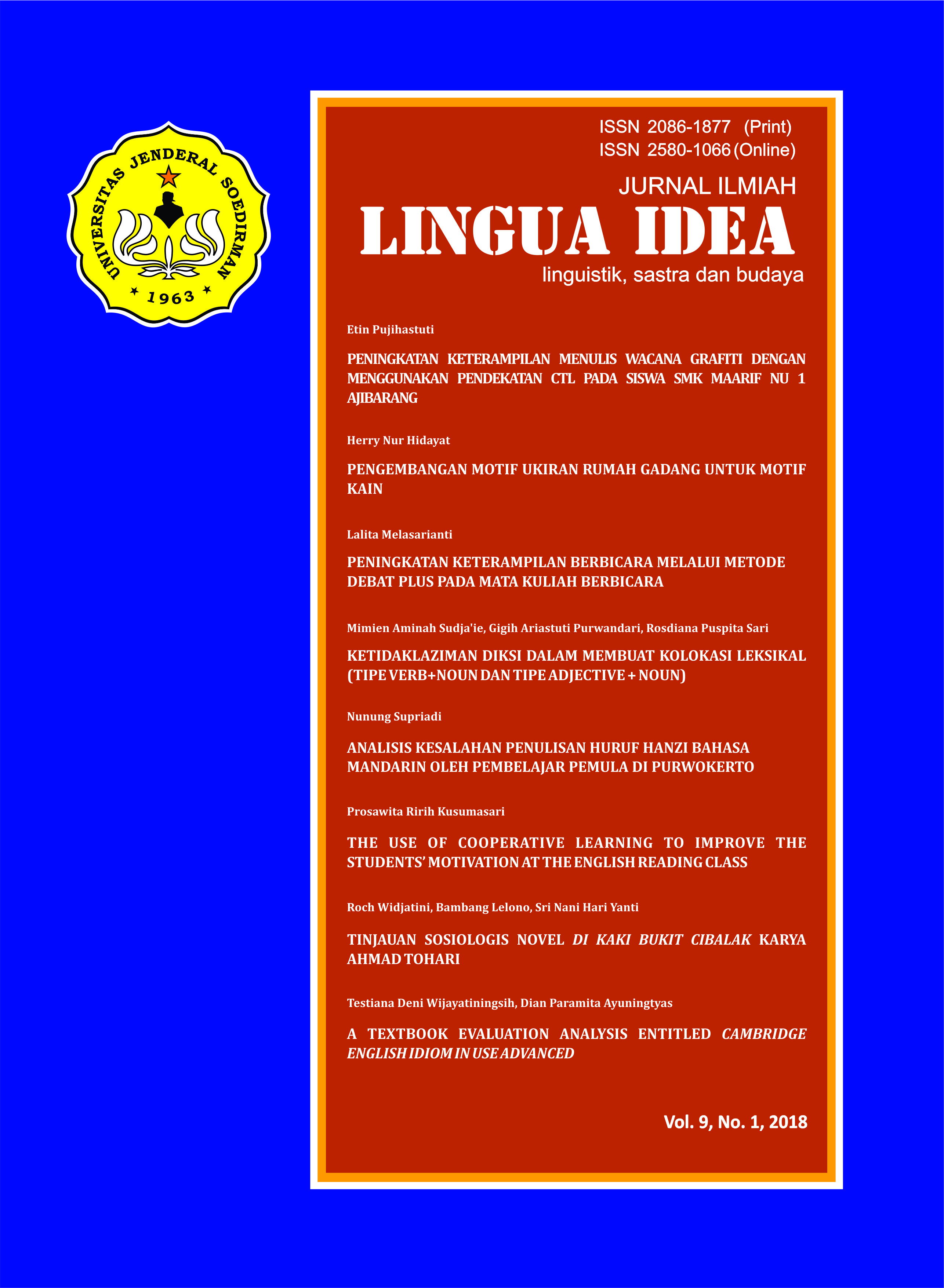 Authors who publish with this journal agree to the following terms:
(1) Authors retain copyright and grant the journal right of first publication with the work simultaneously licensed under a Creative Commons Attribution License that allows others to share the work with an acknowledgment of the work's authorship and initial publication in this journal.
(2) Authors are able to enter into separate, additional contractual arrangements for the non-exclusive distribution of the journal's published version of the work (e.g., post it to an institutional repository or publish it in a book), with an acknowledgment of its initial publication in this journal.
(3) Authors should sign a copyright transfer agreement when they have approved the final proofs sent by Jurnal Ilmiah Lingua Idea prior to the publication.