Linguistic and Cultural Problems in Javanese-English Subtitle of CAPCIPTOP! Short Movie
Priska Meilasari

Universitas Katolik Widya Mandala Surabaya, Indonesia
Abstract
The presented paper is focusing on the Javanese-English subtitle. The data involve a culture-bound short movie entitled "CAPCIPTOP!" uploaded on Youtube by Ravacana Film. The samples of this study are fifteen students joining subtitling class in the even semester of the academic year 2020/2021 at Widya Mandala Catholic University. The research findings show that students are facing two common problems namely linguistic and cultural problems in subtitling Javanese to English. Those problems are crucial as they are closely related to how a translator transfers messages from Javanese to English completely and minimize the misunderstanding among the viewers. This study is concluded with some suggestions for students in dealing with the problems in Javanese-English subtitling.
References
Abbasi, G., Zadeh, S. S., Janfaza, E., Assemi, A., & Dehghan, S. S. (2012). Language, Translation, and Culture. International Conference on Language, Medias and Culture, 33, 1–5.

Atmawati, D. (2021). Language Politeness in the Javanese Verb Speech Level. Lingua Cultura, 15(1), 51–57. https://doi.org/10.21512/lc.v15i1.7109

Catford, J. C. (1965). A Linguistic Theory of Translation. Oxford University Press.

Chaume, F. (2013). The turn of audiovisual translation. Translation Spaces, 2, 105–123. https://doi.org/10.1075/ts.2.06cha

Cho, S.-E. (2014). Basic Concepts in the Theory of Audiovisual Translation. 31, Delabastita 1989, 377–396.

Díaz-Cintas, J. (2005). Back to the Future in Subtitling. MuTra 2005 – Challenges of Multidimensional Translation : Conference Proceedings, 1–17.

Dinçkan, Y. (2010). Culture-bound collocations in bestsellers: A study of their translations from English into Turkish. Meta, 55(3), 456–473. https://doi.org/10.7202/045065ar

Gambier, Y. (2006). Multimodality and Audiovisual Translation. Audiovisual Translation Scenarios: Conference Proceedings, 1–8. https://doi.org/10.1016/j.ics.2004.03.086

Ghaemi, F., & Benyamin, J. (2011). Strategies Used in the Translation of Interlingual Subtitling. Journal oF English Studies, 1(0), 39–49.

Gottlieb, H. (2004). Subtitles and International Anglification. Nordic Journal of English Studies, 3(1), 219. https://doi.org/10.35360/njes.32

Kendenan, E. S. (2019). A Study of Students' Subtitling Project on "Ambilkan Bulan" Movie. Langkawi: Journal of The Association for Arabic and English, 5(1), 26. https://doi.org/10.31332/lkw.v5i1.1232

Molina, L., & Albir, A. H. (2002). Translation techniques revisited: A dynamic and functionalist approach. Meta, 47(4), 498–512.

Molina, L., & Albir, A. H. (2002). Translation techniques revisited: A dynamic and functionalist approach. Meta, XLVII(4), 498–512.

Paramita, N., & Yasmin, A. A. (2017). Integrating The Topic Of Audiovisual Translation Into The Curriculum For Translation Education In Indonesia. Jurnal Pendidikan Humaniora, 5(3), 117–122. https://doi.org/10.17977/um030v5i32017p117

Thawabteh, M. A. (2011). Linguistic, cultural and technical problems in English-Arabic subtitling. SKASE Journal of Translation and Interpretation, 5(1), 24–44.

Whitfield, A. (2002). Lost in Syntax: Translating Voice in the Literary Essay. Meta, 45(1), 113–126. https://doi.org/10.7202/004614ar.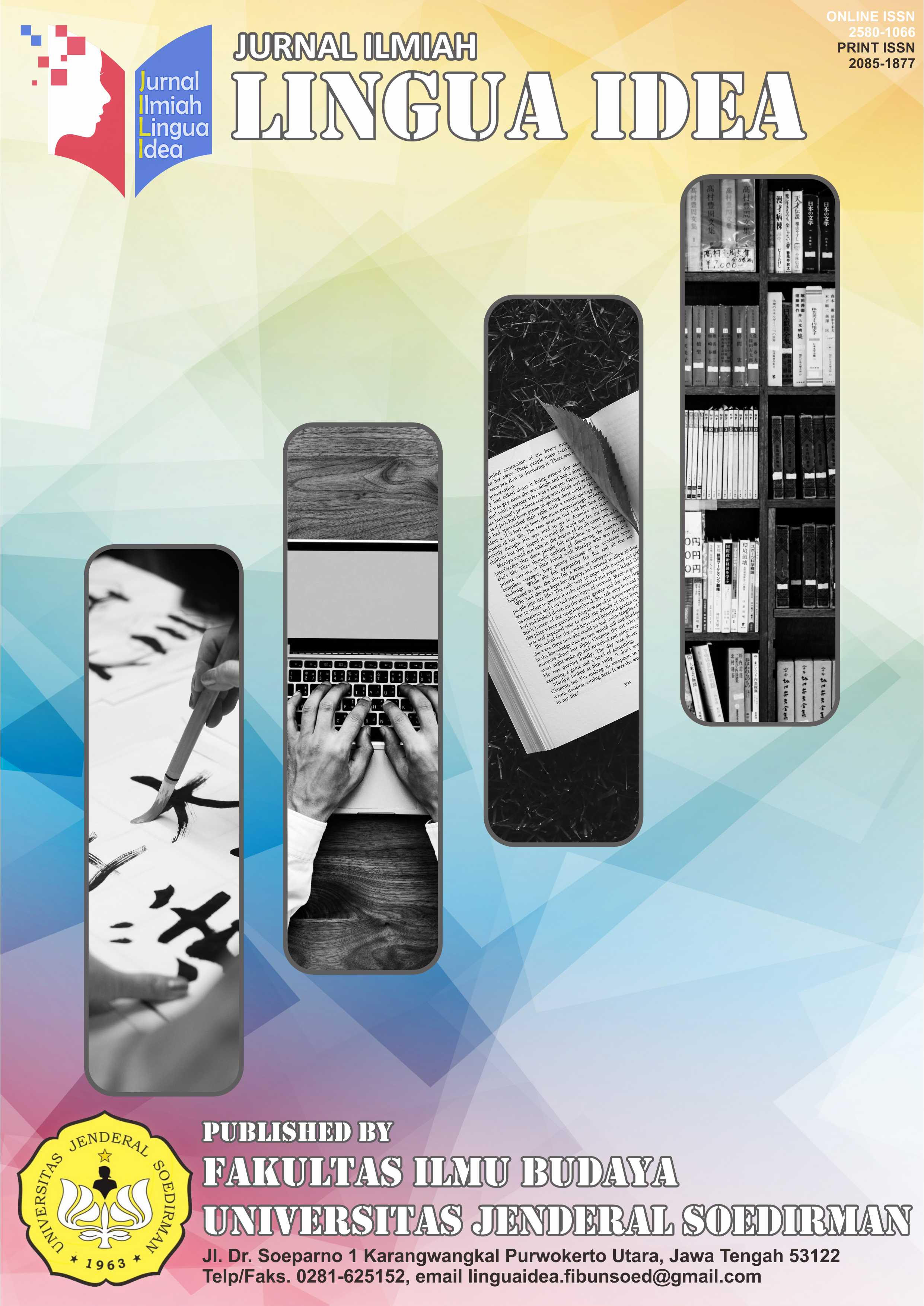 Authors who publish with Jurnal Ilmiah Lingua Idea agree to the following terms:
Authors retain copyright and grant the journal right of first publication with the work simultaneously licensed under a Creative Commons Attribution License (CC BY-SA 4.0) that allows others to share the work with an acknowledgment of the work's authorship and initial publication in this journal.
Authors are able to enter into separate, additional contractual arrangements for the non-exclusive distribution of the journal's published version of the work (e.g., post it to an institutional repository or publish it in a book), with an acknowledgment of its initial publication in this journal.
Authors are permitted and encouraged to post their work online (e.g., in institutional repositories or on their website) prior to and during the submission process, as it can lead to productive exchanges, as well as earlier and greater citation of published work.