The World through the Eyes of Travel Writers: Agustinus Wibowo's Selimut Debu and Jihan Davincka's Memoar of Jeddah
Shofi Mahmudah Budi Utami

Universitas Jenderal Soedirman, Indonesia

Muammar Kadafi

Universitas Jenderal Soedirman, Indonesia

Ambhita Dhyaningrum

Universitas Jenderal Soedirman, Indonesia

Muhammad Hary Rusli

Universitas Jenderal Soedirman, Indonesia
Abstract
This paper investigates depictions of the world in two travel stories by Agustinus Wibowo in Selimut Debu (2010) and Jihan Davincka in Memoar of Jeddah (2013). The dissimilarity of both stories particularly in projecting the view of the world does not only accentuate different nuances but also the propensity of authors' observations towards the objects they encounter such as places, people, and culture. Therefore, this study focuses on how travel writings own distinct ways in narrating the story of the author's journey. In accordance with the problem, this study employed theoretical concepts proposed by Thompson specifically about reporting the world; that travel writers have certain tendency in their descriptions of the objects they see and involvement of the 'self' during the journey. This study then explores these two works to seek the data indicating the subjectivity to be sequentially selected and analysed. Eventually, it is found that Selimut Debu performs alteration in the involvement of the 'self'; while Memoar of Jeddah emphasises more on personal involvement.
References
Davincka, J. (2013). Memoar of Jeddah. Jakarta: Kompas Gramedia.

Huggan, G. (2008). Extreme Pursuits: Travel/Writing in an Age of Globalization. Michigan: The University of Michigan.

Jaya, A. (2018, December). Unbeaten Tracks in Japan: Letter I Tinjauan Women Travelers dan Travel Writing. Poetika, 6(2), 97-108.

Khoirunnisa, M. N. (2019, July 09). Representasi Sikap Intoleransi dalam Buku Selimut Debu Karya Agustinus Wibowo. Yogyakarta, D.I.Yogyakarta, Indonesia.

Kuehn, J., & Smethurst, P. (2009). Travel Writing, Form, and Empire: The poetics and politics of mobility. New York: Routledge.

Kurnia, L. (2011). Travel Writings about Indonesia and by Indonesians. Draft Paper of Dissertation. Depok, Indonesia: Universitas Indonesia.

Margawati, P., Yulianti, Y., & Farida, A. N. (2015). Travel Writing Genre: Gender and Identity Study of Indonesian Travel Writers. 2nd International Conference on Language, Literature, and Community (pp. 170-180). Semarang: Universitas Negeri Semarang.

Maslihatin, A. (2015). Novel 99 Cahaya di Langit Eropa sebagai Cerita Perjalanan Poskolonial. Thesis. Yogyakarta, Indonesia: UGM.

Mills, S. (1991). Discourses of Difference: An analysis og women's travel writing and colonialism. London & New York: Routledge Taylol & Francis group.

Nassaji, H. (2015). Qualitative and descriptive research: Data type versus data analysis. Language Teaching Research, 19(2), 129–132.

Nasution, A. A. (2015, July). Gambaran Diri Andrea Hirata Dalam Novel Edensor: Konsep Travel Writing Carl Thompson. Poetika, 3(1), 22-31.

Palmer, C., & Bolderstone, A. (2006). A Brief Introduction to Qualitative Research. Canadian Journal of Medical Radiation Technology, 37(1), 16-19.

Purwaningsih, N. S. (2015, July). Subjektivitas Dalam Cerita Perjalanan Novel Lumbini Karya Kris Budiman. Poetika, 3(1), 50-59.

Thompson, C. (2011). Travel Writing. London & New York: Routledge Taylor & Francis Group.

Wibowo, A. (2011). Selimut Debu. Jakarta: Kompas Gramedia.

Yuliarti, Y., Rustono, R., & Nuryatin, A. (2015). Tindak Tutur Direktif dalam Wacana Novel Trilogi Karya Agustinus Wibowo. Seloka: Jurnal Pendidikan Bahasa Dan Sastra Indonesia, 4(2), 78-85.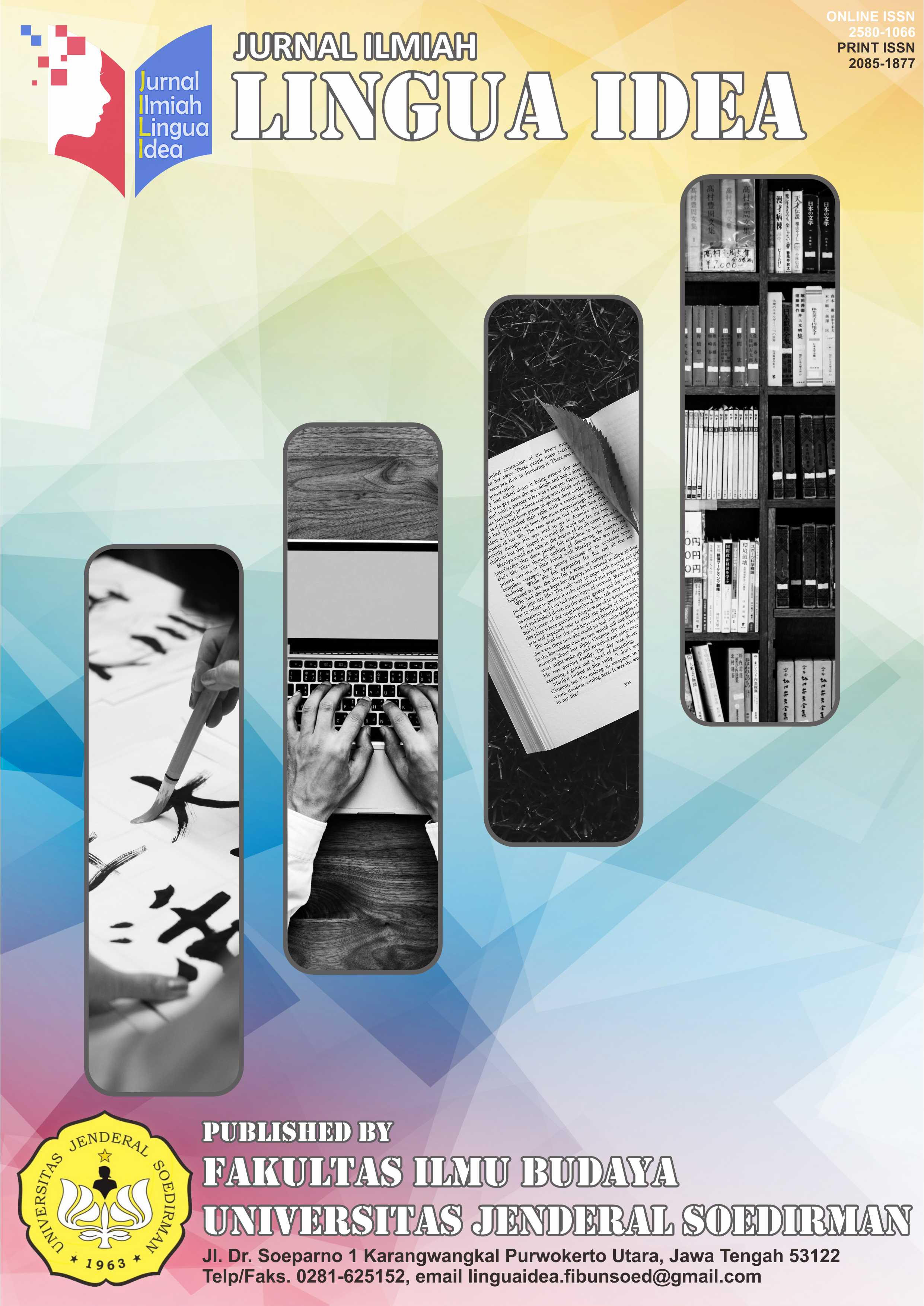 Authors who publish with Jurnal Ilmiah Lingua Idea agree to the following terms:
Authors retain copyright and grant the journal right of first publication with the work simultaneously licensed under a Creative Commons Attribution License (CC BY-SA 4.0) that allows others to share the work with an acknowledgment of the work's authorship and initial publication in this journal.
Authors are able to enter into separate, additional contractual arrangements for the non-exclusive distribution of the journal's published version of the work (e.g., post it to an institutional repository or publish it in a book), with an acknowledgment of its initial publication in this journal.
Authors are permitted and encouraged to post their work online (e.g., in institutional repositories or on their website) prior to and during the submission process, as it can lead to productive exchanges, as well as earlier and greater citation of published work.