Heroic Figures' Characters in Wayang Wong Dance Drama: A Character Education For The Elementary School Students?
Farida Nuryantiningsih

Universitas Jenderal Soedirman, Indonesia

Sri Nani Hari Yanti

Universitas Jenderal Soedirman, Indonesia
Abstract
Wayang Wong is one Javanese traditional dance drama combining drama arts and wayang performance. The stories in Wayang wong performances are taken from Mahabarata and Ramayana. Many stories presented through wayang wong performances give various life examples through each figure's characters. Of those contained in wayang wong performances, this article only selected the figures from Mahabarata story as not only well known by the society like Gatotkaca, Arjuna, Bima/Werkudara, or Kresna, but also many Mahabarata story figures have good characters appropriate to become the examples for the character education at schools. Love, forgiveness, patience. responsibility, helpfulness, and other good characters belong to the Mahabarata story protagonist figures. This descriptive qualitative research used a cultural approach by identifying wayang wong figures' characters in both Ramayana and Mahabharata stories. The research data were collected using literature reviews on various relevant references to wayang wong to dig and obtain the descriptions of the wayang wong figures' characters in both Mahabharata and Ramayana stories as the character education for elementary school students. This article is greatly interesting because by introducing the protagonist figures through wayang wong performances, the children from Javanese ethnicity are expected to have good characters sourced from the local cultures. This is important because by knowing wayang figures, children are taught to love and conserve their nation's cultures.
References
Fajrie, N. (2013). Media Pertunjukan Wayang Untuk Menumbuhkan Karakter Anak Bangsa dalam Prosiding Pendidikan Profesi dan Karakter Bangsa dalam Pembelajaran Bahasa dan Sastra https://publikasiilmiah.ums.ac.id/xmlui/handle/11617/3486.

Hapsari, I. (2019). Pertunjukan Wayang Wong sebagai Media Pembelajaran Berbasis Budaya Lokal dalam Prosiding Seminar Internasional Riksa Bahasa XIII, Bandung: 23 November 2019. Hal. 1283-1288.

Noor, I. F. (2018). Edi Surojo Media Pengenalan Kebudayaan Lokal Berbasis Karakter Untuk Anak Usia Dini. Jurnal Pendidikan Anak, 7 (1).

Bimo, K. A. (2014). Perbedaan Wayang Orang Gaya Surakarta dan Gaya Yogyakarta diunduh dari http://infobimo.blogspot.com/2014/01/perbedaan-wayang-orang-gaya-surakarta.html 30 Mei 2020.

Kementerian Pendidikan Nasional. (2009). Pengembangan dan Pendidikan Budaya dan Karakter Bangsa: Pedoman Sekolah. Jakarta: Pusat Kurikulum.

Kementerian Pendidikan Nasional. (2010). Bahan Pelatihan Penguatan Metodologi pembelajaran Berdasarkan Nilai-Nilai Budaya untuk Membentuk Daya Saing dan Karakter bangsa. Jakarta: Badan penelitian dan Pengembangan Pusat Kurikulum dan perbukuan.

Kementerian Pendidikan Nasional. (2011). Panduan Pelaksaan Pendidikan Karakter. Jakarta:
Badan penelitian dan Pengembangan Pusat Kurikulum dan perbukuan.

Lickona, T. (1991). Educating for Character: How Our School Can Teach Respect and Responsibility. New York. Auckland: Bantam Books.

Nurgiyantoro, B. (2011). Wayang dan Pengembangan Karakter. Jurnal Pendidikan Karakter, 1 (1).

Ikram, N. M., Sumarno, S. H. (2014). Implementasi Nilai Karakter Tokoh Werkudara Dalam Pembelajaran Sejarah diunduh dari https://repository.unej.ac.id/handle/123456789/63457 diunduh 4 Mei 2020.

Pamungkas, E. A. (2012). Proses Empati pada Pemeranan Tokoh Wayang oleh pemain Wayang Wong di Sriwedari diunduh dari http://eprints.ums.ac.id/18342/ diunduh 16 Juni 2020.

Rustopo. (2007). Menjadi Jawa: Orang-Orang Tionghoa dan Kebudayaan Jawa. Yogyakarta: Ombak.

Ryan, K., Bohlin, K. E. (1999). Building Character in Schools: Practical Ways to Bring Moral Instruction to Life. San Fransisco: Jossey-Bass A Wiley Imprint.

Astuti, S. R. (2014). Arjuna: Ksatria Lemah Lembut Tetapi Tegas. Jantra , 9 (2).

Supadma. (2015). Teliti Wayang Wong Kraton, Dosen ISI Yogyakarta Raih Doktor diunduh dari https://ugm.ac.id/id/berita/9674-teliti-wayang-wong-kraton-dosen-isi-yogyakarta-raih-doktor 30 Mei 2020.

Supendi, E. (2007). Wayang Orang sebagai Pertunjukan Teater Tradisional dalam Tinjauan Semiotika sebuah Kajian Awal. Jurnal Gelar, 5 (1): 54-72.

Wardani, N. Eko., Widiyastuti, E. (2013). Mapping Wayang Traditional Theatre as A Form of Local Wisdom of Surakarta Indonesia. Asian Journal of Social Science & Humanities, 2 (2): 314-321.

Pandanwangi, W. D., Nuryantiningsih, F. (2018). Komik Wayang Anak Pandawa Sebagai Media Pendidikan Karakter Di Jaman Kekinian" http://journal.isi.ac.id/index.php/JOUSA/article/view/2208 diunduh15 Mei 2020.

Sundari, A. 2015. Tokoh Kresna Dalam Wiracarita Mahabharata Sebagai Tokoh Identifikasi Etik Moral dalam Prosiding Seminar Nasional Dan Folklor Dan Kearifan Lokal Jurusan Sastra Indonesia-Fakultas Sastra Universitas Jember 2015, 212-264. https://repository.unej.ac.id/handle/123456789/77000 diunduh 5 Juni 2020.

Supriyanto. (2013). Wayang Wong sebagai Pusaka Keraton Yogyakarta. Jurnal Greget, 12 (1).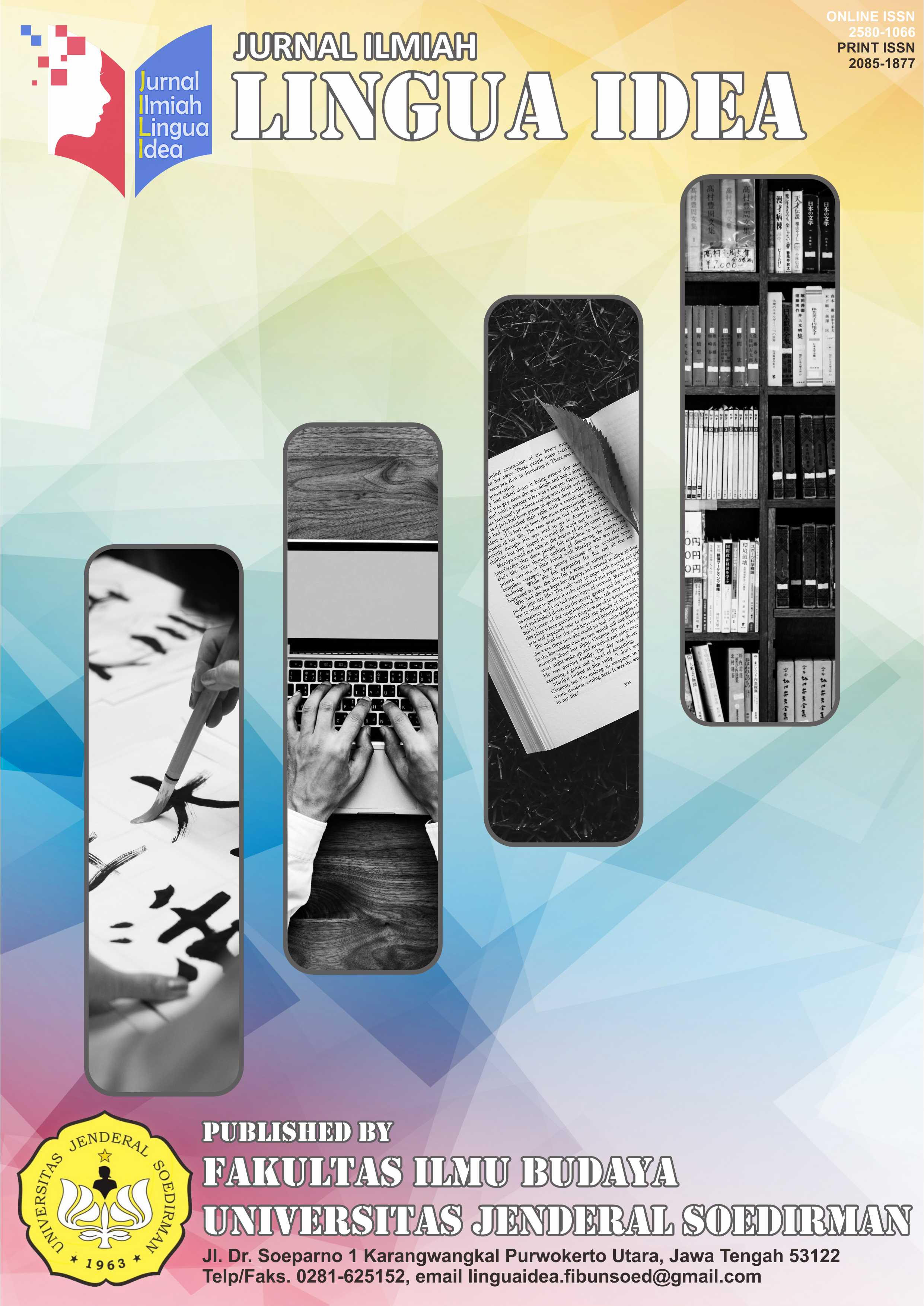 By submitting the manuscript, the author(s) agreed to these following terms:
(1) The copyright of received articles shall be assigned to Jurnal Ilmiah Lingua Idea as the publisher of the journal. The intended copyright includes the right to publish articles in various forms (including reprint). Jurnal Ilmiah Lingua Idea maintain the publishing rights to the published articles.
(2) Author(s) are permitted to disseminate published articles by sharing the link/DOI of the article at Jurnal Ilmiah Lingua Idea. Author(s) are allowed to use their articles for any legal purposes deemed necessary without written permission from Jurnal Ilmiah Lingua Idea with an acknowledgement of initial publication to this journal.
(3) Authors should sign a copyright transfer agreement when they have approved the final proofs sent by Jurnal Ilmiah Lingua Idea prior to the publication.
(4) User/public use of this website will be licensed to Creative Commons Attribution-ShareAlike 4.0 International License.